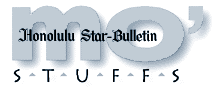 ---
Tuesday, September 28, 1999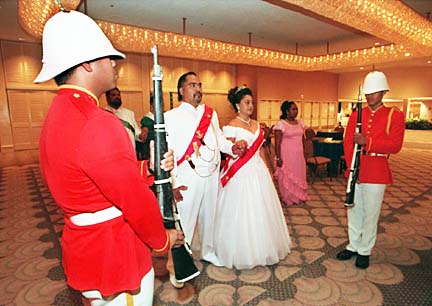 File photo
Maui's King and Queen,Ivan and Maria Dalena
Akau prepare to enter last year's Royal Ball.
---
Having a ball
The 1999 Aloha Festivals will conclude its two-month season of festivities on Oct. 29 with a Royal Ball combining, oddly enough, the Victorian era and swinging '40s.

The event, themed Hui Pui ka Hula (Together in Song and Dance) will take place 6 to 11 p.m. at the Hilton Hawaiian Village Tapa Ballroom, featuring the Royal Court dressed in costumes to evoke the monarchy.

There will be a 15-piece band performing a tribute to the Benny Goodman Orchestra, with additional entertainment provided by harpist R. Pumehana Davis, the Honolulu Youth Symphony and Aaron Mahi's Royal Serenaders.

Tickets are $75 and may be purchased through the Aloha Festivals headquarters at Ward Warehouse, 1050 Ala Moana Boulevard. Call 589-1771.
---
Preview
Coming to the big screen

Autumn Tale
Not rated
A French tale about meeting people, falling in love and small scale wine making in the Rhone Valley.
Drive Me Crazy
Rated PG-13
A film geared to teenagers lusting for revenge and redemption after being dumped. Stars Adrian Grenier and Melissa Joan Hart.
Elmo in Grouchland
Rated G
When an accident sends his beloved blue blanket into Oscar's trash can, Elmo jumps in to retrieve it and ends up in Grouchland.
Mystery Alaska
Rated PG-13
A Cinderella-on-ice story starring fanatical hockey players of Mystery, Alaska where the path of glory is paved with ice. Eventually, the New York Rangers arrive for a bizarre open-air game against the home team.
Three Kings
Rated R
Four disenchanted GIs -- George Clooney, Mark Wahlberg, Ice Cube and Spike Jonze -- find a map for a stash of gold hidden by Hussein's troops near their camp.
---
Scoops
Scholarships and more


Experience the Excitement of Animal Training: Young people, 9 to 15 years of age, can experience what it is like to be an animal trainer at Sea Life Park from 10 a.m.-5:30 p.m. on Nov. 13. Opportunities include going behind the scenes to learn about the park's training philosophy, assist staff with feeding duties and venture into the animal's environment. The highlight of the program will be a hands-on dolphin encounter. Enrollment is $125 for kamaainas and $175 for nonresidents.


Click for online
calendars and events.
---
Send WatDat? questions, stories
or any other story ideas or comments to:
Features, Honolulu Star-Bulletin, P.O. Box 3080,
Honolulu, HI 96802 or send a fax to 523-8509
or E-mail to features@starbulletin.com.
Please include your phone number.
E-mail to Features Editor
---
---
© 1999 Honolulu Star-Bulletin
http://archives.starbulletin.com