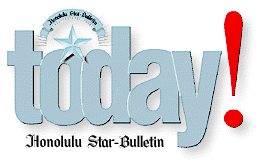 ---
Tuesday, September 28, 1999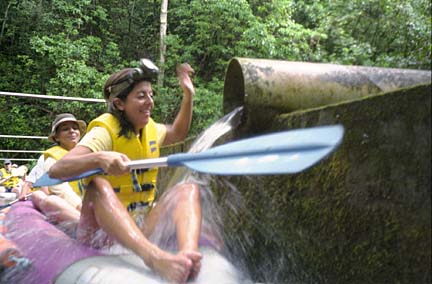 By Dean Sensui, Star-Bulletin
Stephanie Vigil and her mom Ida Vigil, both of San Francisco,
get a soaking from a water inlet pipe along the Kohala Mountain
Kayak Cruise. What used to be an illegal trespassing jaunt by
kids in inner tubes has become part of an eco-
tourism industry in Hawaii.
---
Flowing full circle


After years away,
Ray Kanehailua is back on the
Big Isle, working in his
childhood playground

By Cynthia Oi
Star-Bulletin

KOHALA -- Sugar was king and young Ray Kanehailua thought his future was certain. He would finish high school and follow his grandfather into the industry.

Just before he graduated, the king was deposed by the all-powerful prince of profit margins and the plantations were shut down.

At 17 years old and already a husband and father, he wrenched himself from the green undulations of North Kohala and joined the Army, one of the few options he felt was available to a man in his situation.

Through years on the mainland, however, the ache for home would not go away.

"I had lots of memories," says Kanehailua, the most enduring of which was one familiar to many of his plantation peers: "Fluming. Me and my friends would sneak to the ditch and go fluming."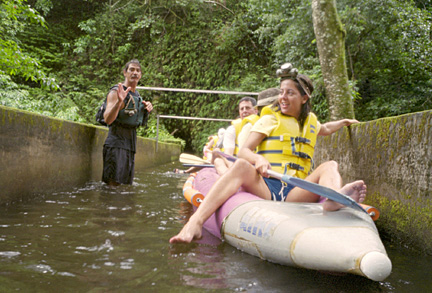 By Dean Sensui, Star-Bulletin
Ray Kanehailua, chief of operations for the Kohala Mountain
Kayak Cruise, tells visitors a little about the area
surrounding the route they're taking.
---
The ditch was the Kohala Ditch, a marvel of engineering that carried water from the rainy mountains to the dry fields. By fluming, he meant riding inner tubes or anything that floated down the ditch.

It was four years before he came back to Hawaii. When he did, the island had a new ruler -- tourism. So he took a security job at a resort down on the Kona coast, content to be making a living and providing for his family that had grown to four kids.




GOING WITH THE FLOW

What: Kohala Mountain Kayak Cruise
Where: North Kohala, Akoni Pule Highway (270) and Hawi Road (250)
Cost: $78.13 adult, $57.29 children 5 to 18 (tax included); kamaaina rates available
Call: 808-889-6922




Meanwhile, the sugar lands lay fallow, with guava bushes and weeds spreading over fields and hills. The ditch that had enabled the industry to almost quadruple its yield became clogged with disuse.

Then three years ago, his past came full circle with his future.

Chalon International, a Japanese company that had bought about 20,000 acres of Castle & Cooke plantation land, decided to fix the ditch and run kayak tours through its waters.

For Kanehailua, it meant he could really come home.

"When I was a kid, the ditch was my playground. Now I get paid to play," he says, laughing at the irony.

He worked only weekends at first, but when the tour's operators discovered his unique experience and links with the ditch, he was put on the payroll full time. He's now the chief of operations, handling workers' schedules, ditch maintenance and administrative duties.

But Kanehailua's passion is in leading the tours. And because of him, his clients get a personal as well as historic vision of the ditch.

"He really makes the tour worth it," says Kathy Clark of Sacramento, who rode the ditch with husband Larry. "The history and all that is good, but he grew up here and can tell stories about his life here. It's more meaningful."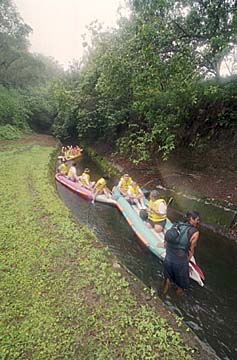 By Dean Sensui, Star-Bulletin
The entire Kohala Mountain Kayak Cruise
goes through lush settings.
---
This executive comes to work in shorts, sports sandals and a mesh tank top, his black ponytail pulled back tight from his face. At 40, Kanehailua is a handsome man with expressive golden eyes and a million-dollar smile. With his lean muscularity, he paddles a kayak effortlessly, even with four or five passengers aboard.

The tour is not one of thrills, but there are chills -- the icy mountain water -- and spills -- a pouring from conduits and fissures in some tunnels. As kayaks cruise gently in mossy-walled troughs through high, tranquil valleys, Kanehailua identifies the huge trees, dense shrubs and abundant florals along the way, explaining their medicinal properties and food value. He tells of the ditch's history and how each segment was made. He recounts Hawaiian legends and folklore. The most interesting stories, however, are his own intimate recollections.

"There's where I camped for a week and lived off the land when I was a kid," he said, pointing to a small clearing where a coffee tree drapes red beans across a screen of green.

Further along, he proudly displays a patch of healthy taro plants from which he has recently harvested leaves for laulau.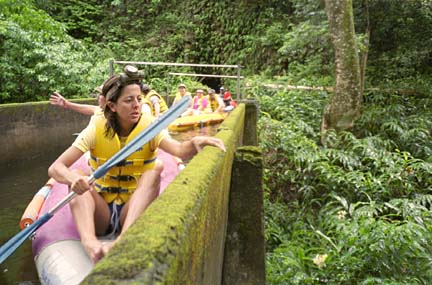 By Dean Sensui, Star-Bulletin
Stephanie Vigil, visiting with her family from San Francisco,
takes a look at one of the valeys from her vantage
point along an elevated flume.
---
A buttress of rock and cement was a regular entry point for fluming with friends.

"I was a troublemaker," he tells his clients, his smile at once sheepish and mischievous, hinting that that's a understatement.

The ditch was considered dangerous and strictly off limits, but Kanehailua's grandfather, Clement Perez, was irrigation supervisor and would look the other way when the boys trespassed.

"Heck, sometimes he would even drive me in and drop me off," Kanehailua says.

The kayaks glide through 10 tunnels, each with different characteristics. Some are cut through the porous rock, others are coated with thin cement. Some curve sharply, leaving kayakers in darkness. Others are arrow straight and long, with a pinpoint of light in the black distance.

"Watch your heads on this one," Kanehailua calls back to kayakers as they come upon a low passageway, "or you'll learn a new Hawaiian word, 'ow-wee.'" In unison, everyone lies back, laughter echoing off the walls.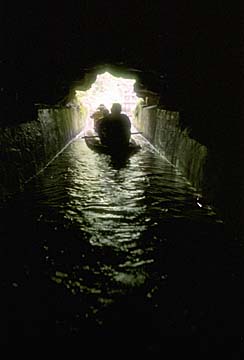 By Dean Sensui, Star-Bulletin
A kayak emerges from an irrigation tunnel. The tunnels
were carved into the mountainside just after the turn of
the century, and some are more than a thousand feet long.
---
Inside the tunnels, Kanehailua snatches freshwater prawns from the water. He tosses them into the kayak for good-eats later.

Outside, he uses his paddle to do some maintenance, deftly flipping spheres of yellow guava out of the water. "Get 'em out now, before they rot," he says.

The leisurely trip covers 3.5 miles (the ditch is about 22 miles total) in about two-and-a-half hours with several interludes along the way.

The tours run rain or shine because "you'll get wet anyway," Kanehailua says.

Everyone is given a life vest, although, as he says before the trip begins, "For those of you who can't swim, if you fall out of the kayak, don't panic. Just stand up. The ditch is only three feet deep."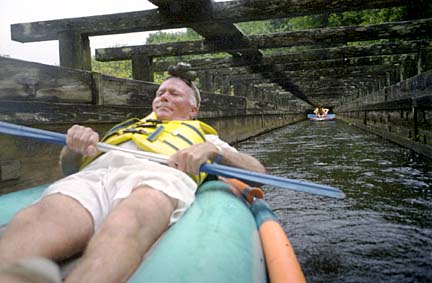 By Dean Sensui, Star-Bulletin
Some of the flumes along the Kohala Mountain Kayak Cruise
are reinforced with low overhead timbers. Riders must lay low
to avoid bumping their heads.
---
The cruise operates twice a day daily, carrying 12 to 24 people on each trip. Kanehailua doesn't want the numbers to grow. "We want to keep them small or we'll lose the personal touch."

That touch is provided by each of the 11 employees, all of whom are homegrown, he says. Some are childhood friends, like Chris Cravalho, 41, who brings up the rear kayak. A genial fellow, Cravalho is "so glad, really so glad" that he has found work "on home turf."

Adam Kaitoku, who drives clients up and down the dirt roads, thinks his job is great. "This is a good life for me," he says. "You meet people from all over and everybody gets happy."

Kanehailua says many tour takers are repeat customers. "Some have come back five, six times."

"Even me -- I never get tired of fluming.

"My office is the mountains and the ditch."






Click for online
calendars and events.
E-mail to Features Editor
---
---
© 1999 Honolulu Star-Bulletin
http://archives.starbulletin.com