---
Monday, September 27, 1999
Also today: Samuel Wilder King

---




Joseph Rider Farrington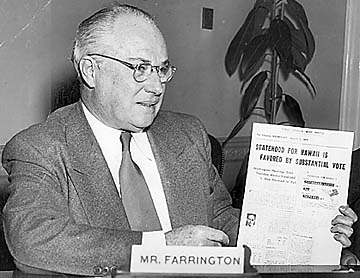 Associated Press
Joseph R. Farrington, congressional delegate.
---
S-B publisher
worked tirelessly
for statehood

By A.A. Smyser
Star-Bulletin

JOSEPH Rider Farrington had a reputation as a lively youth who once ran out into the surf in a tux to avoid police officers investigating a drinking party.

But his proposal to Elizabeth Pruett in 1918 while both were University of Wisconsin students signaled the direction of his life.

She said later he got down on his knee and told her he wanted to marry her but that she should understand before accepting that he would dedicate his life to achieving statehood for Hawaii.

The Jones-Costigan Act, which placed a tariff on Hawaiian sugar, helped to activate a full-fledged statehood drive in the early 1930s. Further stimulus came from threats of government by a commission after the nationally sensationalized Massie rape-murder cases of the same era.

These two factors helped propel Joseph Farrington into active politics as a candidate for the territorial Senate in 1934. He was then managing editor of the Star-Bulletin.

He won and succeeded in getting the Legislature to create an Equal Rights Commission to work for equality within the United States and statehood.

His 1934 running mate was Samuel Wilder King, a retired naval officer and Annapolis graduate who was elected delegate to Congress from Hawaii. When King went back into the Navy as a captain after Pearl Harbor, Farrington was elected delegate to Congress to succeed him. Both were Republicans.

By then, Farrington had become publisher of the Star-Bulletin upon the death of his father, Wallace R. Farrington, territorial governor in the 1920s.

Joseph Farrington remained an active Star-Bulletin publisher even while serving in Washington, communicating daily with Editor Riley H. Allen.

As delegate, Farrington won a first-ever presidential endorsement of statehood from Harry Truman, who had played the piano at the Farrington home in Washington the night before he suddenly became president.

Farrington and the Star-Bulletin battled to dispel national ignorance about Hawaii and build statehood support. Statehood foes bucked several efforts to pass a bill by linking Hawaii with Alaska, which had a weaker case.

Frustration was considered by some to be a factor in Farrington's fatal heart attack at his Washington desk in June 1954.

His widow, Betty, became the Washington spokesman for the statehood fight in his stead. She was elected in 1954 to both a special term and a full term, but was defeated for re-election in 1956 by John A. Burns.

Farrington was a tremendously warm, friendly person who visited individually with Star-Bulletin staff members on his return trips from Washington.

---

Samuel Wilder King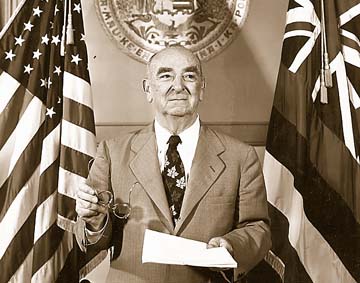 Press release
Samuel W. King, territorial governor
---
King refused '2nd-class'
citizenship for Hawaii

By Rod Ohira
Star-Bulletin

SAMUEL Wilder King died in March 1959, knowing that Hawaii would become the 50th state. "He was known as Mr. Statehood," U.S. Senior District Judge Samuel P. King said, referring to his father, who began working for statehood in 1934 as a delegate to Congress.

King introduced a bill that year to make Hawaii a state, his son said. Statehood became a reality 25 years later.

"He believed being a territory was like being an orphan," King said, "and that it was an insult to be second-class citizens.

"He knew before he died that both houses passed the statehood bill."

Samuel Wilder King, born in Honolulu in 1886, was the son of Capt. James A. King and Charlotte Holmes Davis.

His father was a pioneer in interisland shipping and served as the Republic of Hawaii's interior minister. Davis was the great-granddaughter of American writer Oliver Wendell Holmes, father of the noted Supreme Court justice.

Samuel Wilder King attended St. Louis College and Honolulu High School, later McKinley High, and received an appointment to the U.S. Naval Academy.

"He was the second person with Hawaiian blood appointed to the Naval Academy," his son said. "The first was Victor Hausten but he lived in California. My father was appointed by Prince Kuhio."

King served in World War I and resigned from the Navy in 1924 as a lieutenant commander. He returned to Hawaii, where he became successful in real estate.

King's entry into politics came in 1932, when he was named to fill an unexpired term on Honolulu's Board of Supervisors, known today as the City Council. He won election to a three-year term but stepped down in 1934 to go to Congress, where he served until 1942.

World War II drew King back into the Navy, and he served until 1946, when he retired for the second time.

King continued to work for statehood.

He was a charter member of the Hawaii Statehood Commission and served on it from 1947 until February 1953, when he was appointed governor of the territory. King also was president of the 1950 Constitutional Convention.

He served as governor until 1957.

King was a Bishop Estate trustee and won election to the Legislature in 1958. He was planning to run for state governor when he died of a heart attack.

Some 41 years after King's death, his son helped author the "Broken Trust" essay that led to the ouster of five Bishop Estate trustees.

Judge King believes his father would have approved.

"The two most important things for him were to improve the lot of Hawaiians and statehood," Judge King said. "He was a very dedicated, foursquare, honest man."
E-mail to City Desk
---
---
© 1999 Honolulu Star-Bulletin
http://archives.starbulletin.com