---
Saturday, September 25, 1999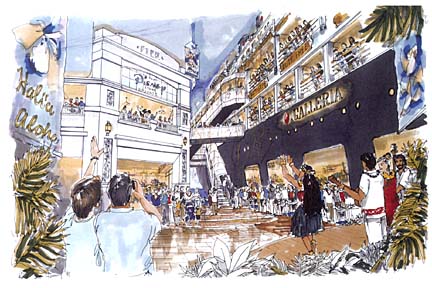 Press release
An artist's rendering shows the DFS Galleria in Waikiki after
a planned $65 million expansion into a retail and entertainment
complex with a pedestrian mall and a mock-up of a
vintage luxury liner.
---
Duty Free
Shops to build
Waikiki complex


The project is to include an aquarium,
lei makers, shops, restaurants and
a mock-up of a vintage liner

By Peter Wagner
Star-Bulletin

DFS Group LP is investing $65 million to expand its DFS Galleria store in Waikiki and create a retail and entertainment complex on the corner of Kalakaua and Royal Hawaiian avenues.

Scheduled for completion in early 2001, the project is to include a walk-through aquarium, lei makers, live entertainment, shops, restaurants and a mock-up of a 1920s-vintage passenger liner.

The duty-free shop operator said the project will create 200 jobs, bringing total employment at the site to about 900.

Bob Coe, president of DFS Hawaii, said he hopes the project will prompt others to redevelop their properties.

The city has major redevelopment plans in Waikiki, which is showing wear and tear in the midst of a slump in Hawaii tourism.

"Waikiki needs a dramatic recharging of its tourism engine," said Coe.

"Our experience elsewhere in the world, especially in Guam and Saipan, proves that new retail concepts coupled with exciting and interactive-themed entertainment can create experiences that entice visitors to a destination."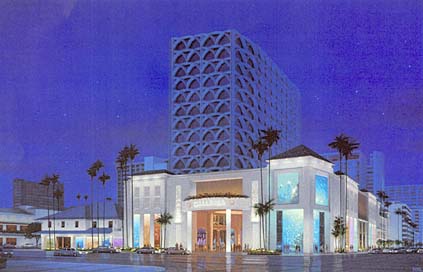 Press release
The building exterior planned fronting Kalakaua Avenue.
---
The project, announced at a news conference yesterday, comes a month after Hilton Hotels Corp. announced plans for a $95 million hotel at the Hilton Hawaiian Village in Waikiki. That project, currently under construction, is the first major hotel project in Waikiki in the last 10 years.

DFS currently operates a 112,000-square-foot Galleria store in the Nippon Shinpan Building. The store is to be expanded to 182,000 square feet.

Stores are to include Fashion World, a juice bar, noodle shop, Hawaii marketplace and a Tastes of Hawaii eatery.

Artists' renderings of the project show a pedestrian mall leading through a complex of low buildings with 1920s-vintage architecture.

Facades show carved haku leis and a large replica of a passenger ship which re-creates the excitement of old "boat day" arrivals at Honolulu Harbor.

Duty Free in July paid $49.5 million in overdue airport concession fees to the state. The company said it fell behind in its quarterly $25.5 million payments because of slumping sales due to the Asian economy.

DFS Group, based in San Francisco, is majority-owned by LVMH Moet Hennessy Louis Vuitton in Paris. The company, which specializes in luxury goods, operates six duty-free stores and employs 1,341 people in Hawaii.

DFS operates, manages and supplies more than 150 duty-free and general merchandise stores in 16 countries.
E-mail to City Desk
---
---
© 1999 Honolulu Star-Bulletin
http://archives.starbulletin.com