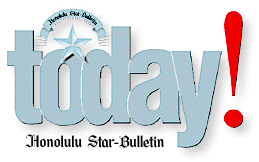 ---
Friday, September 24, 1999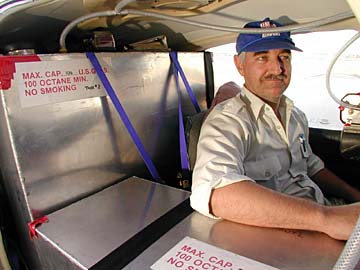 By Ken Ige, Star-Bulletin
Ferry pilot Guy Meekers flew non-stop yesterday for 20 hours
from California to deliver this 160 horsepower PA 280161 to its
new owner in Honolulu. The steel cases behind and
in the passengers seat are fuel tanks.
---
This guy's
high on delivery


Guy Meekers delivers
airplanes, at times flying non-
stop for 20 hours

By Burl Burlingame
Star-Bulletin

IMAGINE getting into your car and driving continuously for 20 hours. No getting out and stretching. No radio or other entertainment. No potty breaks. None. You'd wind up at your destination with your knees crossed, for sure.

That's pretty much business as usual for Guy Meekers, who delivers airplanes. This week he dropped off a Piper Cadet for a Honolulu client after flying all day and all night from San Francisco.

This isn't a 747 where the plane commander can set it on autopilot and go back and watch a movie with the passengers. The Cadet is a single-engine pipsqueak generally used for training. Going downhill, it can do about 600 miles before running out of gas.

"The wing tanks hold 48 gallons," explained Meekers, who's from Belgium and has a thick -- Belgianarian? Belgianese? Belglish? -- accent. "We added extra tanks inside the cockpit, on the passenger seats, holding another 156 gallons, making it possible to make it here."

He landed in the middle of the night with 20 gallons left in the tanks, and dozed in the cockpit 'til dawn.

The plane is going to Honolulu Community College's aviation-training program.

"I've delivered planes 18 to 20 times here in the Pacific, but generally they go on to Australia or the Philippines," said Meekers. "The leg to Hawaii is the longest, though. And this is the smallest plane yet. Generally they're turboprops, larger aircraft with more room."

The first plane to try to fly to Hawaii, that of Navy Commander John Rodgers in 1925, ran out of fuel two-thirds of the way across and flopped down in the ocean, where Rodgers and crew tied fabric to the struts and sailed the seaplane to Kauai.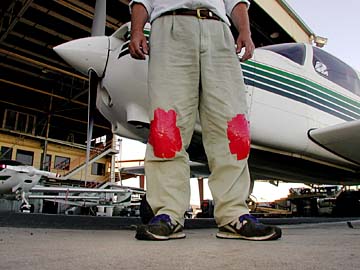 By Ken Ige, Star-Bulletin
Above, ferry pilot Guy Meekers used tape to protect his knees
from being scraped by equipment in the tight cockpit. For this
trip the multipurpose jug, below, was filled with oil and fitted with
a hand pump to serve as a reserve in case he lost oil pressure.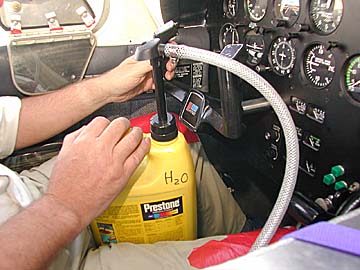 The next attempt, by Army lieutenants Lester Maitland and Albert Hegenberger in 1927, missed the islands by hundreds of miles. Luckily, at dawn Hegenberger caught the last flashes of a lighthouse on Kauai and they were able to change course.

The first solo flight was by Amelia Earhart, who flew from here to there, figuring the mainland was easier to hit than Hawaii, navigation-wise.

Navigation hasn't changed all that much, even in the age of GPS satellites, said Meekers. "We still used dead-reckoning -- figuring compass heading, fuel consumption, time and speed. Satellites are used mainly to back up your figures. They're nice, but if your electronics go out en route, you're lost without dead reckoning."

High in the black bowl of night, when the red glow of the instruments is the only illumination for hundreds of miles, and the muffled roar of the single engine is lost in the vastnesses of space and time, Meekers wonders why he keeps doing this. One moment of indecision or muffled concentration, and he and his plane become a statistic.

"It's particularly hard at night, with the lack of visual reference. It takes total concentration," he said. "Flying in daytime, visually, is almost second nature."

There's no entertainment, either. Not even a Walkman. Meekers must monitor the emergency frequencies on the radio, and every hour or so report his estimated position to San Francisco Oceanic Control.

Flying for a day without getting out of your seat -- how do you do it?

"It's a matter of physical conditioning," said Meekers, who dreamed of being a fighter pilot as a child in Belgium. "Don't drink a lot of water. Eat food that won't make you sleepy. Get a good night's sleep. Take very little food, except for energy bars, that sort of thing. Bring coffee, but save it for the very last."

And how about ... ?

"Oh, I have a big bottle in the cockpit for THAT," Meekers assured.






Click for online
calendars and events.
E-mail to Features Editor
---
---
© 1999 Honolulu Star-Bulletin
http://archives.starbulletin.com