---
Thursday, September 23, 1999
Hawaii helping
Taiwan cope with
earthquake


Batteries and generators
are on the way from the
Tzu-Chi Foundation

By Harold Morse
Star-Bulletin

Help is being rushed to earthquake-ravaged Taiwan from around the world, including Hawaii.

More than $10,000 worth of batteries and generators left on flights from here yesterday, said Stephanie Fan, executive director of the Tzu-Chi Foundation in Hawaii.

The foundation, at the Chinatown Cultural Plaza Shopping Center at 100 N. Beretania St., is one of 128 project points for a worldwide relief organization run by its parent group, she said.

The Tzu-Chi Foundation of Taiwan -- which Fan described as something like the Red Cross of Taiwan -- has been providing disaster relief for three decades, and the Hawaii office is part of that effort.

"When disaster strikes, we're the first to come and last to leave," she said. About 5,000 disaster workers with the organization are putting up shelters and giving out food on Taiwan, Fan added.

Some of the proceeds from the Moon Festival to be held from 4 to 9 p.m. Saturday at the Cultural Plaza will go toward assisting Taiwan earthquake victims, she said.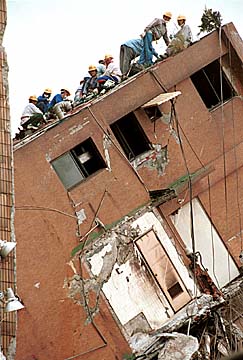 Associated Press
Rescue workers are perched on the roof of a collapsed hotel
and apartment building in Taipei today, as they continue to
search for victims of Tuesday's earthquake. It has
claimed more than 2,000 lives.
---
The foundation will have vegetarian food for sale, and half the proceeds will go to a free clinic it operates at the Cultural Plaza, while the other half will go to help Taiwan, Fan said.

She said donations for Taiwan also will be accepted near the scrip box.

"I've been receiving so many calls," from relatives of people on Taiwan, Fan said. About 10 of these Hawaii residents have been assured their relatives are safe so far, but telephone service is still out in places with the most damage, Fan said.

The foundation planned to fly more relief supplies to Taiwan today on China Airlines.

James Tsaur, sales manager for China Airlines, said regular service to and from Taiwan is continuing and seats are available. He said many people have come forward with donations and are asking China Airlines to fly the donations out, he said.

"We're trying to carry them back to Taiwan," Tsaur said. The airline's head office has donated $600,000, he added. "We're also donating 3,000 blankets and one day's salary for each (airline) employee," Tsaur said.

Meanwhile, the Hawaii chapter of the American Red Cross is taking credit card donations by telephone.

Credit card donations may be made by calling 739-8109. Contributions also may be mailed to the American Red Cross, Hawaii Chapter, 4155 Diamond Head Road, Honolulu 96816.

Checks also may be made payable to Tzu-Chi for Disaster Relief, and sent to the Tzu-Chi Foundation Hawaii Office, 100 N. Beretania St., Suite 122, Honolulu 96817. The office's telephone number is 537-2235 and its fax number is 537-2638.

The Tzu-Chi Earthquake Disaster Hot Line is 951-5618 or 951-9218.
E-mail to City Desk
---
---
© 1999 Honolulu Star-Bulletin
http://archives.starbulletin.com