---
Wednesday, September 22, 1999



W A H I N E _ S P O R T S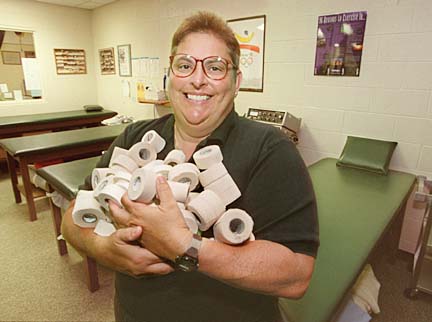 By Dennis Oda, Star-Bulletin
Melody Toth has been taping UH athletes for over 20 years.
---
Toth's is a tale
of the tape


The '79 women's volleyball
team was a turning point for
UH's veteran trainer

By Cindy Luis
Star-Bulletin

This is the fifth in a weekly series featuring the University of Hawaii's first national volleyball championship in 1979.

---

TWENTY years of taping athletes and other training-room activities hasn't blurred the memory of the 1979 Wahine volleyball team for Melody Toth. She was just beginning her third year as the women's athletic trainer at the University of Hawaii, working in inauspicious surroundings.

"We were in the condemned building under the old swimming pool," said Toth. "We used to have to lug all the stuff to Klum Gym, the coolers, the supplies. The players would help me take it all over every practice and every game.

"I remember cringing every time it rained because Klum (Gym) would leak and the floor would get wet. I prayed that no one would get hurt."

Toth's memories revolve around the players from that season.

She seemed to run out of tape every time it was Diana McInerny's turn. Cheryl Grimm was forever trying to teach Toth, a native of Indiana, pidgin ("What, you like beef? And I don't mean stew.")

"And no matter how hurt Cheryl was, she always played the next day," said Toth. "It was, 'Just tape me up and go.' She was inspiring.

"That entire team was so different. It's not that other teams didn't have heart but there was an enigma about those teams of the '70s. They were always short and played with such tenacity."

The trademark of Hawaii's teams has always been defense. It began two decades ago with one unwritten rule: no ball hit the floor.

"Klum's floor would always be the cleanest right after a game because all the dirt was on the shirts," said Toth. "Nothing hit the floor.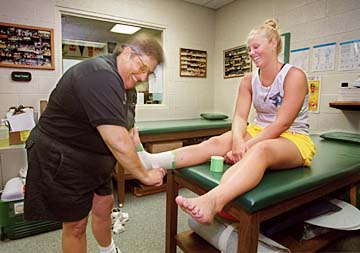 By Dennis Oda, Star-Bulletin
UH athletic trainer Melody Toth works on
softball pitcher Kelly Gentle.
---
"They were all unsung heroes. They aren't the big names that everyone usually mentions when they talk about Wahine volleyball. But they were kids on a mission to go out every day and play as hard as they can. And, of course, win."

Other than a disastrous road trip where they lost three straight (two at Utah State and one at Pacific), the Wahine had been untouchable. Top-ranked Hawaii was 24-3 and riding a 12-match win streak into the Western Regional at San Diego.

All-American setter Rocky Elias went down with a badly sprained ankle in the regional opener against Long Beach State. Hawaii lost twice to UCLA, finishing second; the Wahine went to the AIAW national tournament favored to do well but not expected to win.

Against the odds and against arch-rival Utah State, Hawaii rallied from 0-2 to win it in five, 8-15, 7-15, 15-9, 16-14, 15-12.

"I will never forget that match as long as I live," said Toth. "We were not playing bad but Utah State was playing incredible. Then Dave (Shoji) gave the team 'The Speech.'

"We went off the court during the break (between Games 2 and 3) and Dave told them, 'Look we're doing everything right. They're just playing over their heads. They can't keep up this level. Just go out there and keep playing hard. We just need one break.'

"One break happened and things started going our way. I don't remember the length of the match. Of course, nothing will ever come close to the WAC Championship last year (where Hawaii defeated BYU in five after 3 hours and 32 minutes). But the '79 title match was volleyball at its best. Things started going our way and the rest, as they say, is history."

Toth said that when Bonnie Gouveia ("probably the most timid person on the team") put down game point "it was just the most incredible feeling. And it all started with Dave's speech. It was probably the most motivational speech I've ever heard in my life."

The victory also motivated Toth to stay at UH.

"It was a real turning point for me," she said. "We had great doctors, we were building new facilities. It was a good job. Why would I want to leave?

"The first two years was such a cultural shock. But I finally got over the rice at McDonald's. Unless something drastic happens, figure on my retirement party in eight years. That will give me 30 years. And if the softball team could get to the World Series, I could retire happy."

Toth was one of the female pioneers in athletic training, receiving her masters from Indiana in 1974. She was a two-sport athlete for the Hoosiers (softball and field hockey).

The 1979 team remains among her favorites.

"They loved to play," said Toth. "They didn't get sweats, they didn't get free shoes. They played in Klum Gym.

"Come game time, there was no other place those kids would rather be than in that gym. Women's volleyball here has an incredible following and that's something the '79 team can be proud of. What a legacy they left. That was a team that said, 'I'm proud to be Hawaiian and we're going to put Hawaii on the map.' They wanted to play volleyball, they wanted to win. And they did."

---




http://uhathletics.hawaii.edu


Ka Leo O Hawaii
E-mail to Sports Editor
---
---
© 1999 Honolulu Star-Bulletin
http://archives.starbulletin.com