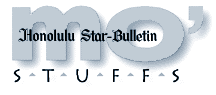 ---
Wednesday, September 22, 1999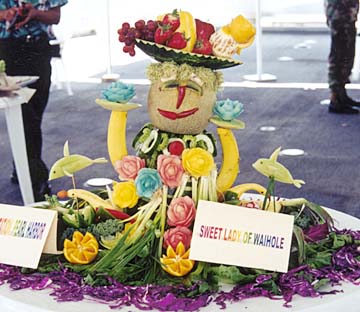 ---
Fresh approaches to salad
Military teams created fresh works of fruit-and-vegetable art in last week's Salad Head competition.

September is 5 A Day month, a time to emphasize the baseline recommendation to eat five fruits and vegetables every day. The Salad Head competition challenged teams to illustrate the concept by building "sculptures" using as many fresh fruits and veggies as possible.

First place and $125 was awarded to the Hickam Air Force Food Service team, for its Polynesian fantasy village.

Tripler Army Medical Center Food Service came in second, winning $75, for a taro-carved bust of Kamehameha surrounded by kahili fashioned of red and yellow peppers.

Third place and $50 went to the US Navy Hawai'i Region, Team I, for "Sweet Lady of Wai'ahole" (pictured), which featured honeydew dolphins and yellow squash birds in a sea of leafy greens surrounding a fruity maiden. More than two dozen different fruits and vegetables were used.

Prize money was donated by the Hawai'i Food Industry Association.
---
Beefing up an isle presence
Forage-raised beef from the Big Island makes its first appearance on the menu of a New York restaurant Friday.

Gaspar Tatartian, owner and chef at La Fusta, an Argentine restaurant in Queens, plans to use skirt steak and short ribs to prepare a house specialty, parrillada, Argentina's national dish, according to Gene Erger, organizer of the annual Taste of the Hawaiian Range food festival in Waimea.

The Big Island beef is raised entirely on foraged grasses, with no hormones or antibiotics to enhance growth. Tatartian was among chefs to cook with the beef during the Hawaiian Range event. He will introduce the beef to his menu with a Hawaii Night on Friday.
A makeover for Nicholas Nickolas
On Friday, Nicholas Nickolas will re-open as Aaron's, featuring menu items from the new corporate executive chef, Todd Carlos, and a 2,000 bottle wine collection. Late night service, live entertainment and dancing will continue. Call 955-4466 for reservations.
The art of garnishing
Kapiolani Community College is offering a hands-on lab class 8:30-11:30 a.m. Saturdays from Sept. 25-Oct. 9. Participants will have the opportunity to create garnishes with fruits and vegetables. Tuition $55. Call 734-9211 for more information or to register.
Discovering Asian ingredients
Ranjit Cooray will conduct a tour of discovery of Thai, Vietnamese and Chinese ingredients in Honolulu's Chinatown markets from 9:30-11:45 a.m Saturday. He will introduce a wide variety of fruits, vegetables and preserved and dried ingredients. Meet at the Bank of Hawaii on the corner of Maunakea and N. King streets. Cost

$15.50; reservations required. Call Lyon Arboretum, 988-0456.
"Growing Oriental Herbs in Hawaii"
Lyon Arboretum is offering an introductory class exploring an assortment of oriental culinary herbs 9:30-11:45 a.m. Saturday at the arboretum. Participants will learn about seeding, growing conditions, harvesting and storage techniques, and will feel, smell and taste a variety of herbs. Cost is $15.50; call 988-0456.
"Evolution of a Chef"
Hawaii Public Television will rebroadcast an episode of "Hawaii Cooks with Roy Yamaguchi" featuring Chef David Paul Johnson at 7:30 p.m. Tuesday, KHET/PBS. Johnson, proprietor of David Paul's Lahaina Grill and David Paul's Diamond Head Grill, will prepare his Maui Onion-Crusted Seared Ahi with Vanilla Bean Rice.
Ala Moana Hotel celebrates Oktoberfest
The Ala Moana Hotel presents its 29th Annual Oktoberfest Bavarian Festival, featuring authentic food, spirits and entertainment, from Sept. 28-Oct. 3. Hours are 6 p.m.-midnight Tuesday-Thursday, 6 p.m. to 1 a.m. Friday and Saturday, and 5-11 p.m. Sunday. Admission is $5 on weekdays and $8 on weekends. Food and drinks cost extra. Call 955-4811 for more information.
Guest chef at Kapiolani Community College
Guest Chef Mohammed Hakim of the Hotel Mocambo Fiji will present a special Fijian style dinner menu from 5:30-8:30 p.m. Sept. 30 in the Tamarind Dining Room at Kapiolani Community College. The menu will include an appetizer of Kokada Prawns in Coconut Cream; entree selections of Chicken Curry and Lamb Curry; a choice of starches of Rourou and Cassava; and a dessert of warm Lovo fruits with ice cream. The restaurant will also feature its regular menu of Seafood and Asian and Pacific-Rim Cuisine. Prices range from $16.95-$24.95. Call 734-9488 for reservations.
Pillsbury Bake-off Contest
The 50th Anniversary Pillsbury Bake-off Contest is offering a million dollar prize for winning recipes. Categories for the contest are "Easy Week Night Meals" -- casseroles, skillet meals, soups, sandwiches and salads that can be prepared and assembled in 15 minutes and completely prepared and ready to serve in 30 minutes or less; and "Yummy Vegetables" -- vegetable side dishes and salads. Entries must be postmarked before Oct. 18 and received by Oct. 22. Deadline to call the toll-free number, 1-800-306-1111 to request an entry blank is Sept. 30. Contest rules are available at www.bakeoff.com.
"Growing Taro for Home Consumption"
Agronomist and soil scientist Luis Manrique, the author of two books on taro, will discuss what varieties of taro could be grown in containers or in small home gardens, the culture and care of plants, and harvesting and storage procedures, and will provide a tour of the Lyon Arboretum taro collection 12:30-2:30 p.m. Oct. 2. Cost is $20.
"Flavors of Hawaii"
Executive Chef Ralf Bauer of the Sheraton Princess Kaiulani will conduct a cooking class 5:30-7:30 p.m. Oct. 2. Courses include Island Opakapaka and Mushroom Lumpia, Volcano Spiced Chicken Salad, Cumin-Mint Marinated Lamb Brochettes and Grand Marnier Ice Cream Parfait. Cost: $50 per person or $75 for two. Call 931-8408 to register.
Join the 'Club'
Keiki between the ages of 7 and 15 are being sought to join the Boys & Girls Club of Hawai'i -- Ewa Beach Clubhouse basketball league.

The league will start on Oct. 9, with games each Saturday. Registration is being taken, with fees of $6 for the league and a $10 annual membership to the club, which comes with a T-shirt.

The club is on the grounds of Ilima Intermediate School, 91-884 Fort Weaver Road.

For more information, call Frances Rivero at 689-4182.
Latin Jammin' Saturday
The latin beat is hot and you can get dose of it at "A Latin Jammin' Night" Saturday, during an evening of music and dance that's part of Hispanic Heritage Month celebrations.

The party starts at 6 p.m. and continues through 1 a.m. at UPRAH Social Hall, 1249 N. School St.

Pupus, no host bar and door prizes are part of the fun, with entertainment by Latin Gentlemen, Second Time Around and Tommy Valentine and Sus Amigos.

Special guests include Rachel Asebido, Darren Benitez and The Palitos, Augie Rey and Joe Rios. Tickets are $10 advance, $15 at the door.

All proceeds will benefit the United Puerto Rican Association of Hawaii Inc., who mark their centennial next year.

For more information, call 847-2751.
Chamber series set
The Honolulu Chamber Music Series opens its 45th season Oct. 30 with the the Pacifica String Quartet, featuring Simon Ganatra and Kyu-Young Kim on violins, Kathryn Lockwood on viola and Brandon Vamos on cello.

Season tickets for the chamber's 1999-2000 six-concert series are $105, and are available at the University of Hawaii's Orvis Auditorium, 2411 Dole St. The concerts will begin at 8 p.m. at Orvis each night. The rest of the schedule follows:

Nov. 19 -- The Finckel-Han Duo, featuring cellist David Finckel, formerly a Grammy Award-winning member of the Emerson Quartet and pianist Wu Han.


Jan. 15 -- Special presentation featuring Stephen Salters, a 29-year-old baritone who won the 1999 Naumburg International Vocal Competition.


Jan. 29 -- The Tokyo String Quartet, marking its 31st anniversary.


March 3 -- The Paris Piano Trio will be joined by clarinet player Allen Blustine.


April 8 -- The Dunsmuir Piano Quartet, winner of the 1996 Koussevitsky Award.
For students and Honolulu Symphony musicians, season tickets will be available for $65 beginning Oct. 10.
Single tickets, at $24 general and $15 for students and symphony musicians will go on sale three weeks prior to each event at Harry's Music Store and the UHM Campus Center ticket office.
Concerts will begin at 8 p.m. Also, there will be informal 7 p.m. chat sessions with concert artists in Music Building, Room 36 (just ewa of Orvis).
For more information, call 956-8246 or visit the UHM Outreach College web site: www.outreach.hawaii.edu.
Taking aim at hunger
In Celebration of National Hunting and Fishing Day, the state Hunter Education Program is sponsoring a food drive and fund-raiser for the Hawaii Food Bank.

Participants Saturday and Sunday at the Koko Head Shooting Range can redeem one activity coupon for each donation of food or funds to the Food Bank.

The coupons can be used for hands-on lessons in hunting, fishing, shooting and archery provided by local sporting clubs.

The event runs 10 a.m. to 4 p.m. on both days. At 11 a.m. Saturday, there will also be a Celebrity Shoot featuring local personalities in a target competition.

Both days will feature food, prizes, demonstrations and informational displays created by participating clubs.

For more information, call 587-0200.






Click for online
calendars and events.
---
Send WatDat? questions, stories
or any other story ideas or comments to:
Features, Honolulu Star-Bulletin, P.O. Box 3080,
Honolulu, HI 96802 or send a fax to 523-8509
or E-mail to features@starbulletin.com.
Please include your phone number.
E-mail to Features Editor
---
---
© 1999 Honolulu Star-Bulletin
http://archives.starbulletin.com