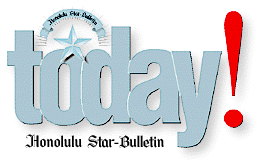 ---
Wednesday, September 22, 1999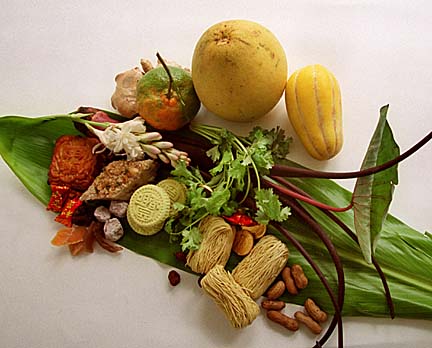 By Dennis Oda, Star-Bulletin
Traditional foods of the Moon Festival include special cakes,
foods made with taro, fresh fruits and vegetables,
noodles and candies.
---
Moonlight shines
on annual festival

By Betty Shimabukuro
Star-Bulletin

All year long we can take the moon for granted, but for a few days this week the celestial body is the centerpiece of a celebration.

In the hierarchy of Chinese holidays, the Moon Festival falls second only to the Lunar New Year, says chef Titus Chan. Its American equivalent would be Thanksgiving, Chan says.

Chan is leading cooking classes Friday featuring traditional dishes of the holiday. To take full advantage of the event, follow Chan's classes with a party -- a Moon Festival celebration at the Chinese Cultural Plaza on Saturday.

Chan outlined the special foods of the holiday, many of which are made only in August specifically for the festival:

Moon cakes: Shipped from China to Chinese communities around the world.
Candies: Intended to sweeten relationships among friends and family. Flavors include lotus seed and coconut.
Cookies: Snacks for guests as they enjoy the full moon.
Taro: A major harvest in China in August, it is made into cakes and other items.
Fish and poultry: Both items are presented at the altar amid incense and candles, and become the main courses at dinner. They symbolize harmony and peaceful relationships, concepts that the full moon exemplifies at this time of year.
Seasonal produce: Grapefruit especially is served in appreciation for the year's harvest.
Lesson over. Here's where to celebrate:
Windward Community College cooking classes: Taught by Chan on Friday, to include the preparation and sampling of a traditional meal. A lunch class will take place at 10:30 a.m.; a dinner class at 6 p.m. Cost is $20 for lunch; $25 for dinner. Call 235-7433.
Tzu Chi Moon Festival: Sample gourmet vegetarian dishes in carnival surroundings at the Chinese Cultural Plaza Saturday. Children's games, craft booths, entertainment and health screenings will also be part of the event, which benefits the Tzu Chi Foundation, a clinic that provides free medical care to those with no health insurance. Admission is free; scrip will be sold. Call 537-2235.






Click for online
calendars and events.
E-mail to Features Editor
---
---
© 1999 Honolulu Star-Bulletin
http://archives.starbulletin.com