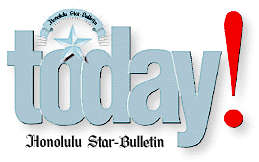 ---
Tuesday, September 21, 1999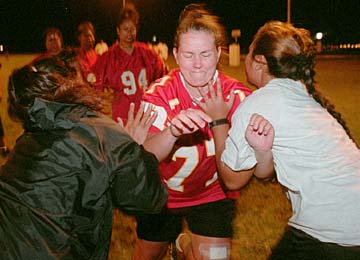 By George F. Lee, Star-Bulletin
Laura R. (a law enforcement official who asked her
last name not be used) drills with the team at Camp Smith.
---



Step aside guys, Hawaii's first
all-women pro tackle football
team is taking the field

By Alisa LaVelle
Star-Bulletin





By George F. Lee, Star-Bulletin
Star-Bulletin reporter Alisa LaVelle, whose only encounter with sports thus far has been high school cheerleading, got a firsthand look from the field.

---





THE ball snaps. The offensive line holds, the defense responds too slowly. A player takes off down the sidelines with the ball and makes it into the end zone. The offense goes into a mini celebration. Hard work and 14 weeks of practice pay off in one play.

"Great blocking," the runner Elaina Malaki tells the offensive line. At 26, the single elementary school teacher with waist-length hair and a model-perfect smile is one of 48 women that form the Hawaiian Waves, Hawaii's first all-women pro tackle football team. And in full-pads and helmets, they are serious about practice. They've got to prove they can do this.

Four plays later, Malaki finds herself flat on her back, pain surging through her left shin and knee. The defense saw her coming this time.

Her teammates want to rush over and check on her. Coaches and players are relieved when she stands and limps over. But there's no time for nurturing. The next play is set to go. Play resumes.

This practice started at 7:30 p.m. like it has every Thursday since June on Kamamalu Field near the Nuuanu YMCA. On Mondays and Tuesdays, the team begins warm-ups and stretches at 7 p.m. on the Camp Smith field. These were the only fields available to them for night practice.

Father John Frederick, Waves founder and head coach, knows injuries come with the game. A Catholic priest, he was concerned about Malaki, but he's got a lot of other things on his mind. The team needs sponsors to cover traveling expenses. It has a chance to play a Minnesota team and participate in the Orange Bowl in January if it raises enough money. Team members have already helped with fund-raisers and used their own money to buy equipment. Everyone is a volunteer who signed an agreement to hand any profits, if they ever come, over to a charitable organization.

The women also need to win over Hawaii fans, who like winners. It took eight weeks before most of the skepticism left the coaching staff. And only Peterson Sign Co. signed up to be a sponsor.

"We thought we would not have any problems getting big national sponsors like Budweiser and Nike," Frederick said. "But everyone is in wait-and-see (mode)."

Meanwhile, Malaki explains to offensive coordinator Coach William "Willy" Frederick how she felt one leg go this way and one go the other way. Coach Willy nods while keeping his eyes on 22 women in motion on the field.

In your face

Hawaiian Waves team members range from 95 to 260 pounds. They measure from 4-feet-11 inches to 5-feet-10 inches. The offensive line averages 225 pounds. There were 125 women who tried out for the team in June. Those who made it, mostly former all-star athletes, wished the best to those who did not. Some of those went to join the other team starting on Oahu, The Island Pride, waiting for the day they would play against this team.

When Malaki first came out to practices, some of the women teased her about looking more like a cheerleader than a football player. The women have since learned to respect her and each other as athletes.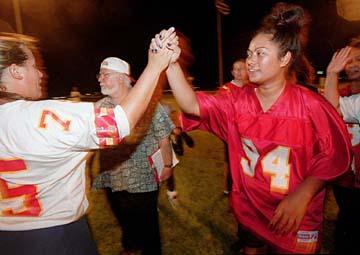 By George F. Lee, Star-Bulletin
Hawaiian Waves players Kapiolani Wallwork, left,
and Louise Newman show team spirit following
practice at Camp Smith.
---
Malaki gets taps on the helmet and appreciative smiles. When asked if she's all right, she answers, "I'm OK; good fun."

The cheerful voice of Louise Newman can be heard above the low roar of voices. At 5 foot 7 and 182 pounds, Newman, 28, helps lead the defense. She smiles the whole time she is off the field, greeting everyone with a kiss and a hug. On the field, things are different. She's playing to show her family she can do this despite bruises and lack of sleep.

She dances hula, works at a part-time job in Waikele and celebrated her fifth wedding anniversary in August.

"I want to be a positive role model for the Samoan community and for young women," Newman, 28, said about her motive for playing. "I look at this as an opportunity to shine for my community.

"I plan to play for this football team until there is no football team," Newman said. "I would never forgive myself if I quit, because I made a commitment."

Pediatrician Debbie Nojima takes care of the team's medical concerns. The 29-year-old doctor who stands 5 feet tall and weighs 130 pounds holds the position of running back too and wonders if she'll be filling in for Malaki.

A graduate of Punahou and the University of Hawaii, "Doc Debbie" played rugby and is training for the upcoming Ironman Triathalon. She is typical of the team. Everyone on the team has been on other organized sports teams. Some show long lists of athletic accomplishments.

The soccer players made the easiest transition into football. Rugby players understood the demands of contact sports. Those who got turned down at the high school or college level when they tried out for male football teams showed the greatest hunger to play.

Nojima heard about the tryouts from her mother, Amy Nojima, who remembers seeing her husband and daughter playing and watching football on TV together.

"I'll always worry about her while she's playing," Amy said. "But she really loves this game."

"Out here, I am just one of the team," Nojima said. "Not the super educated or esteemed doctor, just one of the players."

Instead of "Doc," Kim Sparks, 19, gets to play. Sparks practices in shorts. Coach Willy demands to know where her padded pants are. She says she can't afford them. The 1997 Waipahu High School graduate works for an ice cream store as a cashier and rides the bus to every practice. Coach Willy tells her he'll pay half the cost because she'll need to be in full gear for the next practice.

Sparks takes down two defensive players to clear the way for a receiver in one play. She clocked in the fastest 40-yard sprint during tryouts, at 5.1 seconds. At 4 feet 11 inches and 100 pounds, Sparks has earned the title of "Mighty Mite."

"I used to like playing with my boy cousins since I was young," said Sparks, who describes playing for the Waves as being "too technical" sometimes. "I just want to hit and play," she said. "And nobody better hit like a girl."

Chance of a lifetime

Frederick calls out, "Coaches, four more plays." Frederick wants practice to end by 9 p.m., not only because that's when park lights go out, but because he also worries about the women's health and social lives.

Linebacker Janet Scheffer adjusts her pads before the next play starts. She separated her shoulder during tryouts. It took two weeks in a sling and four more to heal. No one, including she, remembers the incident. The single mom and advertising executive wants to play just one season because she understands the reality of being a 40-year-old athlete. The oldest player, a police officer and also a linebacker, is one year older.

Scheffer's teen-age son doesn't want her to play football, but he supports his mom's "kooky, but daring" dream, she said.

"He doesn't want me to get hurt and thinks this is too rough. He sees me as mom."

The main part of practice closes. Coach Willy asks if anyone else has anything to add before they do a team yell.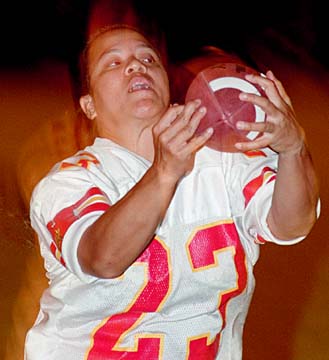 By George F. Lee, Star-Bulletin
Hawaiian Waves player Penny Kalua with a practice
reception at Camp Smith.
---
Kaipolani Wallwork stands up and thanks the team for working hard. From Montana, Wallwork stands 5 feet 8 inches and weighs 220 pounds. During tryouts, Frederick pulled her aside and said she would make a great lineman because of her size. She was offended for two seconds, before realizing, she said, "if my big body gets me this chance of making my dreams come true, so be it."

For her, playing football demonstrates the intent of Title IX, which requires equal opportunities for female athletes.

"Changes are scary for a lot of people," Wallwork said. "This is a big one, the final closed door for women's athletics. Some people will not accept us willingly or happily. But one day, we will be accepted as real football players, not as a novelty or flash in the pan. One day, they will appreciate us because we are the real deal."

The team listens to Frederick, who closes each practice with a short story to encourage them. Tonight with the rain falling, he just thanks them. He knows it's hard for team members balancing family, careers and football. But making history works that way.

All the women stand up and get ready for the traditional end to football practice. Sweaty and tired, someone yells, "One time."

They all yell in unison, "Waves."




Hawaiian Waves...
they got game

History will be made Saturday at Kailua High School when the Hawaiian Waves suit up in blue and silver for their first exhibition game for the Hawaii Pro Football League.

Other states have started women's leagues, but the Hawaiian Waves will be the first team that can officially say it's played a football game in America.

The Waves will play from 5:15 to 5:45 p.m., before the semi-pro Hawaii-All Stars vs. Washington State All-Stars men's game. Admission will be a $5 donation at the gate.

The Hawaii Pro Football League, so far, comprises five teams. Another Oahu team, The Island Pride, plans to challenge the Waves next month. The Kauai Thunder team will play in November. Maui and Hawaii teams have yet to commit to an exhibition game -- rivalries already in the making.

The Waves ambition is to challenge the Minnesota Vixens. But this takes money. University of Hawaii assistant coach Rich Miano calls traveling from or to the mainland a "logistical nightmare" because of costs and the number of people involved.

For more information about the game, call Father John Frederick, founder and head coach of the Hawaiian Waves, at 676-4714.

One of the only questions remaining: Who'll be the cheerleaders?




Reporter gets in gear
for a wild Wave ride

By Alisa LaVelle
Star-Bulletin

The women gathered into the huddle, the quarterback gives the call: "Pro motion 47 reverse 5-4-5-4-4 on two, break."

I looked over at the offense coach with blank eyes, thinking "Huh?" like a dog listening to her owner about the computer crash at work. I didn't understand the phrase "pro motion 47 reverse." It was probably a bad thing for the person carrying the football not to know.

Language was one of many problems I encountered while practicing with the Hawaiian Waves, Hawaii's first all-female full-contact football team. Size was another. At 5 feet tall and 108 pounds, I felt like a mite next to my teammates. Some of them step on the scale and show numbers twice mine. From talking to them, I know they enjoy hitting to "get those aggressions out." I started hoping they all got raises, received flowers from loved ones or had a great hair day.

The coach, showing mercy on me, repeated my running pattern number. It seems the first number after the word "reverse" meant I was supposed to run through the one-hole. With my continued confusion, the coach used his palm as a pad, his finger as pen, to show me the direction.

Another player pointed out where I needed to line up. Every one else knew their places; this was their 14th week practicing together. The quarterback already started yelling something like "Blue 42."

I wasn't sure what a running back was supposed to do, and lucky me, the coach called for me to carry the ball. Apparently, I was being set up to take the football toward 11 women who had one objective: attack the tiny woman with the football.

At this point, I thought only of survival.

Uncomfortable in shoulder pads and helmet, with no training or experience beyond a stint on my high school cheerleading team, I got down in my three-point stance and started to mumble, half-serious, half-delirious from the adrenaline, "What am I doing here?"

When the ball was in my arms, I worried about my safety, but only briefly, because things happened so quickly I can't recall details.

I ran straight, through the wrong hole. There was no time to think about staying low, like everyone had told me. No time to move my feet. No time to look for blockers, whom I unfortunately left behind when I mixed up the play.

In less than three seconds, three defensive players with blue shirts came and put me where I'd never been before. I was tackled and flattened under a pile of women much bigger than me. I went from seeing shirts to seeing stars. Suddenly, I appreciated those guys on television who stood up play after play every Sunday.

For three days afterward, my hip felt tender, my neck needed a massage and I knew what it was that made football players courageous. Now I know why men admire those pro and college guys.

The first practice showed me football had a technical side to it. Its own language. Now that I've gone through 11 practices and needed to learn the verbiage, plays and position, I learned something some men will appreciate. I learned football is an art.

And when they say football is life, I now understand. Art imitates life.

I found out offense means strategy and defense means reaction. Knowledge made offense and defense come to life. Sheer will power gave it meaning.

I came to be surrounded by artists. Each player comes with two things: talent and heart. Only heart makes it possible to take a beating over and over again. And every artist knows, you've got to play the game over and over again if you want to master it.

I learned about courage to risk injury and bruises from 11 other human beings wanting to get you. On the other side of that, like life, I found out there were 10 people with me, risking injury and bruises to make it happen. It was up to me and it was up to all of us in the exact same moment.

I saw the beauty of making an entire team work together with one goal. Each woman making their assignment count, knowing that it took everyone to make it happen. And I was amazed: They were all playing for the love of the game. Truly basking in the joy of being a pro-football athlete.

Some may call them fools. Others, a novelty. I say they are doing what gives them the feeling of being alive, experiencing what they love. They were playing football, heart, mind and soul.

In the meantime, I stood up. Shook off the feeling of losing my bearings for two seconds. And I laughed. I may not have known what I was doing, but wow, that was kinda fun.

I wondered if coach would let me do that again. I think this time I'll follow the blockers, gain some real yardage. Yeah, stay low and light on my feet. Yeah.






Click for online
calendars and events.
E-mail to Features Editor
---
---
© 1999 Honolulu Star-Bulletin
http://archives.starbulletin.com