---
Monday, Sept. 13, 1999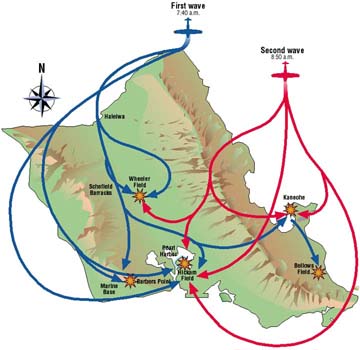 Japan's attack routes, Dec. 7, 1941.
Click image for a larger version.
---




Why Japan attacked

Intent on expanding its power and preserving what it had already taken, Japan in the late 1930s moved toward China.

Economic barriers set by other countries had kept Japan from getting raw materials needed for expansion. So Japan first attacked China, supplier of most of its cotton, coal and iron. Then it moved against Indochina for rice, tin and rubber.

In response, the United States in 1940 froze all of Japan's assets in the states, which cut off Japan's main supply of oil.


Akagi Member of Japan's Dec. 7 six-carrier
strike force -- with 465 total aircraft -- led by
Adm. Chuichi Nagumo
---
The Japanese attacked Pearl Harbor to keep America pinned down in the North Pacific, while its troops invaded targets in the Dutch East Indies and the British Far East. They also hoped that a dramatic blow against the mighty American battleships in far-flung Hawaii would demoralize American fighters.

Meanwhile, military officials in Washington, D.C., expected that Japan would soon provoke a war with America -- but thought it would come via major attacks in the Philippines. As for U.S. military officials in Hawaii, they thought the greatest danger would come from Japanese submarines.

They were all wrong.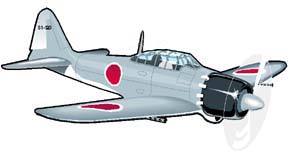 'Zero' fighter Japan's Mitsubishi-designed
'Reisen' aircraft was advanced for its time --
maneuverable, heavily armed and long-ranged
---
Instead, the early-morning Dec. 7, 1941, attack came in two waves of dive bombers, torpedo bombers, bombers and fighters flying from aircraft carriers that had moved north of Oahu. The main target: 145 vessels, including 96 warships resting in Pearl Harbor.

It was the launch of a complex Japanese offensive that spanned 6,000 miles, crossing the International Dateline and seven time zones. Over the next three weeks, Japan also attacked Guam, Wake Island, Philippines, and the British colonies of Malaysia, Singapore and Hong Kong.

It was, as President Franklin D. Roosevelt said as the United States was plunged into war: "A date which will live in infamy."

It was, ultimately, the start of World War II in the Pacific theater -- and Hawaii was centerstage.

Hawaii's role
in Pacific battles

Rebounding from Pearl Harbor, Hawaii quickly became the springboard for the U.S.'s Pacific offensive, with troops training here for jungle and amphibious battles. Among its key roles:

The first offensive strike from here was a Jan. 31, 1942, Navy carrier raid against the Gilbert & Marshall Islands, which boosted morale.
In June 1942, U.S.'s win at the Battle of Midway was a turning point in the war - four Japanese carriers and much of its ace air fleet were destroyed - and Hawaii changed from a defense outpost to an offense staging area.
The brutal fight for Guadalcanal (about August 1942 to February 1943) involved Army troops, Navy vessels and supplies staged from Oahu. In addition, the 25th Infantry Division also fought in the Solomons, then helped liberate Luzon, the Philippines; the 24th Division left in July 1943 to fight in New Guinea, and Leyte and Mindoro, the Philippines.
Preparation for a full-scale Central Pacific offensive began Aug. 6, 1943, with troops training for amphibious operations in the Ellice, Gilbert and Nauru islands. By Nov. 12, 1943, all forces were under way for battles in Tarawa and Makin in the Gilberts.
In January 1944, forces left Hawaii to seize Kwajelein, Majura Atolls and Eniwetok; by summer 1944, the U.S. also had won Saipan, Tinian and Guam in Mariana Islands campaign. In June 1944, the first B-29 Superfortress raided Japan. (On year later, in August 1945, Tinian became launching base for the Enola Gay, which dropped the atomic bombs in Hiroshima and Nagasaki.)
Divisions training here March-July 1944 went to Guam, Palau, the Philippines, Iwo Jima and Okinawa. Also among those sent to Iwo Jima and Okinawa were forces that had trained January 1945 at Maui's Malaaea and Kahoolawe .
Also: Hawaii played a major role in aiding the injured, with evacuation and hospital operations critical in saving lives of thousands of wounded.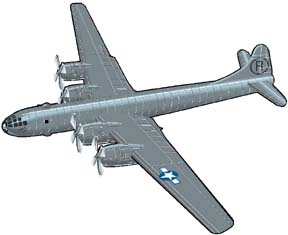 Enola Gay This modified B-29 Superfortress,
built during WWII with size and range advancements,
dropped the A-bomb on Hiroshima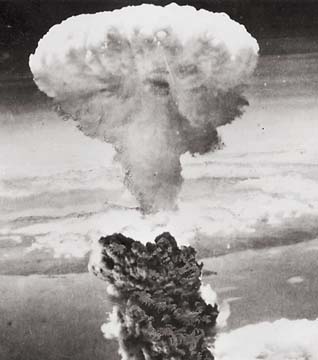 ---
Victory for U.S.,
defeat for Japan

Just as economic factors had spurred Japan to launch the Dec. 7, 1941, attack, so did they spell defeat.

Japan had hoped to create an expanded resource empire, but the destruction of its merchant shipping fleet, plus its inability to establish strong political-economic structures in conquered lands, played heavily into its decline. Without seaborne trade to sustain its war effort and civilians, Japan was losing.

There also was its dwindling military strength -- particularly the heavy losses at Midway -- and rollback across the Pacific islands, which crept U.S. forces ever closer.

Then in June 1944, the U.S. unveiled a new weapon that brought the war to Japan's door: the B-29 Superfortress, the biggest combat plane of WWII, with a wingspan almost half a football field's length. It could carry 20,000 pounds of bombs, fly at 357 mph, with a range of 3,800 miles. By end of WWII, some 66 Japanese cities had been firebombed, most by B-29s.

Already hobbled by the raids, Japan was yet to receive the final, deadliest blows of WWII. On Aug 6, 1945, the modified B-29 Enola Gay dropped the atomic bomb on Hiroshima, instantly wiping out more than 70,000 people. Three days later, another A-bomb hit, this time Nagasaki. Within days, Japan surrendered.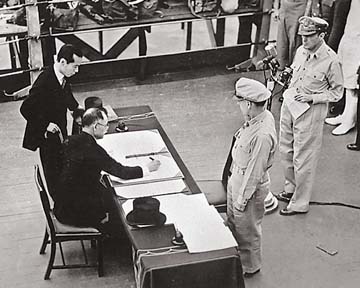 USS Missouri Japan signed surrender
documents aboard this U.S. ship. Today, the
'Mighty Mo' is docked at Pearl Harbor


---







About this Series

The Honolulu Star-Bulletin is counting down to year 2000 with this special series. Each month through December, we'll chronicle important eras in Hawaii's history, featuring a timeline of that particular period. Next month's installment: October 18.


Project Editor: Lucy Young-Oda
Chief Photographer: Dean Sensui



E-mail to City Desk
---
---
© 1999 Honolulu Star-Bulletin
http://archives.starbulletin.com