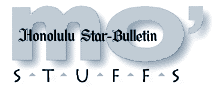 ---
Thursday, September 9, 1999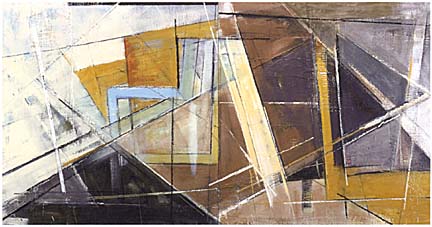 Threshold #18 by Kloe Sookee Kang, one of the artists
who will be featured at the Korean Artists Association
of Hawaii exhibition.
---
Honolulu Hale hosts
Korean artists
The Korean Artist Association of Hawaii's 14th Annual Art Exhibition opens Monday in the Courtyard Gallery at Honolulu Hale.

The gallery is open Monday-Friday 9 a.m. to 4 p.m. An opening reception will take place Tuesday 6-8 p.m.

Exhibitors include fiber artist Jee Eun Kim; photographer Kwang Kyu Yi; and painters Hwa Ja Park, Min Chong Kim and Kloe Sookee Kang.

Associate professor Lew Andrews of the University of Hawaii juried the show.

For more information, call exhibition chairman Kwang Kyu Yi at 597-8883.
---
Pride of Palolo gathers Saturday
Darren Benitez and the Nu'uanu Brothers will headline the entertainment at the annual Palolo Pride Celebration Saturday.

The celebration will run from 10 a.m. to 5 p.m. at Palolo District Park and will offer crafts and food from various cultures, including Samoan, Korean and Hawaiian.

Among other entertainers will be the Palolo Culture Club, a 55-member, inter-generational and intercultural group, all residents of Palolo Valley.

Information: 273-5981 or 383-5745.
Concert to fund kids' program
More that 50 island children will take the stage with professional performers at a concert at 7:30 p.m. Sept. 25.

Money made from the concert, "From Nu'uanu to Broadway," will be used to film a local one-hour children's television program called "Jamarama." It will be produced by Matthew Pederson, a familiar community theater figure, who hopes to create a TV series for children in the islands.

Pederson will join Jim Hutchinson, Masayo Ford, Jerry O. Parker and Alan Gelfius in the program at Hawai'i Theatre.

Tickets are $50, $40, $35 and $15. Information: 528-0506.






Click for online
calendars and events.
---
Send WatDat? questions, stories
or any other story ideas or comments to:
Features, Honolulu Star-Bulletin, P.O. Box 3080,
Honolulu, HI 96802 or send a fax to 523-8509
or E-mail to features@starbulletin.com.
Please include your phone number.
E-mail to Features Editor
---
---
© 1999 Honolulu Star-Bulletin
http://archives.starbulletin.com