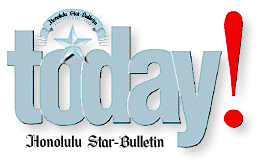 ---
Thursday, September 9, 1999

By George F. Lee, Star-Bulletin
Michael Beard is lounge lizard Johnny Cantone in "1940's
Radio Hour," produced by the Manoa Valley Theatre.
---
Comedy stretched thin
in well-acted parody

By John Berger
Special to the Star-Bulletin

FIRST impressions can be terribly hard to overcome, and the first impression of "The 1940s Radio Hour" as it wobbles through its first raucous 20 minutes is that if there weren't still some residual interest in swing dancing in Honolulu, Manoa Valley Theatre would be opening its 31st season with something else.

The show is a thin but inoffensive parody of the live on-air shows that were a staple of American radio in the early '40s, December 21, 1942 in this case.

The setting is the "seedy studios" of New York City radio station WOV. The story takes much longer than it should to get rolling, continues longer than it should, and offers little reason to care about the characters. Several are very generic; almost all seem written strictly to be laughed at rather than empathized with.




1940s Radio Hour
Where: Manoa Valley Theatre
Performances: through Sept. 26; Wednesdays and Thursdays 7:30 p.m., Fridays and Saturdays 8 p.m. and Sundays 4 p.m.
Tickets: $25
Call: 988-6131




Much of Act I and almost of Act II consists of the "radio show," an assortment of American pop songs of the era presented almost nonstop with a few Christmas standards thrown in. Some are done as high camp. Others are sung with some degree of dignity. Musical Director Darren Hochstedler and his band do a marvelous job through it all.

Various momentary crises occur at WOV when someone pouts or stages a brief walkout. Few of the bits provide anything in the way of continuity or character development.

That's not to say that there are no solid comic ideas. The brightest and most imaginative are the commercial breaks sprinkled through the broadcast. Each spot deftly parodies the commercial attitudes of the era in timeless style. Douglas S. Scheer (Clifton S. Feddington) and Lance Rae (Neal Tilden) figure prominently in several.

A live on-air presentation of "A Christmas Carol" with Rae as Scrooge is the other noteworthy comic idea. Rae is hilarious, Alison L.B. Maldonado and Kevin W. Yamada provide solid comic support, and William Kahele (Lou Cohn) gets a work out as an old-time radio sound effects man assisted by an eager gofer (Bryn Villers).

Rae takes the lead in playing "Blue Moon" strictly for laughs, and Sheilah Sealey reaffirms her comic skills with a high camp rendition of "Hey Daddy."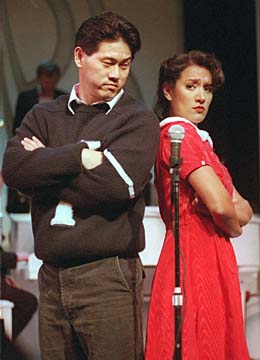 By George F. Lee, Star-Bulletin
In a scene from "1940's Radio Hour," produced by the
Manoa Valley Theatre, Kevin Yamada is B.J. Gibson
and Sheilah Sealey is Connie Miller.
---
Jolene Becker and Yamada join Sealey in making "Boogie Woogie Bugle Boy" another of the musical jokes in the program.

Maldonado seems doomed at first to play a stereotype black diva but ends up with two of most impressive vocal performances. Her renditions of "Blues In The Night" and "I Got It Bad and That Ain't Good" do justice to both.

Becker also has a pair of straight showcase numbers in "That Old Black Magic" and "Have Yourself A Merry Little Christmas," and Yamada does noteworthy work with "You Go To My Head."

Michael Beard has one of the most well-rounded roles as hard-drinking balladeer Johnny Cantone. Beard gives a great lounge lizard reading of "Love Is Here To Stay" and is even funnier assaulting "I'll Never Smile Again." His success in suggesting vulnerability under the brash facade makes Cantone interesting. A hideously cheap toupee adds a final comic touch to the character.

The contributions of Dennis Casar, Bruce Hale, Erin M.M. Sweeney, and Star-Bulletin columnist Dave Donnelly as Pops, increase the feeling that director Karen Brilliande has assembled a cast better than the material they're working with.

Lloyd S. Riford III (set design) adds an attractive and detailed environment, while Jason Taglianetti (sound design) succeeds on all counts in maintaining a good balance between the band and the vocalists.

Peggy Krock's costumes suffice to suggest the era.

If only playwright Walton Jones and the others who developed this show over the years understood that it isn't necessary to run a bit into the ground before moving on. Guy Marks spoofed the same milieu in lighter and tighter style over 30 years ago with "Loving You Has Made Me Bananas."






Click for online
calendars and events.
E-mail to Features Editor
---
---
© 1999 Honolulu Star-Bulletin
http://archives.starbulletin.com