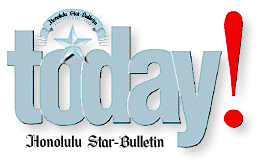 ---
Thursday, September 9, 1999



Celebration of aloha begins
with events ranging from the
annual floral parade to a
'human' lei of aloha

Star-Bulletin

ALOHA Festivals, Hawaii's annual statewide celebration of aloha officially begins Friday on Oahu with a Downtown Ho'olaule'a from 6:30 to 10:30 p.m.

There will be food booths, lei vendors and performances on seven stages at Aloha Tower, Irwin Park, the Dillingham Transportation Building, First Hawaiian Bank Tower, the Financial Plaza on Bishop Street, Bishop Square, and the Hawaiian Telephone Building, also on Bishop.

The biggest event, however, will be the "eruption of flowers" along Kalakaua Avenue, thanks to the annual floral parade Saturday, featuring floats, marching bands, specialty units and pa'u riders.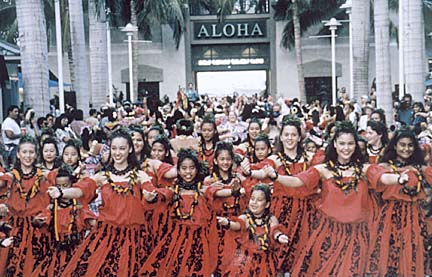 Aloha Tower Marketplace photo by Steve Bern
Aloha Tower Marketplace joins the Aloha Festival celebration by
marking the tower's 73rd birthday with hundreds of hula dancers
forming a Lei of Aloha. Last year more than 800 dancers gathered
in a circle to form a human lei around the complex.
---
There will be nine pa'u units -- one for each of the eight major Hawaiian islands, plus Molokini off Maui. Each unit will be led by a "princess" wearing the colors and flowers of the island she represents. This year's parade grand marshal is Pat Nakama Bacon.

The parade will start at 9 a.m. at the Ewa end of Ala Moana Park, proceeding in the Diamond Head direction down Ala Moana Boulevard to Kalakaua Avenue before ending at approximately 11 a.m. Kapahulu Avenue.

King Kalakaua Plaza, on the corner of Kalakaua Avenue and Saratoga Road, is offering a special parking rate of $1.

In case you miss the parade, highlights will be televised locally from 7 to 8 p.m. Sept. 18 on KGMB-TV. It will air again nationally on CBS on Thanksgiving Day.

Festival activities continue through Sept. 19 on Oahu (neighbor island activities run through Oct. 24), but you can bet even after that date, there'll be lots of cultural events to enjoy at all the major shopping malls and hotels.

Here are just a few highlights. More information is available through the Aloha Festivals offices at 589-1771, or its Web site http://www.alohafestivals.com:




ALOHA FESTIVALS PARADE

When: Saturday, 9 a.m.
Where: Begins at the Ewa end of Ala Moana and ends at the Waikiki Shell with post parade activities at McCully Shopping Center.
Cost: Free. Ribbon cost, $5, available at Aloha Festivals offices at Ward Warehouse, First Hawaiian Bank, Safeways and other merchants islandwide.
Call: 589-1771




Through Sunday

The Hawaii Forest Industry Association Wood Show, a juried woodworking exhibition, features the state's best wood crafters building with locally grown woods. At Aloha Tower, Pier 10, 10 a.m. to 9 p.m. Mondays through Saturdays, 10 a.m. to 5 p.m. Sundays. For information call 239-5517.

Tomorrow

"Aloha Days at Mission Houses Museum": See what life was like for missionary families and the role they played in the modernization of the Hawaiian Islands. Closed Sunday and Mondays. Runs through Sept. 18. Admission is $7 for adults, $4 with Aloha Week ribbon; and $4 for those 18 and under, $2 with Aloha Week ribbon. For information, call 531-0481.

Saturday

Parade Ho'olaule'a at McCully Shopping Center, with the 1999 Aloha Festivals Royal Court participating in a post-parade celebration at McCully Shopping Center. Live entertainment, handcraft displays and sales, food specials and photo opportunities, 1 to 5 p.m.

Hula Swing Fashion Show: Nake'u Awai and other local designers from the hui-owned store Native Books & Beautiful Things will whirl their creations to the sound of vintage Hawaiian music. At Ward Warehouse Amphitheater, noon. Information: 596-8885.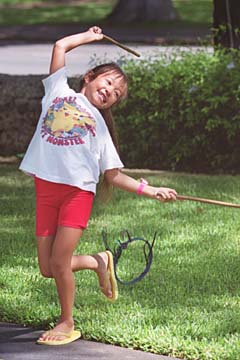 By Kathryn Bender, Star-Bulletin
Lauren Wong, 6, plays the game Flying Graces
at the Mission House museum.
---



Mission Houses special

As part of the Aloha Festivals, the Mission Houses Museum will offer kamaainas tours at a discounted rate. With an Aloha Festivals ribbon, admission will be $4 for adults and $2 for those 18 and under. Regular admission is $7 and $4.The special rate is effective Sept. 10 through 18. Museum hours are Tuesdays through Saturdays from 9 to 4 p.m. Tours are offered at 9:45 and 11:15 a.m. and 1 and 2:30 p.m.The museum displays what life was like for missionary families and the roles they played in the modernization of the islands. It offers special attractions for children, such as lessons in ancient Hawaiian games like Flying Graces.




Sunday

Hilton Hawaiian Village Ethnic Days: Tour the world in this multicultural extravaganza where one country is featured each day. Enjoy ethnic dances and songs and indigenous delicacies for purchase. At the Tapa Concourse & Village Green, 4:30 to 7 p.m., through Sept. 16. For information, call 949-4321 ext. 77881.

Monday

Traditional Draping and Horse Lei Making: Pa'u riders demonstrate several styles of draping and the making of "horse leis" for parades. Hilton Hawaiian Village, Village Green, 10 a.m. For information, call 949-4321.

Sept. 17

Waikiki Ho'olaule'a: More than 250,000 are expected to party along Kalakaua Avenue between 7 and 10:30 p.m. for the Waikiki Ho'olaule'a, with nine stages, ethnic foods and lei vendors.

Sept. 18

A Day at Queen Emma's Summer Palace: Sponsored by the Daughters of Hawai'i, this 9 a.m. to 4 p.m. festival includes music, hula, food booths, crafts, leis, homemade delectables and at tour of the palace at 2913 Pali Highway. Admission is $3 for adults; $2 with Aloha Week ribbon; $1 for children. Call 595-6291.

Waialua Taro Festival: Celebrate the revival of taro farming in Waialua with entertainment, ono foods, crafts, laulau and taro recipe contest, educational booths and "Grown and Made in Waialua" products on display and for sale. Waialua Community Association Center, 9 a.m. to 4 p.m. For information, call 637-9364 or 637-5708.

"Hui Pu I Ka Hula, Together in Song and Dance" concert will take place 7 to 9:30 p.m. at Waikiki Shell, with entertainment by the Makaha Sons and special musical guests, island halau and the appearance of the 1999 Royal Court. Tickets are $10; $5 with Aloha Week ribbon.

Sept. 19

Aloha Sunday Services: Join the Aloha Festivals Royal Court as it is received in traditional Hawaiian services at the historic and beautiful Central Union Church, at 8:30 a.m. For information, call 589-1771.

Lei of Aloha: Aloha Tower's 73rd birthday will be celebrated at 5 p.m. with a giant lei made of hundreds of hula dancers. Last year more than 800 dancers participated. For information, call 566-2337.






Click for online
calendars and events.
E-mail to Features Editor
---
---
© 1999 Honolulu Star-Bulletin
http://archives.starbulletin.com