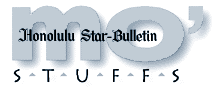 ---
Monday, August 30, 1999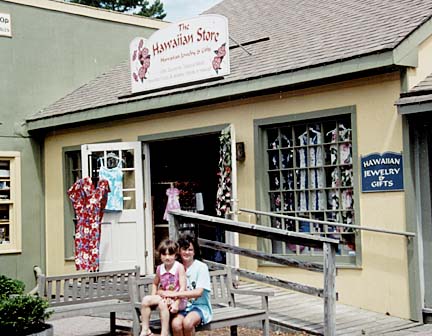 Gael Mustapha
---
The Search for Signs of
Hawaiian Life in the Universe

Jersey aloha
Gael P. Mustapha, who produces a newsletter called "Finding Aloha Everywhere," ran across the "Hawaiian Store" in Smithville, N.J., just north of Atlantic City. Owners Jon and Rose Mason came from Oahu, and host a halau through the shop.
---
The Search for Signs of Hawaiian Life in the Universe is just that -- we're looking for eveidence of Hawaiiana everywhere but Hawaii. Send snapshots and a description to TSFSOHLITU, Today Department, Honolulu Star-Bulletin, P.O. Box 3080, Honolulu, Hawaii 96813, or e-mail JPEGS to features@ starbulletin.com
---
Radio Log


KONG 570-AM / 93.5 FM: Adult contemporary rock with some Hawaiian music
KSSK 590-AM / 92.3-FM: Adult contemporary music
KHNR 650-AM: All news
KQMQ 690-AM / 93.1-FM: Contemporary hits
KGU 760-AM: Sports radio
KHVH 830-AM: News, talk, traffic, weather
KAIM 870-AM / 95.5-FM: Christian music and teaching
KJPN 940-AM: Japanese-language news, adult contemporary music and talk shows
KIKI 990-AM / 93.9-FM: Contemporary country AM; contemporary hits FM
KLHT 1040-AM: Christian radio
KWAI 1080-AM: Talk radio
KZOO 1210-AM: Japanese-language, broadcasts from Japan
KNDI 1270-AM: Live news and programs from the Philippines
KIFO 1380-AM: News, public affairs
KCCN 1420-AM / 100.3-FM: All talk / UH sports AM; contemporary island hits, FM
KUMU 1500-AM / 94.7-FM: Adult standards, AM; light favorites, FM
KHPR 88.1-FM: Classical, news, public affairs
KIPO 89.3-FM: Jazz, classical, news
KTUH 90.3-FM: Jazz, blues, Hawaiian, rock, countryand alternative
KKUA 90.7-FM: Classical, news and public affairs
KKCR 90.9 / 91.9-FM: Hawaiian music, midnight-3 p.m.; and rock, reggae, classical and new age
KRTR 96.3-FM: Adult contemporary music and news
KPOI 97.5-FM: Modern rock
KKLV 98.5-FM: Classic rock
KORL 99.5-FM: Adult contemporary
STAR 101.9-FM: Modern hits
KKHN 102.7-FM: Country
KXME 104.3-FM: Top 40
KINE 105.1-FM: Hawaiian
KGMZ 107.9-FM: Oldies





Click for online
calendars and events.
---
Send WatDat? questions, stories
or any other story ideas or comments to:
Features, Honolulu Star-Bulletin, P.O. Box 3080,
Honolulu, HI 96802 or send a fax to 523-8509
or E-mail to features@starbulletin.com.
Please include your phone number.
E-mail to Features Editor
---
---
© 1999 Honolulu Star-Bulletin
http://archives.starbulletin.com