---
Monday, August 23, 1999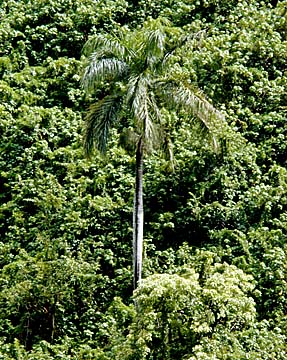 By Ken Ige, Star-Bulletin
One of these trees doesn't belong here. Can you tell which?
---
How'd that palm
get way up there?

The abrupt hills, valleys and plunging cliffsides of Hawaii are mantled with tenacious trees and grabby scrub plants.

Off in the distance, coconut palms neatly dotting the beach like hair-transplant plugs. Or something like that.

But every once in awhile you run across a palm tree away from the shoreline. Not in a suburb or military base, but out in the middle of nowhere, like clinging to the side of a sheer cliff off in the mountain fastness. Someplace out-of-place. Alien invasion.

The H-3 speedway, elevated as it is above the valley floor, makes these alien palms even more visible as they poke above the at-home vegetation. How do they get there? Is someone secretly planting coconuts on cliffsides? Or are they rolling off airplanes by accident?

Researcher Ray Baker of Lyon Arboretum knows as much about palm trees as anyone alive, and it's little comfort to discover that he has no idea how the palms get there.

"Most of these palms appear to be royal palms, or fan palms, which have seeds small enough to be dropped by birds. They don't produce big coconuts. Or the cohune nut palm, which has a seed about the size of a handbag, which a larger bird could handle. Still, it's kind of a surprise to run across a palm while out hiking in the hills," he said.

So, put the shoe on the other foot. The palm tree would be just as surprised to see you as you are to see it clinging to the flank of a precipice. But the palm has better grip.
---
By Burl Burlingame
Curious or puzzled about something you've seen, heard, felt or smelled? Drop us a line: WatDat?, Honolulu Star-Bulletin, P.O. Box 3080, Honolulu, HI 96802; fax to523-7863 or e-mail at features@starbulletin.com and we'll find out.


Click for online
calendars and events.
---
Send WatDat? questions, stories
or any other story ideas or comments to:
Features, Honolulu Star-Bulletin, P.O. Box 3080,
Honolulu, HI 96802 or send a fax to 523-8509
or E-mail to features@starbulletin.com.
Please include your phone number.
E-mail to Features Editor
---
---
© 1999 Honolulu Star-Bulletin
http://archives.starbulletin.com