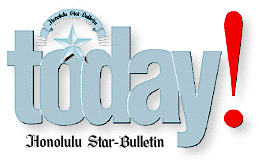 ---
Monday, August 23, 1999
Reminder of home



Winding up in San Antonio, Texas, ("acknowledged
allergy capitol of the world") Hawaii's Bill Martin was
cheered to find this drywall business owned by fellow
local expatriate Haloti Pauni of Kahuku, left. They're
forming a Hawaii Club of San Antonio.

---




The Search for Signs of Hawaiian Life in the Universe is just that -- we're looking for eveidence of Hawaiiana everywhere but Hawaii. Send snapshots and a description to TSFSOHLITU, Today Department, Honolulu Star-Bulletin, P.O. Box 3080, Honolulu, Hawaii 96813, or e-mail JPEGS or TIFFs to features@starbulletin.com






Click for online
calendars and events.
E-mail to Features Editor
---
---
© 1999 Honolulu Star-Bulletin
http://archives.starbulletin.com