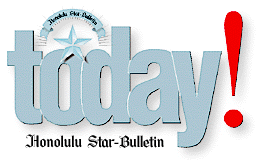 ---
Tuesday, August 17, 1999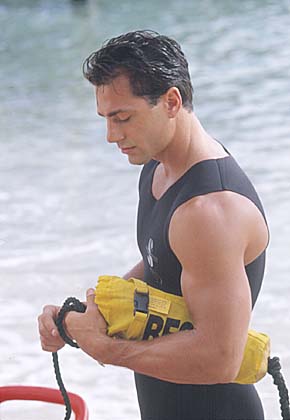 Baywatch Productions by Mario Perez



Baywatch patriarch David Hasselhoff
plans to hang loose this season, passing
the role of 'main man' to supporting
hunks like Michael Bergin

By Tim Ryan
Star-Bulletin

WEST LOS ANGELES, Calif. -- At a stylish coffee cafe on Sunset Boulevard, two body builders in Spandex shorts and tank tops sit on white-washed wooden stools sipping cafe lattes. When a similarly dressed lifter walks in, the two men tease their friend about his shorts.

"Just kidding dude," one of the teasers says in a deep voice. "You still looked toned, bud."

At a nearby table a twentysomething woman talks on a cell phone about a potential lover.

"Did you know that Erica slept with John but when he was talking to me last week I told him I hadn't had sex in four months so he sent me a get-well card and asked me to go to San Francisco with him this weekend to cure my condition?"

The conversation is loud enough to be block traffic noise. At other tables real and wannabe actors are reading scripts or talking to agents and publicists on portable phones. A man in his 30s with a two-day-old beard reads People and Entertainment Weekly at the same time. He wears a T-shirt that reads, "I (section) Drugs."

Then "Baywatch Hawaii's" Michael Bergin appears, striding in loose-fitting jeans, white T-shirt and tennis shoes.

The woman contemplating the affair looks Bergin up and down trying unsuccessfully to make eye contact. The weightlifters frown. Bergin doesn't seem to notice, focusing on the Star-Bulletin reporter waiting for an interview.




Camp Baywatch

The Honolulu Elks Lodge will host "Camp Baywatch," the Duke Kahanamoku Championship World Paddle Board Race and Ocean Sports Festival 8 a.m. to 8 p.m. Sunday at the lodge at 2833 Kalakaua Ave., next to the Outrigger Canoe Club.

There will be exhibitions of canoe surfing, ocean safety and rescue demonstrations, a surfing contest, junior lifeguard state championship, plus entertainment, door prizes and an opportunity to meet "Baywatch Hawaii" cast members.

Tickets are $15. The event is a fund-raiser for the Elks' youth and water programs. For more information, call 923-5722.




"I can't wait to get to Hawaii," is the first thing he says as he sits down. "The clean water, the warm water, the blue skies, the quiet."

Bergin and Jason Brooks are the hunks-in-waiting on "Baywatch" to patriarch David Hasselhoff, whose character Mitch, in the upcoming season beginning Sept. 25, is a bit burned out on rescues and mayhem. Hasselhoff will appear in 14 of 22 "Baywatch" episodes, finishing his portions of filmming here this month.

"You don't ever really know where your character is going until the writers make the decisions," he said. "It can change episode to episode."

Even in mid-June, a month before production was set to begin in Hawaii, Bergin had just re-signed with "Baywatch."

"I never take anything for granted," he said. "Nothing's certain until the contract is signed. I know if they could've gotten a better guy for cheaper I would probably be gone."

Bergin's okole may be as recognizable as his face. In search of a fresh look to replace Marky Mark as his underwear model, Calvin Klein chose a then unknown Bergin five years ago to appear both solo and with Kate Moss in jeans, underwear and suit advertisements. Modeling gigs took Bergin to the runways of New York, Paris and Milan for Sonia Rykiel, Valentino, Gianfranco Ferre, Giorgio Armani, Yves Saint Laurent and Donna Karan. He's done commercials for Kellogg's, Bacardi Rum, L'Oreal, Maybelline, Perry Ellis and Liz Claiborne.

He joined the "Baywatch" cast last year and because series filmming runs only five months -- June through December -- annually, Bergin will continue to do "some" modeling, though, he says, "Slowly I'm closing the door."

"I'm proud of what I did; I traveled all over the world and made great money," he said. "When they pay you a big chunk of change to go to London to show off your underwear ... that's a pretty good deal. But you can't be a model forever."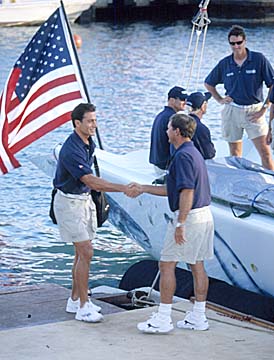 Baywatch Productions/Mario Perez
Michael Bergin, left, greets the U.S. America's Cup sailboat crew.
---
Modeling was never Bergin's goal. He grew up in the small town of Naugatuck, Conn., where his father was a police officer. Majoring in marketing at the University of Connecticut, Bergin supported himself as a roofer for $4 an hour working after school and on weekends. Then, a family friend suggested he try modeling.

"She said she knew a guy my age earning like $100 an hour," Bergin said. "I thought she was crazy. Where I come from, we don't even have glamour magazines; we don't know anything about male models. Guys getting paid for modeling sounded ridiculous."

But he was curious. So during a summer break he called on New York modeling agencies, showed them his portfolio, and eventually hooked up with one of the few that handle male models.

"My dad thought I was crazy after I had spent four years working my ass off getting a degree," Bergin said. "But my dad has always allowed us our independence. He told me that if the modeling thing didn't work out, I would learn from the experience and could always come home."

Although Bergin was getting some modeling gigs, he still worked at other jobs, including as a hotel doorman, to support himself. Then Calvin Klein came knocking, followed by a fragrance print ad that paid $150,000 for only a few days work.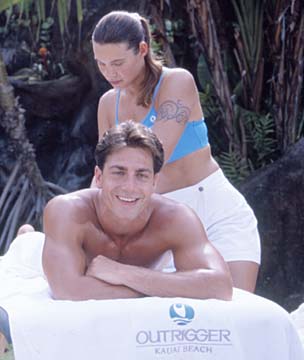 Baywatch Productions by Mario Perez
'I can't wait to get to Hawaii.
The clean water, the warm water,
the blue skies, the quiet.'

Michael Bergin BAYWATCH HUNK-IN-WAITING

When the Klein campaign hit, Bergin said his "butt was on dozens of billboards."

"I wasn't prepared for the crush," he said. "I didn't know where it was going to take me. But I definitely was in the game."

Bergin also is the face of Claiborne for Men, a division of Liz Claiborne, Inc., and in 1997 made his debut as the first ever male spokesmodel for Claiborne Inc.

Then a couple years ago during a photo shoot in Mexico, Bergin's manager notified him that "Baywatch" producers were interested in him for a part. A few auditions later and Bergin was on the show debuting last fall as Jack "J.D." Darius, a new instructor at the rookie school, who has returned to the beach after an extended leave of absence. During his time away, J.D. was recovering from post-traumatic stress disorder, which he suffered after a failed rescue.

"I keep my goals pretty reasonable in acting," Bergin said. "I'm not here to try to do what Brad Pitt is doing. I want to enjoy the process of growth and if it comes, success. I want to savor the moment, not be fixated on some huge future goal and miss all those good things in between."

One unexpected prize of "Baywatch" has been relocating to Hawaii from Southern California.

"It'll be a whole new show," said Bergin, who's single "but dating." "And it's pretty amazing I'm even on a show like this when I don't know how to surf, but that's Hollywood."

Bergin hopes to expand his acting repertoire to the theater.

"I take this business day by day by day," said Bergin. "If everything ended tomorrow, I've saved enough money to go back to Connecticut, buy a house and I'd be very happy."






Click for online
calendars and events.
E-mail to Features Editor
---
---
© 1999 Honolulu Star-Bulletin
http://archives.starbulletin.com