---
Monday, August 16, 1999



Peters pleads not
guilty in theft


The ousted trustee says he may
seek sanctions against
Gov. Cayetano

By Rick Daysog
Star-Bulletin

Ousted Bishop Estate trustee Henry Peters today pleaded not guilty to theft and conspiracy charges and raised the possibility of further legal challenges to the state's criminal investigation.

The 58-year-old former state House speaker entered his plea before Circuit Judge Michael Town, saying the indictments are based on the attorney general's one-sided presentation of evidence.

Peters' co-defendant, local developer Jeffrey Stone, also pleaded not guilty to commercial bribery, conspiracy and perjury charges.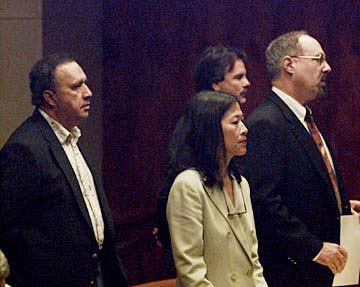 By Kathryn Bender, Star-Bulletin
Henry Peters and Jeff Stone, with attorneys Rene Yuen
and John Edmunds, pleaded not guilty today.
---
"This is the A.G.'s grand jury. I didn't have my lawyers there and they didn't have the opportunity to cross-examine witnesses," said Peters.

"We are innocent and we want the opportunity to prove that."

Trial has been tentatively set for the week of Nov. 22.

An Oahu grand jury indicted Peters and Stone on Aug. 4 for their role in an alleged kickback scheme involving Bishop Estate land in Hawaii Kai.

The August indictment are similar to previous charges raised by a separate grand jury. Town last month tossed out the previous indictments due to tainted testimony from Stone's former lawyer Richard Frunzi, who was convicted of federal money laundering charges.

Peters, who was temporarily removed as $1 million-a-year trustee of the Bishop Estate by Probate Judge Kevin Chang back in May, said he's not sure if he will get a fair trial and alleged that the charges are politically motivated.

Peters said he is contemplating filing a complaint with the Office of Disciplinary Counsel against Gov. Ben Cayetano, who he believes has masterminded the criminal case.

Meanwhile, John Edmunds, Stone's lawyer, has said he may ask the court for a separate trial.

But senior Deputy Attorney General Lawrence Goya said he would oppose the plan.

---



E-mail to City Desk
---
---
© 1999 Honolulu Star-Bulletin
http://archives.starbulletin.com