---
Wednesday, August 11, 1999



W A H I N E _ V O L L E Y B A L L
---
Dave Shoji begins his 25th season as
Wahine volleyball coach. With Hawaii hosting
the championship, the Wahine are looking
to make the final four . . .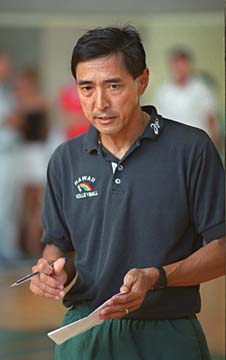 By Dennis Oda, Star-Bulletin
In his 25th season as head coach, Dave Shoji will be
leading a Wahine team with no returning setter.
---
'Shoj' time
By Cindy Luis
Star-Bulletin

OBVIOUSLY, time flies when you're having fun. The seasons have flown by for Dave Shoji so quickly that the University of Hawaii women's volleyball coach had to be reminded it's his 25th season.

"Oh, yeah, that's right," Shoji said as the Wahine opened fall practice yesterday at Gym I. "Twenty-five years ... "

Shoji would like nothing better than to cap his silver anniversary with additional hardware four months from now. Hawaii hosts the NCAA national championship, Dec. 16-18, at the Stan Sheriff Center, and the best way to celebrate the new century would be with a fifth title.

The Wahine coach feels his team is in the hunt.

"I think maybe 10 teams can take it this year," Shoji said. "I've read some of the prospectuses and there are a lot of teams that return a lot of good players.

"We've got a pretty good group. It's a matter of the dynamics of who's going to be the leaders and who of the veterans have improved the most. We need to have two or three of them have their best seasons."

Shoji voted Stanford as his preseason No. 1 pick in the AVCA coaches' preseason poll. He also had Penn State, Nebraska, Pacific and Long Beach State among his top five, although he couldn't remember the order.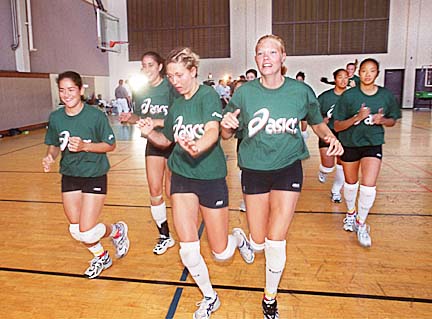 By Dennis Oda, Star-Bulletin
The Wahine volleyball team hit the court yesterday
for the first day of fall practice.
---
"I put us somewhere between No. 5 and 10," he said. "Our setting position is very young but I think they are far along enough not to be a negative. If they are OK then we'll be OK."

With the graduation of Nikki Hubbert and transfer of Tehani Miyashiro, the reins of the team will be in the hands of a newcomer. Shoji will look at two freshmen -- high school All-American Jennifer Carey and UH Lab School product Margaret Vakasausau -- and a junior transfer -- former BYU-Hawaii player Andrea Gomez-Tukuafu.

"If any freshman can step into a Division I program right away and play, it's Carey," said ex-Rainbow volleyball player Tom Pestolesi, who coached Carey at the club level.

"I'm excited," Carey said. "There are big expectations and a lot of pressure, with the program and with the final four being here. Hard work and hard practice will get it done."

Carey, Vakasausau and Gomez-Tukuafu are three of six newcomers. On the roster are 6-2 freshman hitter Lily Kahumoku (Kamehameha), 6-foot sophomore middle Tanja Nikolic (transfer from Oregon) and redshirt junior Aven Lee (Kamehameha).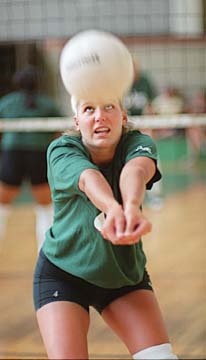 By Dennis Oda, Star-Bulletin
With the setter position open, freshman Jennifer
Carey may make an immediate impact.
---
Shoji feels Nikolic, originally from Croatia, will get plenty of playing time. He cites her international experience, the unexpected transfer of sophomore Adrianne Bradley (to Utah) and the chronic back problems of sophomore middle Veronica Lima as factors that will put Nikolic in the lineup.

"It's already more than I expected," said Nikolic, who arrived in Hawaii yesterday. "I just got here, but the chemistry of the team seems good. My expectations are the final four."

Playing at home for the title is the goal. It will be the last shot at a championship for the four Wahine seniors: Heather Bown, Heidi Ilustre, Jennifer Roberts and Shelly Kim.

"I think it's going to be a really good year," said Bown, who spent the summer with the U.S. national team. "The big thing will be the connection between the setters and the hitters.

"I don't know if we're putting pressure on ourselves to be in the final four, but there is outside pressure from the community. You don't want to disappoint the fans."

"We're taking one practice at a time and one match at a time," said Ilustre, who had shoulder surgery during the offseason. "We have six newcomers, but they already fit right in.

"As a senior, I just want to try to be a leader out there and bring some fire on the outside."

The clock has begun. Twenty-one days until the opener at California. One hundred and twenty-eight days until the final four.

1999 Wahine volleyball roster

Player  		Pos	Ht.	Yr.	Hometown
Heather Bown 		MB	6-3	Sr.	Yorba Linda, CA
Jennifer Carey 		S	6-1	Fr.	Newport Beach, CA
Andrea Gomez-Tukuafu 	LS/S	5-8	Jr.	Lewiston, ID
Heidi Ilustre 		LS	5-10	Sr.	Carson, CA
Lily Kahumoku 		LS	6-2	Fr.	Honolulu
Shelly Kim 		DS	5-7	Sr.	Kapolei
Aven Lee		DS/LS	5-8	Jr.	Honolulu
Veronica Lima 		MB	6-2	So.	Brazil
Tanja Nikolic 		MB	6-0	So.	Croatia
Jennifer Roberts 	RS	6-2	Sr.	Huntington Beach, CA
Jessica Sudduth 	LS	6-2	Jr.	Yorba Linda, CA
Margaret Vakasausau 	RS/S	5-8	Fr.	Honolulu

Coach: Dave Shoji (25th season, 681-135-1)

Assistants: Charlie Wade, Kari Anderson




1999 Wahine schedule

August

28: Alumnae vs. alumnae, 6 p.m.; Green vs. White, 7:30 p.m.

September

1: At California. 3: Hawaiian Airlines Classic-UCLA vs. Pitt, 5 p.m.; Hawaii vs. Minnesota, 7 p.m. 4: Hawaiian Airlines Classic-Pitt vs. Minnesota, 2 p.m.. 5: Hawaiian Airlines Classic-UCLA vs. Minnesota, 3 p.m.; Hawaii vs. Pitt, 5 p.m. 6: Hawaiian Airlines Classic-Hawaii vs. UCLA, 5 p.m. 9: Aston's Imua Challenge-Southern Cal vs. Nevada, 5 p.m.; Hawaii vs. Tennessee, 7 p.m. 10: Tennessee vs. Nevada, 5 p.m.; Hawaii vs. Southern Cal, 7 p.m. 11: Southern Cal vs. Tennessee, 2 p.m. 12: Hawaii vs. Nevada, 5 p.m. 16: Long Beach State. 17: Colorado. 24-25: Loyola Marymount.

October

1: x-TCU. 3: x-Fresno State, 5 p.m. 8: x-at Tulsa. 9: x-at Rice. 16: x-SMU. 21: x-UTEP. 24: Stanford, 5 p.m. 29: x-at San Jose State. 30: x-at Fresno State.

November

5: x-Tulsa. 12: x-at SMU. 15: x-at UTEP. 18: x-Rice. 23: x-San Jose State. 26: at Arizona Thanksgiving Invitational-Hawaii vs. Arizona. 27: at Arizona Thanksgiving Invitational-Hawaii vs. Cal Poly SLO.

December

2-5: NCAA First/second rounds, TBA. 9-12: NCAA regional, TBA. 16 & 18: NCAA final four, Stan Sheriff Center.

x-denotes WAC match.

All home matches 7 p.m., Stan Sheriff Center, unless noted otherwise.




---




http://uhathletics.hawaii.edu


Ka Leo O Hawaii
E-mail to Sports Editor
---
---
© 1999 Honolulu Star-Bulletin
http://archives.starbulletin.com