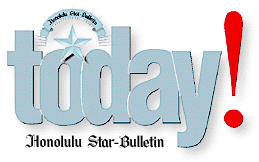 ---
Friday, August 6, 1999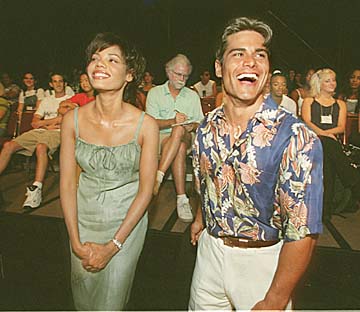 By Dennis Oda, Star-Bulletin
Hosts of "Destination Stardom" Lisa Canning, left, and Kala'i
Miller, also of '"Baywatch Hawaii," wait for the
show's first run-through.
---
Cameras roll for
instant stardom

By Tim Ryan
Star-Bulletin

THE bios say the "Runway Model" contestants on "From Hawaii ... Destination Stardom" live in Norway and Germany although they actually live in Los Angeles. Another contestant is 28, but her bio says she's 25.

And Kala'i Miller, who just a few months ago was a full-time Honolulu firemen, not only has become a regular on "Baywatch Hawaii" but now also is the "Island Host" of "Destination Stardom" and is referred to on air by host Lisa Canning as "his hunkiness."

"I feel goofy saying that," Canning tells him.

But one must be prepared to say anything for a shot at stardom.

A moment earlier, Miller reads from a tele-prompter to introduce himself, saying "I'm Kalai, island guy ..."

Twenty-two contestants from as far as Miami to as near as Hawaii Kai showed their stuff during Wednesday's arduous six-hour rehearsal in what an on-air announcer called "The ultimate talent challenge."

"From Hawaii ... Destination Stardom" yesterday began filming 26 shows at the Hawai'i Convention Center for broadcast on Pax TV later this month.

Executive producer is Al Masini Productions, also creator and executive producer of "Star Search," another talent show, as well as last year's "Miss Universe Pageant."

Host Canning was a correspondent for three years on "Entertainment Tonight," and co-hosted the late-night ABC talk show "Into the Night" with Rick Dees. She's also acted in several television series, including "Baywatch."

Canning, dressed in a tight white gown, joked to reporters that her only previous talent show experience was serving as a judge "for lots of guys in underwear."

The "Destination Stardom" stage is similar in form -- not size -- to the one designed for last year's Miss Universe Pageant. The set features large rear projection screens -- each in gold frames -- on both sides of the stage in front of which contestants will introduce themselves. Stairways descend from several areas, bordered by either artificial palm trees or 12-foot high tiki torches.

There are enough seats for 451 people including 100 audience members chosen to vote on the competition. Thirteen performers will compete in every show.

Dawn Marie, a part-time bartender, fitness model and now "Baywatch H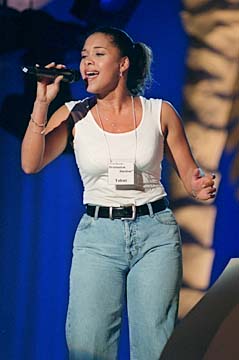 By Dennis Oda, Star-Bulletin
Liz Dias, 27, from Atlanta, is one of the first to compete in "Stardom."
---
awaii" extra, is competing in the "Runway Model" category with two other women in the first show.

"I haven't done anything like this before but the 'Baywatch' experience introduced me to acting and I've become interested in that," said the Virginia-born Marie. "Even if nothing comes out of this, the experience alone will be worth it."

Along with Marie, model competitors Monica Hansen, 20, of "Norway," and Nadine Marin, 23, of "Germany" will model a bikini top and sarong; bikini; and evening gown.

Marin, who has a tattoo around her left ankle, lifted a baggy jeans pant leg to show Hansen the quarter-size, thigh bruise she worries will hurt her chances of winning.

"What should I do?" she asks.

"Just use makeup like I must for this," Hansen says, showing the tattoo she'll need to cover on her left arm.

Seven members of the Seattle Supersonics cheerleading squad -- "Sonic 6" -- arrived Sunday to compete in the Variety/Dancer competition.

"Hey, this is, at the very least, a lot of fun," said Kendra Liere, 21, a Sonics' cheerleader for two years. "It's all about having a good time."

The six have been practicing a hip-hop dance routine to the song "Get on Down" in their Outrigger Prince Kuhio room.

"Destination Stardom's" opening song was written by Brian Rawlins, who wrote and produced Cher's new single, "Believe," Masini said.

Performers compete for a share of the more than $500,000 in prize money. Winners in each competition receive $2,000.

"Destination Stardom" will air twice a week, on Mondays and Fridays beginning Aug. 23 in Hawaii. The finals competition will air Feb. 28, 2000 and the winner will receive $25,000.

---




Destination Stardom






Click for online
calendars and events.
E-mail to Features Editor
---
---
© 1999 Honolulu Star-Bulletin
http://archives.starbulletin.com