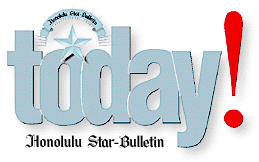 ---
Friday, August 6, 1999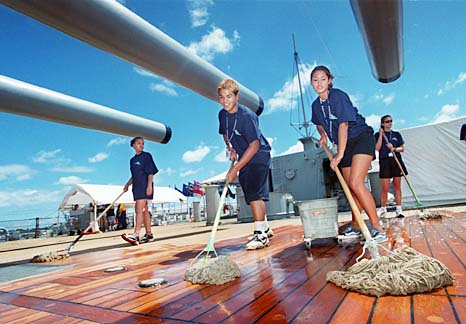 By Dennis Oda, Star-Bulletin
Swabbing the deck of the USS Missouri are Genia Linear, left, of
Iolani School, Westin Munar of Aiea High and Vanessa Horne of
Mililani High, all participants in Bank of Hawaii's 2nd Century
Scholars program who were out in full force recently with
mentors, cleaning up the ship as part of a
community service project.
---
Banking on scholars


All it takes is faith—and $5 million
—to invest in the future of 100 students
who are committed to succeed

By Alisa Lavelle
Star-Bulletin

SOMETIMES life brings promise and opportunity together. Dwight Fabian spent last week at the University of Hawaii getting ready for college, doing service projects and trying new things like swing dancing.

The week's activities also included an SAT test preparation session, writing workshops, a service project aboard the USS Missouri and play time at the Hawaiian Water Adventure Park. Ninety-one students attended.

"I feel better about being a freshman in college, like I got a head start," Fabian said.

He is only 15 years old, one of 100 high school students selected to participate in a unique program by Bank of Hawaii, which has committed seven years and $5 million toward the students' college educations. If the students continue to do well, they each will receive $10,000 a year for four years of higher education. The remaining $10,000 per student will go toward administration fees and extracurricular activities such as the weeklong college prep program.

BOH's aim was to celebrate its first 100 years of existence, not by commemorating the past, but planning toward the future.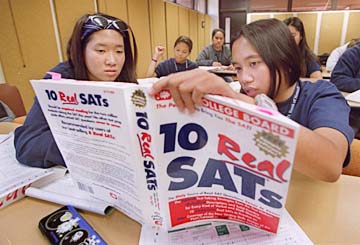 By Dennis Oda, Star-Bulletin
Lisa Lau, St. Francis School, and Gladys Aurelio, Farrington,
study during the SAT practice sessions set up
by the scholars program.
---
"By removing the financial barriers to success in high school and college, and supporting them each step along the way, we hope to help them accomplish great things in their chosen professions, in their communities and, most importantly, here in Hawaii," said Larry Johnson, CEO and chairman of the board of directors of Pacific Century Financial Corp. and Bank of Hawaii.

The Bankoh 2nd Century Scholars program started in December 1997. Students came from public, private or home schools statewide. The Big Island has 18 scholars, Kauai 7, Lanai 1 and Maui 10. All other students were selected from Oahu.

Students were selected based on scholarship and need. Each comes from a low- or moderate-income family, are the first to go to college from their family and were recommended by their teachers or school.

Fabian will be entering his junior year at Farrington High School this fall with a 4.0 grade point average. He's set his sights on joining the student government and vows to become a doctor after he completes his education.

An only child, he understands compassion. His father died of a heart attack when he was five.

"I can do something about it and other kids won't have to go through what I did," Fabian said.

His commitment carries more than his own expectations. Fabian's mother supports both of them with her part-time nurse's salary. She kept him out of gangs by being there for him. He is the first in his family to have the will and ability to go to college, earning her bragging rights with relatives in the Philippines.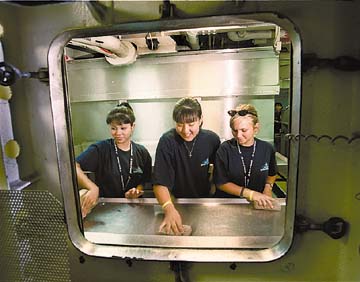 By Dennis Oda, Star-Bulletin
Charis Sapla-Yokotake of Pearl City High, Gina Kim of
Moanalua High and Ashley Rietfors of Waldorf School
wipe down the bakery area aboard the USS Missouri.
---
"Everyone's counting on me," Fabian said. "Got to maintain everything. That's the hardest part. So I have to keep a clear mind and follow through." Each student is assigned a mentor to provide guidance.

Audrey Russel, a junior at Kalaheo High School, got paired with Linda Lewis, a BOH community reinvestment act program administrator.

Russel and Lewis squeeze in meetings about twice a month. Russel attends gifted and advance placement classes at her school, maintains a part-time job and swims on her high school team. Lewis works 10 to 12 hours a day, serves on four community boards and works out daily.

They go shopping, tour museums and see movies on weekends. They keep in touch by e-mail throughout the week. They took a surfing lesson together.

Each tries to involve the other in their activities, like swim meets or art shows.

"It's great to talk to someone who cares about me outside of my family," said Russel, 16, who wants to be a commercial artist.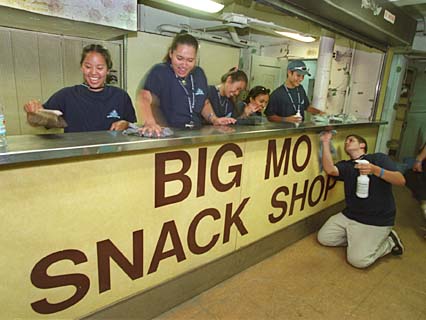 By Dennis Oda, Star-Bulletin
A group of students cleans up the snack shop of the USS Missouri.
---
Mentors were screened by Big Brothers/Big Sisters of Honolulu Inc. They matched a student with a mentor by proximity and background. Then, each mentor got a house visit and interview.

If the meeting with parents, student and mentor went well, then mentors commit to the entire seven-year period.

"We got paired together because we both have step-parents," Lewis said with a big smile. Russel smiles and nods her head. They differ by more than a decade in age.

Lewis gets something out of the relationship too.

"I never had a sister," Lewis said.

Eighty percent of the mentors work at Bank of Hawaii, said BOH vice president Linda Chinn.

Fabian represented BOH in the Filipino Fiesta Parade several months ago, riding in a car with his mentor, Richard Dahl, BOH assistant vice-president and trust officer of the department of private clients and fiduciary services.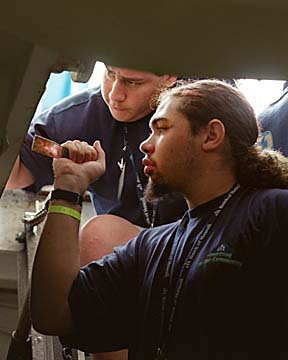 By Dennis Oda, Star-Bulletin
Orion Freeman, left, of Ka'u High and
Arjuna McGowen of Pahoa High chip paint.
---
Although there are "no string attached" to the awards, CEO Johnson hopes the students will stay in Hawaii after graduating from college.

Russel said she was unsure if she would return after college in Oregon. Fabian said he could not imagine being anywhere else but Hawaii.

"We and our future are only as strong as the people in our community," Johnson said. "We were hoping to create 100 leaders in Hawaii, provide them the opportunity."






Click for online
calendars and events.
E-mail to Features Editor
---
---
© 1999 Honolulu Star-Bulletin
http://archives.starbulletin.com