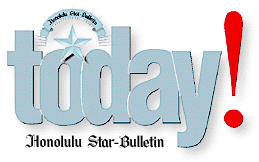 ---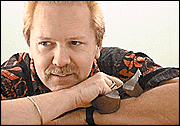 Island Mele
By John Berger
Friday, August 6, 1999
---
Akana smoothly soulful

Hawaiian Soul, by Keola Akana (Native Mind Productions) NMPO11

THE title of this album describes the duality of singer/ songwriter Keola Akana's repertoire. He opens in a contemporary Hawaiian mode and moves into a smooth soul-lite style. His lightest R&B tunes still surpass local pop.

Akana's most impressive song, "Native Identity," calls on Hawaiians and others who support sovereignty to work together and stop bickering about who is the most authentic kanaka maoli. "Don't Let Go Of Tomorrow" is a political lecture set to music, while "Maiden Fair" is a hapa-haole love song. All three should be getting play on "Hawaiian radio."

Akana and co-producer Alwyn Erub smoothly combine sequencing and live musicians on the pop songs. "Anela Smile" is an attributed cloning of Hall & Oates' 1976 hit, but Akana's pop originals have comparable appeal.

Native Mind - http://www.keolaakana.com

---

Reminiscence, by Cathy Waiamau (Al & Cat's Entertainment) ACE101D

WHEN Cathy and Al Waiamau share 10 of their favorite songs the program ranges from a beautiful rendition of "Pua Lilia" to "Waikiki" and "Theme From 'Ice Castles' (Through The Eyes Of Love)." This is officially Cathy's solo album but producer/husband Al joins in on smooth pop remakes of "Dream" and "Route 66."

Self-produced albums often suffer from insufficient funding and a resulting excess of low-budget synthesized music tracks. Al and musical advisor Robert Shinoda generally avoid that. This is an appealing calling card.

Al & Cat's Entertainment - Web: http://www.lava.net/~studio57; E-mail alcats@netscape.net

---

Kaleinani, by Stacie Taniguchi (Black Mountain) SSBML1

PRODUCER/songwriter Art Umezu helped launch BBC/TNG towards a national record deal 10 years ago. His latest discovery, Kauai singer Stacie Taniguchi, is already getting airplay on this CD single.

The title song presents her in a 1950s style hapa-haole mood. "A Thousand Miles Away" has a more contemporary sound, and she sings it light and sweet. Both songs show her potential, but the latter is most likely to be the demo that gets her attention elsewhere.

Black Moutain Records, P.O. Box 3763, Lihue, HI 96766





---




John Berger, who has covered the local
entertainment scene since 1972, writes reviews of recordings
produced by Hawaii artists. See the Star-Bulletin's Today
section on Fridays for the latest reviews.
E-mail to Features Editor
---
---
© 1999 Honolulu Star-Bulletin
http://archives.starbulletin.com