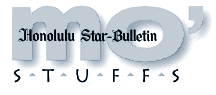 ---
Wednesday, August 4, 1999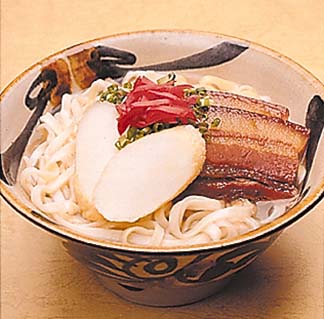 "Ryukyuan Cuisine," Okinawa Prefecture
Okinawan soba differs from traditional Japanese soba in
its use of pork broth and a chewier Okinawan noodle.
---
Festival celebrates the
foods of Okinawa
The toughest ticket in town this week is likely to be the third annual Taste of Okinawa, scheduled for 6 p.m. Friday at the Japanese Cultural Center of Hawaii.

The fund-raiser for the Okinawan Centennial Celebration next year is expected to sell out, so make reservations and don't plan on picking up last-minute tickets at the site. The event is limited to 800 people.

Chefs from Okinawa will prepare traditional dishes, supplemented by a selection of locally catered items.

If your knowledge of Okinawan cooking is limited to pig's feet and andagi, Taste of Okinawa will be a revelation.

Okinawan cuisine differs from traditional Japanese cooking primarily in its use of pork as meat of choice. It shows up roasted, stewed, in soups. The Japanese avoidance of animal fat, spurred by Buddhism, did not penetrate the Okinawan islands.

Still, influences of Japan and China are clearly a part of today's Okinawan cookery.

Among items on the menu Friday night:

Rafute: Cubes of pork, skin attached and flavored with awamori, an Okinawan liquor.

Hana ika: A special occasion dish made of fish carved in shapes of flowers and crabs.

Minudasu: Once known as Palace Food and restricted to the rich, this dish comprises roast pork flavored with awamori and sweet sake.

Okinawan soba: The broth begins with a pork bone, stewed until the bone turns almost to gelatin.

Hirayachi: A pancake made with carrots, pumpkin and leek.
Tickets to Taste of Okinawa are $35 and include awamori, Orion beer, entertainment and door prizes. Call 523-5858.
---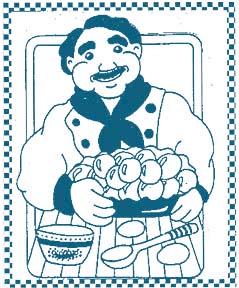 Taste whets appetite for Festa

Traditional foods of Portugal will be showcased Saturday at A Taste of Portugal! at Tenney Theatre on the grounds of St. Andrew's Cathedral.

Dishes to be served: Vinna A'ldos (meatballs marinated in vinegar wine sauce) and Codfish Cakes and Fava Beans. They will be prepared by John Peru, who was named Chef of the Year in 1997 by the State Chefs' Association, while he was chef at Mid-Pac Country Club.

The eating is free at the 7 p.m. event, which is meant "to preserve and perpetuate the Portuguese culture in Hawaii and to educate the general population about Portuguese contributions to Hawaii," said Toni DeMello, president of the sponsoring group, the Hawaii Council on Portuguese Heritage.

The affair will also feature a performance by Saudade do Bravo, a folkloric troupe from Tulare, California.

Next up: the much larger scale annual Festa, scheduled for Oct. 2 at the Blaisdell Exhibition Hall.

For more information, call 845-1616.

Foster homes needed

The Casey Family Program seeks families interested in providing longterm foster care for pre-teens and teens unable to return to their homes.

The private foundation will host an informational meeting 5:30 to 8 p.m. Aug. 10 at its office at 1848 Nuuanu Ave.

Call 521-9531 for information.

Morsels

A fusion of two: Jordan Winery Chef Thomas Oden will join Chef David Paul Johnson in preparing fusion dinners featuring Jordan wines. The dinners will be served 6 p.m. Aug. 13 at David Paul's Diamond Head Grill, and 6 p.m. Aug. 14 at David Paul's Lahaina Grill.

On the five-course menu are hors d'oeuvres of smoked salmon with abalone or tobiko remoulade, fingerling potatoes with Osetra caviar and créme fraiche, and tomato champagne shooters with Peaky Toe Crab. The fish course offers scallops with an apple cider, soy and butter vinaigrette, the meat course is rack of lamb. A selection of Sonoma County cheeses will be served for the fourth course. The meal concludes with Port-Braised Fig Tartlet and Port-Chocolate Ice Cream.

The price for the dinner is $60 per person plus tax and tip. For reservations, call Diamond Head Grill at 922-3734, Lahaina Grill at (808) 667-5117.

"A Culinary Oasis": The Hawaii Public Television program "Hawaii Cooks with Roy Yamaguchi" explores why Strawberry Connection has become a mecca for Hawaii chefs and food connoisseurs. Chef Nick Sadaya will prepare his warm duck salad with saffron-flavored rice, duck meat, toasted almonds and dried fruit. The show will air at 7:30 p.m. Tuesday on KHET.

Alan Wong's Favorites: Sous Chef Steven Arial and Chef De Cuisine Eric Le Tere will demonstrate dishes from Alan Wong's Restaurant at Liberty House 9:30-11:45 a.m. Aug. 14 at the Lyon Arboretum. Printed recipes will be available and tasting sessions will be conducted.

Attendance is limited to 20 people. Fee: $22; senior citizens, $12. Call 988-0456 for more information.






Click for online
calendars and events.





---





Send WatDat? questions, stories
or any other story ideas or comments to:
Features, Honolulu Star-Bulletin, P.O. Box 3080,
Honolulu, HI 96802 or send a fax to 523-8509
or E-mail to features@starbulletin.com.
Please include your phone number.
E-mail to Features Editor
---
---
© 1999 Honolulu Star-Bulletin
http://archives.starbulletin.com