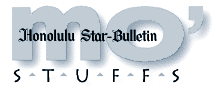 ---
Monday, July 26, 1999


---
Stewart Atoll
part of Hawaii
Hawaii, as we know it, may be bigger than you think it is. That's because after Kamehameha conquered and occupied the primary islands -- his victorious home island giving the "Hawaiian Islands" their name -- successors Kamehameha IV and Kalakaua were feeling fairly expansionist, acquiring islands all over the Pacific to create a larger empire, beginning in 1822, by staking a claim on Nihoa. Exactly a century later, Kingman Reef was annexed by the City and County of Honolulu.

Lands claimed by the crown included Pearl and Hermes Reef, Necker, Laysen, Lisanski, Jarvis, Johnston, Palmyra, Samarong, Ocean (Kure) Atoll, Midway and French Frigate Shoals. Hawaiian ships charted Wrangell Island near Alaska. Kalakaua even had a brief adventure in trying to convince Samoan chiefs to contribute land to the empire, sending the Hawaiian Navy ship Kaimiloa south to scare the Samoans. (It didn't work.)

Some of these islands were later seized by European powers to mine phosphates. In the late '30s, the Territory of Hawaii quickly placed Kamehameha Schools boys on the Equatorial Islands to prevent seizure by the Japanese, but that didn't work either -- some of the boys were killed when war broke out.

Which brings us to Stewart Atoll, approximately 3,400 miles southwest, near the Solomon Islands. In 1855, with the islanders' consent, the Kingdom of Hawaii annexed Ihikiana, Te Parena, Taore, Matua Awi and Matua Ivoto islets in the atoll. Since the atoll was not excluded by the Statehood Act, technically it's still part of Hawaii, and part of the United States.

Since it's so near the Solomons, the Solomons have been claiming it lately. A recent General Accounting Office report on American properties notes the territory is disputed.

Even in the best atlas, Stewart Atoll is a dot in a blue vastness. According to Mark Seidenberg of the American Sovereignty Task Force, going to Stewart is like stepping a hundred years back in the past. There are fewer than a thousand inhabitants.

More importantly, for the last century and a half, the residents think of themselves as Hawaiian. "They dream of Hawaii, they study Hawaii, they think of the Cazimero Brothers as gods," said Seidenberg. So much so that 176 adults, nearly half the voting-age population, attempted to cast votes in the Hawaiian Sovereignty Elections Council ballots in the mid-'90s.

Perhaps fearing a new bloc, the council refused to honor the group of ballots -- but allowed a couple of Stewart residents studying in Belgium to vote. Although Seidenberg helped the disenfranchised Hawaiians of Stewart Atoll bring a discrimination suit against the council, it became moot when the council dissolved.

So if you're ever sailing by Stewart Atoll, say "aloha." They could use it.
---
Burl Burlingame


Click for online
calendars and events.
---
Send WatDat? questions, stories
or any other story ideas or comments to:
Features, Honolulu Star-Bulletin, P.O. Box 3080,
Honolulu, HI 96802 or send a fax to 523-8509
or E-mail to features@starbulletin.com.
Please include your phone number.
E-mail to Features Editor
---
---
© 1999 Honolulu Star-Bulletin
http://archives.starbulletin.com