---
Saturday, July 24, 1999
Harris to testify
Tuesday on his
Natatorium plan


Does the mayor intend
to renovate the entire
structure?

By Susan Kreifels
Star-Bulletin

Honolulu Mayor Jeremy Harris must testify about the administration's plans for the Waikiki Natatorium, but will not have to answer other questions, Circuit Judge Gary Won Bae Chang has ruled.

Harris will testify Tuesday.

Chang also ruled yesterday that he would not be bound by an earlier decision by Judge Gail Nakatani that the natatorium is a swimming pool and requires a water permit. The ruling indicated that all permits must be obtained before the city starts restoration of the Waikiki War Memorial and Natatorium, including the arches, facade and restrooms, said city Corporation Counsel David Ara-kawa.

Chang will make his own ruling on permits after hearing testimony, Arakawa said.

Arakawa said two employees from the state Department of Health and another from the Department of Land and Natural Resources testified that water permits were not required to start land construction.

Chang also ruled that seven Council members would not have to testify because their testimony would be of little relevance, Arakawa said.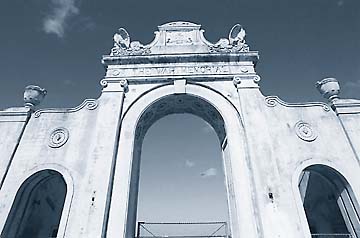 Star-Bulletin
Mayor Jeremy Harris will testify Tuesday on his
plans for the Waikiki War Memorial Natatorium.
---
Arakawa called that a major decision because it set a precedent for any future lawsuit filed by people who didn't like legislative decisions or laws and demanded that legislators testify.

Council members signed onto the proposal that land construction should proceed and that restoration of the pool be canceled due to cost run-ups of legal delays, Arakawa said.

The Kaimana Beach Coalition has sued the city to stop the full restoration of the natatorium, saying that health and safety standards cannot be met.

The city tried to quash subpoenaes for Council members and Harris. Arakawa said Harris had already agreed to testify but the plaintiffs did not say what questions would be asked, forcing the city to move for a quash.

Harris had announced he was canceling the pool and other underwater work -- about 60 percent of the total project -- but that he would push ahead with renovation of the facade, restrooms and bleachers. Opponents believe the mayor is postponing rather than canceling the natatorium work.

Chang ruled that Harris would only have to answer questions about his plans for the natatorium, Arakawa said.

Council member Donna Mercado Kim, who opposes the natatorium project, already testified, said James Bickerton, attorney for the Kaimana Beach Coalition. Council member Steve Holmes also wanted to testify for the plaintiff, but Holmes' testimony would duplicate Kim's. Council Chairman Jon Yoshimura also said he would testify, Bickerton said.

Rick Bernstein, spokesman for Kaimana Beach Coalition, testified yesterday that he would swim in the natatorium if it met all health and safety standards.

"It would be kind of fun, but I don't know how it can meet these (standards)," Bernstein testified.
E-mail to City Desk
---
---
© 1999 Honolulu Star-Bulletin
http://archives.starbulletin.com