---
Saturday, July 24, 1999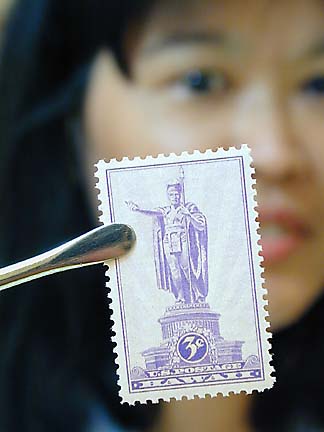 By Craig T. Kojima, Star-Bulletin
If selected, Duke Kahanamoku would be the first person
from Hawaii featured on a U.S. stamp since 1937, when
the King Kamehameha statue appeared on this purple
3-cent Hawaii stamp. Teri Hirano of Ala Moana
Stamp & Coin Co. holds the stamp.
---
Duke stamp of
approval envisioned


A wave of supporters is hopeful
that the postmaster general will endorse
a stamp featuring Hawaiian
icon Kahanamoku

By Pat Omandam
Star-Bulletin

Three things come to mind when philatelist Kay Hoke envisions a Duke Kahanamoku postage stamp: a picture of the legendary Hawaiian Olympian. A surfboard. And waves.

The design of a possible Kahanamoku stamp will be left up to the Citizens' Stamp Advisory Committee of the U.S. Postal Service, which last week decided to put the proposed Kahanamoku stamp before the postmaster general for a final decision.

If a Duke stamp receives final approval, Hoke has no doubt local talent can come up with a fitting tribute.

"I think most people would expect it to be a picture, a portrait, of him and probably a surfboard, because that's what people think of Duke when they think of him," said Hoke, treasurer of the 370-member Hawaii Philatelic Society.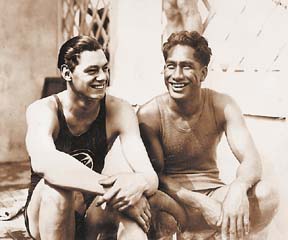 Duke Kahanamoku
HAWAIIAN ICON
Shown here with Johnny Weismuller, left, in 1924.
---
"But it would be terribly difficult to make a guess as to who would be the kind of artisan to do that," he said.

Postmaster General William J. Henderson is expected to announce this fall which subjects will be honored on commemorative stamps in the next few years. While being put "under consideration" before the postmaster general does not guarantee selection, most stamp subjects never get that far.

If selected, Kahanamoku, who died 31 years ago, would be the first person from Hawaii featured on a U.S. stamp since 1937, when the King Kamehameha statue appeared on a purple 3-cent Hawaii stamp. Stamp collectors such as Hoke as well as owners of Oahu stamp and coin shops say a Kahanamoku stamp is overdue.

Don Medcalf, president of Hawaiian Island Stamp & Coin on Bishop Street, believes those who collect surfing memorabilia will be most interested in the Kahanamoku stamp.

"Duke is famous all over the world because of surfing, and all the world knows him," he said.

Medcalf has a strong interest in Kahanamoku. Medcalf specializes in old Hawaiian artifacts and regularly buys and sells Kahanamoku items. And he has appraised estate items for the late Nadine Kahanamoku, Duke's wife, including jewelry, pins, books and her husband's Olympic medals and trophies.

But Medcalf said the Postal Service issues so many commemorative stamps each year it would be hard to get excited about every new stamp, especially when it prints millions of copies of them. Take the Elvis stamp, for example.

"The USPS issued $40 million worth of Elvis stamps and now everybody thinks they will make money keeping their collection when so many are out there that that won't be the case," Medcalf said.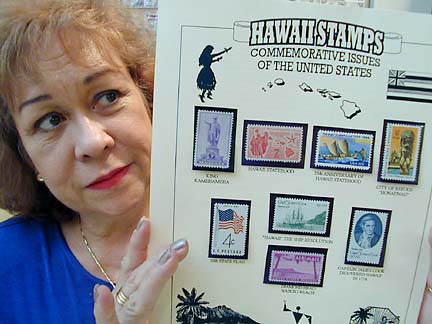 By Craig T. Kojima, Star-Bulletin
Sylvia Martin, owner of Ala Moana Stamp & Coin Co.,
shows off Hawaii stamps. This collection includes a 1937
3-cent stamp featuring the King Kamehameha statue.
Stamp collectors are participating in a show today at
the Blaisdell Exhibition Hall.
---
In February 1998, the Postal Service began a commemorative stamp program honoring the most memorable and significant people, events and trends of the past 100 years. Those stamps are being released along with its regular 1999 commemorative stamp program.

A James Cagney stamp was released a week ago in Los Angeles. Other stamps tentatively scheduled for release this year include subjects such as the Coral Pink Rose (Aug. 13); Honoring Those Who Served (Aug. 16); All Aboard! (Aug. 26); and Celebrate the Century: 1960s (Sept. 17).

Sylvia Martin, president of Ala Moana Stamp & Coin Co., said Kahanamoku should be on a stamp because he served as the unofficial ambassador of Hawaii for many years. If a Duke stamp is created, Martin plans to buy the first day's issue of the stamps and store them until the Postal Service stops issuing them. Then, she'll start to sell them.

"I think he's a good person to have on the stamp," she said.

Kahanamoku was born in 1890. He set a world record in the 100-meter freestyle and won a gold medal for the United States at the Stockholm Olympics in 1912. During his travels, he introduced surfing to the world and also acted in several Hollywood movies.

After participating in four Olympic Games and spending many more years welcoming people to Hawaii, Kahanamoku died in 1968 at the age of 77. His wife died two years ago.

Whether Kahanamoku's career merits a stamp is up to Henderson, who was selected as postmaster general in May 1998. Recently, U.S. Sen. Daniel Akaka (D, Hawaii) came away from a meeting with Henderson feeling optimistic about Duke's chances. Akaka had said Henderson seemed interested and receptive, and actually knew who Kahanamoku was.

There are thousands of requests each year touting stamp subjects, but Hoke believes "there's a halfway decent chance" for Duke.

"The post office loves to do stamps in Hawaii, especially if they can do them sometime in the winter," he said.
E-mail to City Desk
---
---
© 1999 Honolulu Star-Bulletin
http://archives.starbulletin.com