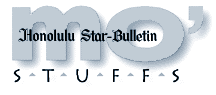 ---
Friday, July 23, 1999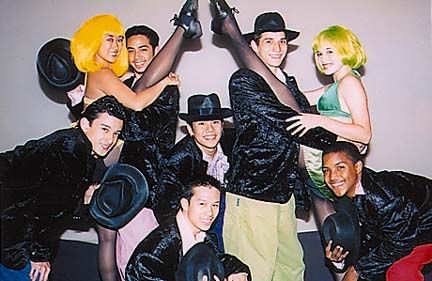 Photo courtesy of Vela-Bailey family
24-VII DanceForce made the cut to perform on
"From Hawaii ... Destination Stardom."
---
Next stop: Stardom
Twenty-eight Hawaii performers -- more than any other locale in the United States -- have been selected to perform on the PAX television network's talent show "From Hawaii ... Destination Stardom."

The show's national talent search auditioned more than 4,300 performers in more than 17 cities over the last few months. The Hawaii search was done at the Ala Moana Shopping Center's Center Stage, where it attracted hundreds of auditioners.

"From Hawaii ... Destination Stardom" will videotape 26 episodes before a studio audience at the Hawaii Convention Center from Aug. 5 to Sept. 7 and premiere nationally Aug. 23 on PAX TV (Oceanic cable channel 27, effective Aug. 7).

The Hawaii performers to appear on the show are:

24-VII DanceForce (Category: variety); 12 group members ages 17 to 22. Members of this contemporary dance group are: Wainani Hansen, 17, Kailua; Yoori Kim, 17, Kaneohe; Kehaulani Abu, 17, Aiea; Brent Koki, 20, Kaneohe; Jeremy Dela Pena, 20, Kaneohe; Mark Kanemura, 15, Honolulu; Sterling Sulieman, 15, Kailua; Sean Lau, 16, Kaneohe; Alicia Vela-Bailey, 17, Kailua; Cobey Chang, 17, Wilhelmina Rise; Orlando Ortega, 17, Kaneohe; Jason Tam, 17, Wailupe.

Gerald Rojo II, 10 (magician)

Che Schmidt, 22 (singer, 16 and over)

Forté, ages 17 to 23, musical group (singers, 16 and over)

Na Leo (singers, 16 and older)

Carlos da Silva II, age 30-plus (magician)

Eddie and Elsa Lactaoen (family act)

Nicole Passas, 12, (singer, 5-15)

Jordan Segundo, 14 (singer, 5-15)

Tatiana Echevarria, 9 (singer, 5-15)

Tani Fujimoto, 11 (singer, 5-15)
---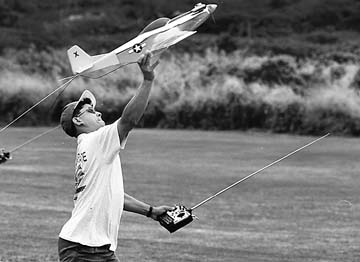 File photo
---
Winging it

It's billed as an open house, but since it's taking place out at Kawainui Marsh, while it is definitely open, there's little house involved. Nonetheless, the Aloha State Radio Control Club is putting on a big show 9 a.m. until dark tomorrow and 9 a.m. to 5 p.m. Sunday at Kawainui Model Airplane Park on Kapaa Quarry Road near Kailua. Admission is free.

In addition to the grassy park setting to enjoy, there will be displays, both static and in-action, of radio-control airplanes, helicopters and gliders; combat demonstrations; the Birds of Paradise show team; jet models that fly faster than 150 mph and the raffle of a complete radio control system. Refreshments will be available for purchase.






Click for online
calendars and events.





---





Send WatDat? questions, stories
or any other story ideas or comments to:
Features, Honolulu Star-Bulletin, P.O. Box 3080,
Honolulu, HI 96802 or send a fax to 523-8509
or E-mail to features@starbulletin.com.
Please include your phone number.
E-mail to Features Editor
---
---
© 1999 Honolulu Star-Bulletin
http://archives.starbulletin.com