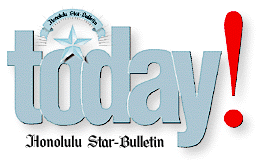 ---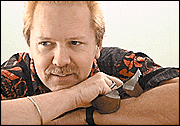 Island Mele
By John Berger
Friday, July 23, 1999
---
Johnson Enos displays
pop mastery

Forever: By Johnson Enos (Westside)

JOHNSON Enos has been writing and recording since the mid-1980s. His third album elevates him above local pop. He and co-writer/co-producer Claude Gaudette blend live instruments and synthetics with a skill rarely found here. It is one of the best pop albums out of Hawaii this year.

Enos and Gaudette specialize in well-crafted original love songs in the smooth light pop style always popular here. One of their best, "Fall In Love Again," combines a romantic message with a great hook. It should already be getting play on Hawaii's mainstream pop radio stations. "Secret," harder and more soulful, proves Enos can do more than soft pop.

Na Leo: by Na Leo (NLP)

FEW Hawaii artists have appeared on Billboard's mainstream pop, urban or country charts, but quite a few are hitting Billboard's newer ethnic charts. Na Leo's new album reflects its success in moving closer to mainstream pop chart status; its remake of Phoebe Snow's 1975 hit, "Poetry Man," made No. 25 on Billboard's Adult Contemporary chart.

The title of this anthology reflects a strategic name change ("Pilimehana" may be too much of a mouthful for mainland radio). The contents are an excellent introduction to the best of the group's last three albums. Given the group members' talent as songwriters it would be great to see Na Leo hit the Hot 100 with an original -- "Rest Of Your Life" or "Flying With Angels" for instance. In the meantime, there's no question Na Leo is Hawaii's top "girl group" of the '90s.

Hawaiian Slack Key Guitar Masters Collection Vol. 2: By various (Dancing Cat)

PRODUCER George Winston's tremendous slack key series has set high standards for the recording and annotation of local music. This anthology has a song from each participating act's most recent album, one from a future release, and unreleased duets by Leonard Kwan & Ozzie Kotani and George Kahumoku & Kekuhi Kanahele. Count this a perfect introduction to the traditions and masters of slack key.

See Record Reviews for some of John Berger's past reviews.

---




John Berger, who has covered the local
entertainment scene since 1972, writes reviews of recordings
produced by Hawaii artists. See the Star-Bulletin's Home Zone
section on Fridays for the latest reviews.
E-mail to Features Editor
---
---
© 1999 Honolulu Star-Bulletin
http://archives.starbulletin.com