---
Thursday, July 22, 1999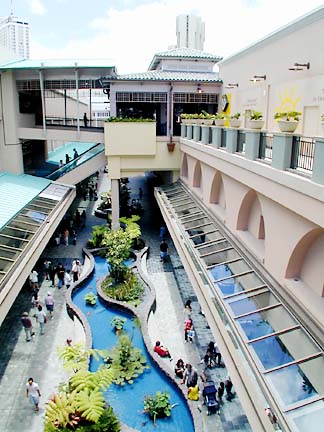 By Craig T. Kojima, Star-Bulletin
The expanded upper level of Ala Moana Center offers a
view of the koi pond on the mall level. Expansion costs
have totaled more than $50 million.
---
Ala Moana Center
takes shopping to
the next level


The two new wings are the
latest part of the expansion of
the state's largest mall

By Heather Tang
Star-Bulletin

GOOD food and an oceanfront view were enough to entice Jackie Oda up two escalators to Ala Moana's newly opened upper-level shops and restaurants.

"The whole complex is nice, the view is beautiful. I like the different levels of the center," said Oda after surveying the recently opened Diamond Head wing of the mall's third level.

Most of the 10 new retail slots in the Diamond Head wing have opened, including the the Bubba Gump Shrimp Co. restaurant. California Pizza Kitchen and other tenants are soon to follow. In September, the Ewa wing upper level expansion is set to open. When complete, the expansion will add about 118,000 square feet and roughly 40 stores to the center's retail mix. According to Ala Moana general manager, Dwight Yoshimura, the mall's recent expansion costs have totaled more than $50 million.

As much as shoppers like Oda enjoy the new stores, some find Ala Moana too big and overwhelming.

"The whole complex is a little confusing. We don't know how to get back to our car," said Helen Hamilton. The North Carolinan visitor was hoping to find more stores that "real people could shop in."

Since 1990 when internationally known retailers such as Chanel, Gucci, and Escada opened at the center court area, Ala Moana has become known as a home to many high-end retailers aimed at big-spending travelers from Asia.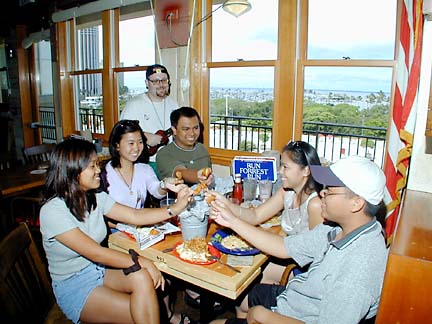 By Craig T. Kojima, Star-Bulletin
Bubba Gump Shrimp Co. waiter Chris Beasley serenades customers
with an ukulele recently at an ocean-view table. Listening to the music
are, from left, Beverly Ronquillo, Lolita Delacruz, Rudolph Sacayam,
Rose Pedregosa and Sherwin Sand.
---
Retail analyst Marty Plotnick said Ala Moana may need to rethink its mix of stores in today's changing marketplace.

"None of the high-end branded stores are doing very well and they're not going to get any better for a long time. You've got to present a different mix of stores that customers want to go to and shop," said Plotnick, president of Creative Resources Inc. "No one can open a high-end store in this market now."

While last year's addition of Neiman Marcus has increased Ala Moana's prestige and foot traffic, some local shoppers say the center is losing its island roots. Such feelings may intensify if Seattle-based Nordstrom Inc. opens a 268,000-square-foot department store at Ala Moana in 2002 as planned.

Local resident Rose Pedregosa shies away from the center's high-end stores. "It's hard to get locals up to the upper level with all of the high-brand names," she said.

But Ala Moana officials defend the center's tenant selection, saying many Hawaii residents favor high-end stores, such as Tiffany's and Louis Vuitton. Rather than target specific markets, the center chooses retailers based on trends and ability to pay rent, they say.

Adjustments are always being made at Ala Moana through merchants changes to stay abreast of industry changes, they add.

New upper-level tenants such as the Mai Tai Bar and the Hawaiian Quilt Collection may help bring back an island touch. And landscape renovations, to be completed this fall, should add an island ambiance with gardens, a waterfall, and a stream on the mall's Ewa end.

The two new wings of the mall's upper level are just part of the mall's expansion plans, already the state's largest shopping mall with 1.8 million square feet.

Last summer, plans were announced for a 543,000-square-foot entertainment-retail complex adjacent to the center, to include a hotel, "mega" music store, shops, restaurants, and a multiplex theater by 2001. Construction of a mauka parking deck is scheduled for completion by 2000.

Opened in 1959, Ala Moana Center is one of the largest open-air shopping centers in the world, with more than 200 stores.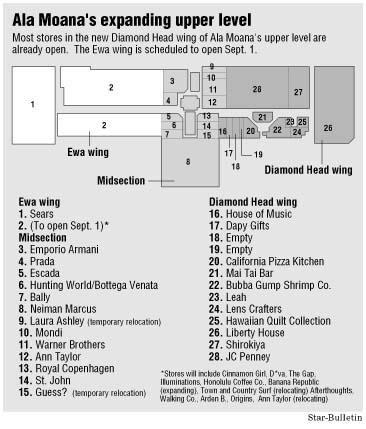 The mall's Chicago-based management company, General Growth Properties Inc., plans to acquire the center from owner Daiei Inc. for about $810 million on July 30.

Construction plans will continue under new mall ownership, according to center officials.

Battling back from dismal sales in 1997 and 1998, Ala Moana has posted five straight months of positive sales since the beginning of this year. Yoshimura said he hopes the expansion will pace the center with a recovering Hawaii economy.

For now, the changes seem to be working.

Bubba Gump Shrimp Co. has been snagging about 1,400 customers a weekend since its May 28 opening on Ala Moana's upper level, said Warren Butler, general manager of the restaurant, part of a San Clemente, Calif.-based chain.

"This is one of the best malls in the country, it's got a great view and a lot of traffic," he said.

Tenants on the upper level are banking on the center's mix of local and tourist clientele, said Eddie Spencer, general manager of California Pizza Kitchen,

The Los Angeles-based pizza and pasta chain will open its fourth Hawaii restaurant at Ala Moana on Monday. The site was chosen for its ocean view and open-air dining capabilities, said Spencer who expects to serve between 700 to 900 patrons a day.

Restaurant additions are just one part of the long-running expansion plans at Ala Moana.

Existing tenants including Ann Taylor, The Gap, Banana Republic and Town & Country Surf Designs are relocating to the upper-level, citing benefits such as increased traffic and bigger floor space.

"We needed a larger store to grow our business; the only spaces available in the size range we were looking for were on the (upper level)," said Glenn Hirata, general manager at Town & Country.

The store will relocate to a 4,800-square-foot space from its existing 2,000-square-foot store on the center's bottom level. Although the rent on the upper level will increase, Hirata projects increased sales volume will offset additional costs.
E-mail to Business Editor
---
---
© 1999 Honolulu Star-Bulletin
http://archives.starbulletin.com