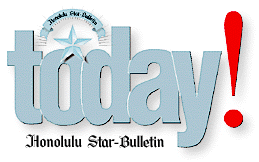 ---
Friday, July 16, 1999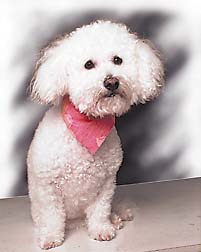 Taking care of 'man's best friend'
is now a matter of tending the
inner and outer pooch

Pets, like humans, go through
separation anxiety

By Heather Tang
Star-Bulletin

AFTER a hard day's work at the office, the last thing anyone wants to be greeted with is piles of poop. Finding your couch shredded or your yard dug up wouldn't exactly qualify as welcome surprises either. Yet it happens to many unsuspecting pet owners. Over and over again.

What to do about a pet who is an unruly "depositor?" Is there a surefire method of controlling the hairiest member of your family?

According to veterinarian Scott Harada, of The Pet Clinic, increasing numbers of people have been inquiring about dogs' behavioral problems.

"We try to figure out what the cause of the problem is, look at the patient's history, talk to the pet owners. Do they have a true behavior problem? Is the dog angry and acting out or is there something medically wrong?" Harada explained. Depending on how habitual a problem is can help determine the root of the problem.

According to animal behaviorist and Sirius Puppy Training president Wendy Mah, one solution may lie in pet psychology, understanding your pet's feelings. Pets, like humans, can suffer from separation anxiety when left home alone.

When animals, especially dogs, are separated from their owners, they may feel anxious, exhibiting signs ranging from barking to self-mutilation. They may also chew, dig, urinate, defecate and vomit. "They can get very, very upset," says Mah.

Like people, pets have pent-up emotions and energy that should be released, said Mah, who has a master's degree in animal learning psychology from the University of Colorado at Boulder. "The animals don't know what to do with the energy. So they take up different behaviors."

Although no scientific study documents these feelings, about one-third of dogs examined by behaviorists have separation anxiety, animal behavioral specialist Victoria Voith told veterinarians at a Michigan conference.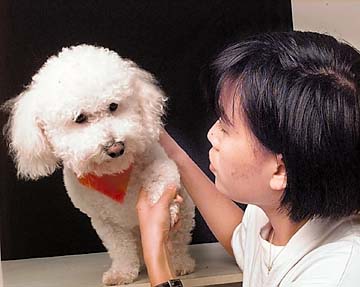 By Ken Sakamoto, Star-Bulletin
Jennifer Tang comforts Penelope, a pooch that
suffers from separation anxiety.
---
Dogs are social animals and thrive on company. When left alone, they don't know how to amuse themselves. Consequently, problems arise.

Dogs with separation anxiety may exhibit pre-departure stress. Anxiety levels rise as owners prepare to leave and escalate in intensity after departure. Such dogs usually have a history of abandonment. They are dogs that either came from the shelter or were once constantly in contact with people, said Voith.

Weaning dogs away from unhealthy dependence requires effort. Behavioral modification is often a vital first step. "You have to untrain a habit and teach another," says Mah, who advises against scolding pets for "spoilings," which only adds to the animal's stress.

"If a dog pees and poops all over the house when the family goes to work, don't come home and scold the dog," she said. Instead, contain the dog in an enclosed area where it can't get into trouble.

The same goes for cats. "Don't give the cat the opportunity to get into trouble. Instead, re-teach it more appropriate behavior," said Mah, who recommends closing off rooms that cats misbehave in.

Such a solution worked for Jeffrey Aasen who now locks his dogs in the kitchen when he leaves home. Getting a second dog also seemed to control his situation, however, this is not advised because only about 50 percent of dogs improve with the introduction of a new dog.

Sometimes, changing pets' behavior starts with changing owners' behavior. Pet owners can prevent anxiety by doing little things, such as inconspicuously entering and exiting the house.

"Just collect your things and quietly leave," Mah advises. "Some people work their dog into a frenzy, then they leave and the animal doesn't know what to do with all of that energy and motion."

When returning home, she adds, give your pet a quiet greeting. Otherwise, the animal will start to anticipate your arrival and work itself up into a frenzy, she said.

Birds also can also have an adverse reaction to their owners' arrival and departure because they are sensitive and emotional creatures. Stressed birds will pluck their feathers out.

Distracting a pet when exiting will help ease emotional stress, such as through use of toys. Saving special toys and not putting them down until leaving can help.

Pets showing behavioral problems should be checked by a veterinarian who can help determine the cause of such problems, say Harada.

Drug therapy can sometimes help dogs with severe separation anxiety. The drug Clomicalm was approved recently by the Federal Drug and Food Administration specifically for the treatment of anxieties and obsessive compulsive disorders. A kind of Prozac for dogs, Clomicalm calms the animal, making it more receptive to training.

Drugs are a last resort for out of control dogs. According to Harada, drugs are not intended to be used as a lifelong maintenance system.

Mah agrees, discouraging use of drugs as a "quick fix."






Click for online
calendars and events.
E-mail to Features Editor
---
---
© 1999 Honolulu Star-Bulletin
http://archives.starbulletin.com