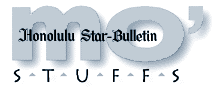 ---
Wednesday, July 14, 1999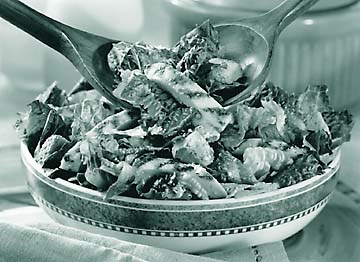 A Caesar Salad with chicken is yours for the
choosing at Ruth's Chris Steak House.
---
The eating's good at
these benefit events
Do good while eating well at two benefit events next week:

Ruth's Chris Steak House at Restaurant Row is throwing a fund-raising luncheon on July 21 for VASH, a support organization for visitors to Hawaii who fall victim to crime. On the menu is Caesar Salad with Steak or Chicken for $36, with $31 going to VASH. KSSK radio personalities Michael W. Perry and Larry Price will host. For reservations to the 11:30 a.m. event, call 599-3860.

The grand opening of California Pizza Kitchen's restaurant in Ala Moana Center July 24 will be a benefit for the Variety School of Hawaii. A $75 ticket covers appetizers, dinner buffet, desserts, beer and wine, as well as entertainment, California Pizza Kitchen's cookbook and a gift from Neiman- Marcus. For reservations to the 5:30 p.m. event, call 732-2835.

Navigate fashion jungle
"Jungle Boogie" is the theme for the Honolulu Theatre for Youth's 3rd annual benefit fashion show and luncheon, "Watching Our Keiki Grow." The event takes place 11 a.m. to 2 p.m. July 25 at the Hawaii Prince Hotel.

Things could get pretty wild, with a varied array of garments, ranging from feminine and bridal fashion by Mona Lisa Designs to the rugged outdoor wear of XCEL Hawaii. Also to be featured are designs by Kamehameha Garment Company, Princess Kaiulani, Riggers Hawaii, Apparel Ventures, GAPKids, Hand Block, Cinnamon Girl and Kids Are Us.

Tables are available for sponsorship at a cost of $550 to $1000. Single tickets are $55 each. Funds raised will support HTY's school programs. Call HTY at 839-9885 for more ticket information.

In addition to the fashion show there will be a silent auction and balloon raffle. HTY is still accepting items for the silent auction. Contact Jeri Steiner at 262-4207.
Let Gray be your guide
Dr. John Gray, author of "How to Get What You Want and Want What You Have; A Practical and Spiritual Guide to Personal Success," will be holding a two-day success seminar Aug. 7 and 8.

The sessions will run from 9 a.m. to 5:30 p.m. both days at the Hilton Hawaiian Village. The cost is $299 per person.

For tickets and more information, call 1-(800)-840-8824.
Warrant returns
Back from the '80s, Warrant returns for three nights -- Aug. 15 through 17 -- of music at Gussie L'Amours.

Shows will start at 8:30 p.m., with opening acts to be announced.

Tickets are $12 advance, good for all three nights, or $15 a the door. Concert-goers must be 21 or older. Call 836-7883.

The band is currently touring the United States and Japan in conjunction with the release of an upcoming CD, "Latest and Greatest," that will include new tracks and past hits such as "Cherry Pie" and "Heaven."
Whittaker in concert
Roger Whittaker will perform at 8 p.m. Sept. 17 at the Blaisdell Concert Hall.

Tickets are $45, $37 and $30, available at the Blaisdell Box Office, Tempo Music-Kapolei and Windward Mall, House of Music Ala Moana Center, the University of Hawaii Campus Center, or charge by phone at 526-4400.

Whittaker has written more than 500 songs in a 38-year career that has taken him from his native Nairobi, Kenya, to world stages. His latest album is entitled "Awakening," and his best-selling song, 1976's "The Last Farewell," has sold more than 11 million copies.

The concert is being presented by Bob Peyton Entertainment.
Queen's marks 140 years
The Queen's Medical Center continues to celebrate Heritage Week 1999, commemorating its 140th anniversary.

Scheduled today are a noon to 1 p.m. performance by Kawai Cockett in the Nae'a Courtyard.

On Friday, there will be a craft fair in the courtyard beginning 10 a.m. and continuing to 2 p.m. Beginning at 11 a.m., there will also be entertainment by Genoa Keawe, Jerry Santos, Nanea and Anuhea Brown.

The notion of building a hospital to care for Hawaii's people began with a temporary dispensary that opened on King Street Aug. 1, 1859. On July 17, 1860, King Kamehameha IV and Queen Emma laid the cornerstone of the Queen's Hospital, now known as The Queen's Medical Center.

For more information, call 547-4780.
Care options discussed
Straub Clinic & Hospital hosts a free "Long-term Care Options Forum" from 10 a.m. to noon Saturday.

Straub Medical Social Worker Kathy Shahan and Straub Hospital Case Manager Jackie Suganuma will present options for serving the needs of the elderly, including in-home care, nursing homes, Hospice and community-based programs.

General information will also be provided on financial resources required for long-term care.

The talk will take place 10 a.m. to noon in the Doctor's Dining Room next to the hospital's cafe on the main floor of the clinic, at 888 S. King St. Seating is limited. RSVP by calling 522-4575.


You say tomato ... Hoku's in the Kahala Mandarin Oriental is in the middle of a Tomato Festival, featuring red, yellow and cherry tomatoes from Nalo Farms, as well as heirloom tomatoes from Northern California.

The festival runs through Friday, featuring Kiawe Grilled Abalone with Heirloom Tomatoes, Roasted Onaga with Basil Tomato Fondue, Cherry Tomatoes Stuffed with Ahi Poke and Roasted Wisconsin Veal Chops with Sun-Dried Tomatoes and Thyme Crust. For dessert, Lemon Poppyseed Frozen Souffle with Tomato Sorbet. A four-course meal is $60; with wine pairings, $85. For reservations call 739-8780.

"A Cooking Extravaganza": Also coming out of Hoku's, Chef De Cuisine Christophe Vessaire hosts a cooking demonstration Saturday at Lyon Arboretum. Printed recipes will be available and tasting sessions will be conducted. Classes are 9:30 to 11:45 a.m. and are limited to 20 people. Fee: $22; senior citizens, $12. Call 988-0456.

"Tropical Fruits--from the Field to the Table": "Hawaii Cooks with Roy Yamaguchi" features Frankie Sekiya's Windward Oahu farm, home to 1,000 unusual and exotic fruits. The fruits will be used in Yamaguchi's dishes. The program will air at 7:30 p.m. Tuesday on KHET/PBS.

Inniskillin Wine Dinner: Join Donald Ziraldo, President of Inniskillin Wines, for a special wine dinner at David Paul's Diamond Head Grill at 6 p.m. July 22. Featured wines include 1998 Pinot Grigio, 1997 Founder's Show Reserve Chardonnay, 1996 Estate Bottled Cabernet Sauvignon, 1997 Pearl Label and 1996 Gold Label Vidal Icewine, each served with a special dinner. Tickets are $45 per person, plus tax and gratuity. Call 922-3734.

Family Fun: E Malama I Ke Kai -- 2nd Annual Ocean Festival, presented by Punana Leo o Kawaiaha'o with Ihilani Resort & Spa, will be held July 24 on Ihilani's lawn adjacent to the hotel. Activities include Hawaiian Cultural Activities, craft, food booths, a chefs' cook off, hula competition, children's games, lectures on ocean safety and awareness and more. Call 679-0079.


Click for online
calendars and events.
---
Send WatDat? questions, stories
or any other story ideas or comments to:
Features, Honolulu Star-Bulletin, P.O. Box 3080,
Honolulu, HI 96802 or send a fax to 523-8509
or E-mail to features@starbulletin.com.
Please include your phone number.
E-mail to Features Editor
---
---
© 1999 Honolulu Star-Bulletin
http://archives.starbulletin.com