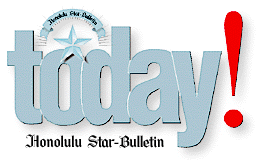 ---
Wednesday, July 7, 1999



Scratch pot stickers from
Gordon Biersch

Recipes prepared by Dan Gordon and Dean Biersch of Gordon Biersch Brewery Restaurant on "Hawaii's Kitchen" this week. The show aired at 5:30 p.m. Sunday and will be rebroadcast at the same time Saturday on KHON Fox 2.

DAN'S POT STICKERS

Skins
6 eggs
4 cups flour
Warm water, as needed
Additional flour, as needed

Filling
1 pound lean ground pork
1 cup finely chopped cabbage
1/2 cup kecap manis (Indonesian sweet soy sauce) or substitute 1/4 cup Chinese dark soy sauce mixed with 1/4 cup brown sugar
10 garlic cloves, finely chopped
1 large knob ginger, minced
1 bunch Chinese parsley, finely chopped
1/4 cup Chinese rice wine
5 shiitake mushrooms, chopped (optional)
5 water chestnuts, chopped (optional)
Chili sauce, Sriracha brand preferred (optional)

For cooking
Olive oil
Water

Prepare the skins. Combine eggs and flour. Knead into a heavy dough ball, adding small quantities of warm water if the dough seems dry or more flour if the dough is too sticky. Break the dough into four balls. Flatten into 1/2-inch thick rectangles and pass through a pasta maker to the fifth level of thickness. Cut the sheets into 3-inch long strips. As an alternative, purchase prepared skins at almost any Hawaii market.

Combine all the filling ingredients.

Place 1 heaping tablespoon of filling in the center of each skin. Fold the skin over and pinch the seam shut while forming the whole into the traditional pot sticker shape. Use water to seal the edges if you are using purchases skins.

Heat a nonstick pan on high heat. Coat the bottom with olive oil and quickly lay as many pot stickers in the pan as will fit. Brown pot stickers on two sides. This will take a maximum of 1 minute. Add 1 cup of water. Cover the pan and let the pot stickers cook for 6 minutes over high heat. Remove the cover and allow the water to evaporate. Continue cooking a while longer after the water evaporates to further brown the pot stickers, moving them around the pan to prevent sticking. Serve with rice vinegar and soy sauce. Makes about 20 pot stickers.

Nutritional information unavailable.




Click for online
calendars and events.
E-mail to Features Editor
---
---
© 1999 Honolulu Star-Bulletin
http://archives.starbulletin.com