---
Thursday, July 1, 1999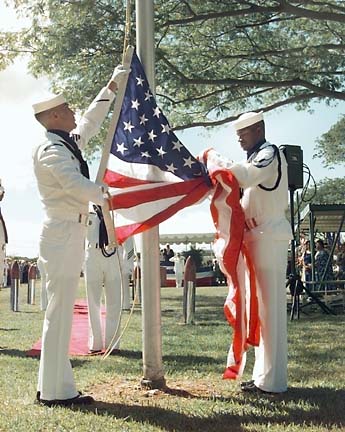 By Ken Sakamoto, Star-Bulletin
Lowering the colors for the last time at Naval Air Station
Barbers Point today are IS2 Scott Greer, left and
IS1 Carlton Wourman. See story.
---



Barbers Point Naval Air Station
closing today after 57 years

The state will take over 750 acres and three
runways as its new general aviation facility

Air station was a good neighbor
Facility has long, colorful history

By Gregg K. Kakesako
Star-Bulletin

IN July 1944 it cost Navy Machinist Mate Stanley Donelson just 50 cents for the 30-mile train ride from Barbers Point Naval Air Station to the terminal at Aala Park.

"There was nothing between here and there then," said Donelson, 76, who moved to Kaneohe after he retired from the Navy in 1965 with 23 years of service.

"I was gone when Hawaii became a state and when I returned everything had changed ... at the base and all over the island."

Today there will be more changes taking place on the Ewa plain as Barbers Point Naval Air Station, a fixture in the community for the past 57 years, will be closed.

When the flag is lowered at base headquarters this morning, it will be one of the last military installations to be closed this century. In its place the state hopes to establish the Kalaeloa Community Development District designed to revitalize the economy of the Ewa plain.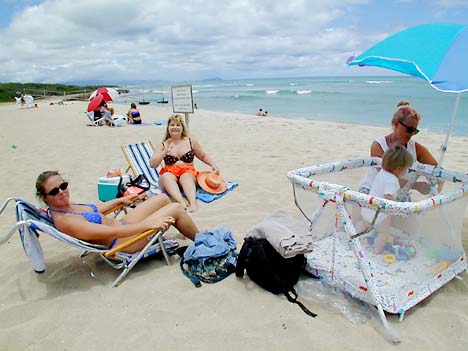 By Craig T. Kojima, Star-Bulletin
Enjoying White Plains beach at Barbers Point are, left to right,
Heidi Hafley (visiting from San Diego), Rae-Anna Bonilla
and Debbie Pedersen, with daughter Kaitlyn.
---
Of the more than 3,600 acres at the naval base, only 1,113 acres will be retained by the Navy. That land will be used to maintain the Navy's 1,090 housing units, a clinic, military commissary and exchange, and a golf course.

Four hundred fifty acres will be used by other federal agencies, and the state will use 750 acres and three runways as its new general aviation facility.

Perhaps one of the biggest benefactors will be the general public, which gained the use of 2 miles of white, sandy beaches, surfing and bodyboarding spots, and camping and picnic areas.

Nearly 2,300 Navy personnel were transferred to Marine Corps Base Hawaii at Kaneohe Bay to accompany the 29 P-3 Orion anti-submarine warfare aircraft and nine SH-60 Seahawk helicopters that were moved there.

The move made Kaneohe Bay the first fully integrated Navy-Marine installation in the military, according to Brig. Gen. Arnold Fields, Kaneohe Bay commander.

Keeping the four P-3 Orion and one Seahawk helicopter anti-submarine warfare squadrons in Hawaii meant that $84 million won't be lost from the island's economy, said Rear Adm. Michael Holmes, commander of the U.S. Pacific Fleet's Patrol and Reconnaissance Force.

Holmes will oversee the Navy's operations from the newest building at Kaneohe Bay -- the $9.7 million Finn building named after Pearl Harbor attack Medal of Honor recipient Lt. John Finn.

Fields said for the first time Marines and sailors have been integrated into two units to conduct airfield operations and provide logistical and maintenance support for all the aircraft assigned to the Windward Oahu base.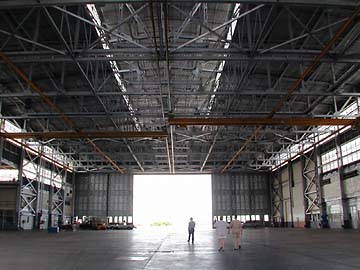 By Craig T. Kojima, Star-Bulletin
A hangar at Barbers Point.
---
The consolidation will mean a savings of $12 million annually to the Navy in operating and maintenance costs, Holmes said.

Fields also sees the influx of Navy personnel and civilian workers as a boost to Windward Oahu.

"We are now the largest employer on this side of the island adding $400 million to the economy each year," said Fields, who now commands 7,000 Marines and civilian employees.

But with all the new aircraft the trade-off could mean some increase in the noise level -- a possibility Fields concedes because of the increased number of flight operations.

"However, it will be nothing near to 1994 when F-18 Hornet combat jets were assigned here," Fields said.

Lt. Col. Tim Kolb, commander of Kaneohe's Marine Corps Air Facility, said the operational tempo will climb from 40,000 flights a year to more than 70,000.

But he doesn't think the level of noise will be that noticeable, except that it will be occurring more often since Kaneohe has only one runway.

Lt. Col. Rob Thomas, who lives in military housing on the opposite side of the 2,951-acre peninsula from the airfield, said the P-3s produce "very low noise."

"The traffic patterns are over the water and they stay away from populated areas," he added.

More than $180 million was spent during the past two years in preparing Kaneohe for its new Navy tenants. More than $2.8 million was spent in constructing a new 23-acre concrete apron to park the P-3 Orions and $56 million was allocated for new hangar and maintenance facilities.

Two of the pilots affected by the move said they don't expect much of change.

Lt. Jennifer Schilling, a P-3 Orion pilot, however, did decide to move from Waikele to Kaneohe to avoid the long commuting time.

Lt. Gavan Sagara, an SH-60B Seahawk helicopter pilot, said the only difference at Kaneohe is that there is more aircraft traffic than at Barbers.

At Barbers Point, outgoing base commander Capt. Robert Kernan said $22 million was spent cleaning up the base as required under federal law.

Ann Okamura, Navy engineer, said during the past five years 51 sites were identified as possibly needing attention. These had been used as dumps for household trash, waste oil, metal and other debris.

With more than 6,500 military and civilian employees, Barbers Point was the largest naval air station in the Pacific.

Used by the Navy as a mooring location for its dirigible, Akron, the site was enlarged with the purchase of more than 3,500 acres from Campbell Estate in 1940 and redesignated Ewa Marine Corps Air Station.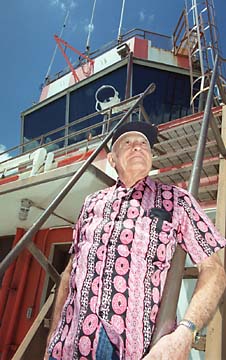 By Ken Sakamoto, Star-Bulletin
Navy retiree Stanley Donelson has fond memories of Barbers
Point, where he and 4,000 other sailors were stationed
during World War II.
---
Base construction and expansion was under way when the Japanese attacked Pearl Harbor on Dec, 7, 1941. Nine of the air station's 11 Wildcats were left in shambles by Japanese fighters.

Nineteen of 32 scout bombers and six utility aircraft were lost. Only partially completed, Barbers Point Naval Air Station was commissioned April 15, 1942.

The air station is named after Capt. Henry Barber, whose 100-foot brig Arthur ran aground in 1796 near a tract of land on the southwestern point of Oahu known by the Hawaiians as Kalaeloa, or "long cape or headland."

Guns from the Arthur were salvaged by Kamehameha I and now stand watch at Lahaina.

During World War II more than 4,000 sailors, like Donelson, were stationed at Barbers Point. "The base was so full of sailors," said Donelson, who was only 22 when he was transferred to Hawaii.

"Operations were going on 24 hours a day. There were two mess halls that were in constant use and there were long lines at every meal."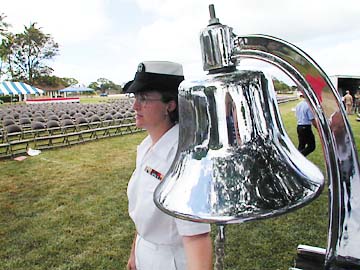 By Craig T. Kojima, Star-Bulletin
Dee McVey stands ready at the bell in preparation for
today's handover ceremony at Barber's Point .
---
However, Donelson fondly remembers that sailors were given liberty every six days. "We would board the train and go to town, but that was also crowded with lots of GIs."

After the war Barbers Point grew even larger, with its population soaring to 6,000 as military personnel processed out, trading in their khakis for civilian life.

The war on the Korean peninsula in 1951 converted Barbers Point into a crucial staging area for supplies, equipment and deploying squadrons. Similar support operations were run from Barbers Point during the Vietnam War in the late 1960s and early 1970s.

After the Korean War and during the Cold War, Barbers Point became a vital link in the Navy's anti-submarine campaign in the Pacific with its helicopter and P-3 Orion subhunter squadrons.

By 1988 Barbers Point became the center point of the Navy's Pacific Fleet anti-submarine P-3 and helicopter operations. Combat jets were assigned up to 1992 when the last A-4E Skyhawk squadron was decommissioned.

In 1993, after Moffet Field Naval Air Station closed in California, Barbers Point assumed the command functions of all anti-submarine warfare helicopter and P-3 operations in the Pacific.

However, in that same year the Base Closure and Realignment Commission placed Barbers Point on its extinction list, and the Navy relocated all of its P-3 Orion subhunter squadrons to Kaneohe.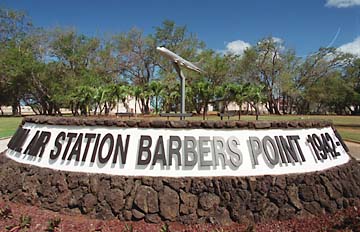 By Ken Sakamoto, Star-Bulletin
Four months after the attack on Pearl Harbor, Barbers
Point was commissioned April 15, 1942.
---



The Barbers Point facility has
long, colorful history

Barbers Point Naval Air Station, an important element of Hawaii's military community, will close today after 57 years of service. However, the area has a long and colorful history:

Oct. 31, 1796: Henry Barber, British sea captain, shipwrecks his 100-foot brig Arthur at Kalaeloa.

1930s: The Navy leases 3,000 square foot parcel from Campbell Estate to moor its dirigible, Akron.

1940: The Navy purchases 3,500 acres from Campbell Estate for the Ewa Marine Corps Air Station.

Dec. 7, 1941: The Japanese attack Oahu and destroy 9 of 11 Wildcats, 19 of 32 Scout bombers and six utility aircraft at the Ewa Marine Corps Air Station.

April 15, 1942: The Navy commissions Barbers Point Naval Air Station.

1949: Ewa Marine Corps Air Station was incorporated into Barbers Point NAS.

1993: The Base Closure and Realignment Commission decides to close the base.

July 1, 1997: The Legislature establishes 2,150 acres as the Kalaeloa Community Development District.

Aug. 31, 1998: State and federal governments agree to transfer 500 acres to Department of Hawaiian Home Lands.

Feb. 16, 1999: The first squadron -- Helicopter AntiSubmarine Squadron 37 -- moves to Marine Corps Base Hawaii at Kaneohe Bay. It is the Navy's only helicopter squadron in Hawaii.

June 6, 1999: The last squadron -- Patrol Squadron 47 -- leaves Barbers Point.




---

In addition to being a warrior,
the air station was a good neighbor

By Gregg K. Kakesako
Star-Bulletin

The American flag came down for the last time this morning at Barbers Point Naval Air Station.

More than 1,500 people were invited to watch today's ceremony at the base's headquarter's building, which will be turned over to the state Department of Hawaiian Home Lands.

William Cassidy, deputy assistant secretary for the Navy, said base closure communities like Barbers Point "are engaged in an evolution of the American economy." He said for years these communities depended on the "high-quality good-paying jobs" that the military provided, but bases had to be closed to meet changes in Navy force structure.

Rear Adm. John Townes III, commander of the Navy Region in Hawaii, pointed out that in its place a new commercial development -- the Kalaeloa Community District -- is planned. The Navy has turned over about 2,100 acres of the base land to the state and other agencies.

Townes, in his prepared remarks, also noted that by moving military and civilian employees to Marine Corps Base Hawaii instead of to the mainland, Hawaii's economy will continue to take in more than $84 million annually.

Capt. Robert Kernan, Barbers Point's last commanding officer, noted in his prepared remarks that since the base was commissioned on April 15, 1942, "it has projected its power not only in times of conflict, but in peacetime as well, to preserve stability and security in the Pacific theater."

Kernan, who came to the Ewa plain in 1996, said that during the Korean War a Barbers Point squadron was the first to arrive on the Korean peninsula flying patrols in 1950.

During the Cold War, Kernan recalled that another Barbers Point anti-submarine warfare squadron took the first photograph of a Soviet Yankee class, nuclear-powered submarine that was equipped with a ballistic, thermonuclear missile.

Kernan said that during the Persian Gulf war, squadrons from Barbers Point flew 279 combat missions providing detection and identification information leading to the destruction of the Iraqi navy.

All the time, the U.S. Navy also was a good Ewa Beach neighbor, Kernan said, by providing support to local schools and youth programs.

Gov. Ben Cayetano also spoke of the significance of today's ceremony, knowing that it marks "the end of a historical legacy and the beginning of a new era." He said the former base will play an even more significant role in the state's economy and the quality of life in Hawaii in the 21st century.

TOMORROW

Unveiling Kalaeola: The economic impact of closing the station is weighed against the benefit of starting a new community for 2,400 families as surplus Navy land is transferred to the state and city.
Streets with new names: With the change in ownership comes a call for a name change with an Hawaiian feel for streets, in accordance with a 1979 city ordinance.
Dividing up the land: The redevelopment commission outlines a breakdown in ownership by acres.
E-mail to City Desk
---
---
© 1999 Honolulu Star-Bulletin
http://archives.starbulletin.com