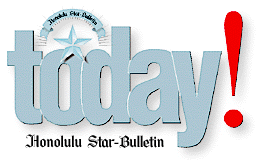 ---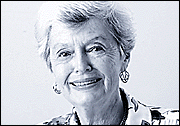 Ever Green
By Lois Taylor
Friday, June 25, 1999
---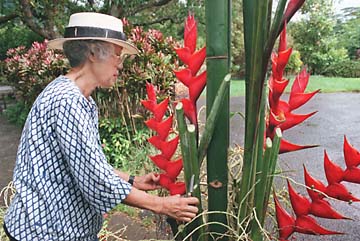 By Kathryn Bender, Star-Bulletin
Betty Ho arranges lobster claw heliconia.
---
Tall order
in arrangements

It's a big order, the Zingiberales, which sounds like some ska garage band. It is actually a plant order with eight separate families, some of which are useful, others are beautiful, and then there is a recluse and a possible black sheep. There was a kind of reunion last week in their honor when the Board of Directors of the Heliconia Society International met at Lyon Arboretum, which is one of the world repositories for this group of plants.

Heliconias are one of the more familiar families in the order, along with bananas, ginger, bird of paradise, prayer plant and canna. Hardly known at all is the Lowiaceae, represented by a plant with what botanists call an "orchid-like" flower. This is clearly a stretch, since you have to push large leaves aside to locate small flowers blooming at ground level. And you want to be careful with the eighth family, the spiral gingers, which make friends easily because they are attractive, but once they get their foot in the door, they dig in and they are all over the place.




LYON ARBORETUM

Open: 9 a.m. to 3 p.m. Monday through Saturday
Where: 3860 Manoa Road
Cost: Free
Tours: Guided tours are offered 1 p.m. on the first Friday and third Wednesday of each month, and 10 a.m. on the third Saturday of each month.
Call: 988-0456




To celebrate the visit of the Zingiberales fans who came from all over the world for the meeting, some of Oahu's most accomplished flower arrangers designed arrangements for the offices and courtyards at Lyon. It was an interesting exhibit, because you have to think big when working with these heavy, stiff and remarkably beautiful flowers.

They don't really work on a hall table, and most of the flower arrangers chose large metal or ceramic bowls that stood on the floor and the flowers rose 5 or 6 feet above the tops of the containers. The flowers had all been picked that morning from the grounds of the arboretum by Ray Baker, who organized the society's board meeting here.

The arrangements generally represented one or the other of two major schools. The mass arrangements, using a variety of different flowers fairly tightly packed into the container, are a western method. The designs using fewer flowers and depending more on shape or form are from the Sogetsu school of ikebana from Japan.

Betty Ho, a volunteer who has been arranging flowers in the arboretum building each week for several years, assembled the arrangement at the entrance to the gift shop. She used a hybrid heliconia called Granada with palm blossoms and ginger. This is the accomplishment of someone who has long practical experience in working with these flowers. The trick is keep the arrangement balanced so it doesn't fall over, a common problem with these heavy flowers. Ho used a kenzon, or needle flower holder, the size of a salad plate with 2-inch needles to secure them.

The Sogetsu school designers, including Alice Uchigakiuchi, Janet Yamamoto and Jessica Li, chose tulip torch ginger with Rose of Siam and Song of India gingers and colored ti leaves.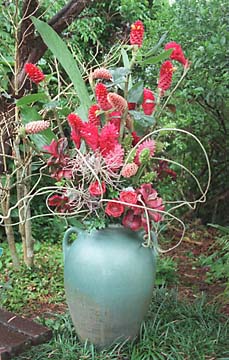 By Kathryn Bender, Star-Bulletin
Because heliconia and ornamental gingers are so big and heavy,
the Lyon Arboretum arrangements were done in large containers
set on the ground, allowing the flowers to extend up to 6 feet
above the rims of the urns and bowls.
---
The original focus of the dozen arrangements was to promote the use of heliconia as a cut flower, but it was widened to study and promote the entire Zingiberales order. According to Baker, there has been an international interest in growing ornamental gingers not only as landscaping but commercially for cut flowers. These flowers can last as long as three weeks.

Lyon Arboretum's collection of these plants is extensive, resulting from collecting trips and contact with private collectors and botanical gardens around the world. "Our reliably wet, warm growing conditions and large area allow us to fit many of these plants into a natural looking setting," Baker said of the arboretum's landscaping.

The heliconia family comes from Central America and the Caribbean region and the plants range in size from 3 feet tall to tree-sized giants of more than 30 feet. The most common variety grown here is the parrot's beak, possibly because it is one of the smaller and more manageable ones. Many stiff, slender leaf stalks sprout from underground rhyzomes, with small, banana-like leaves. The orange flowers, tipped in black, are each about 5 inches in diameter and grow in clusters. They are easily propagated by root division, and grow best in rich, well-watered, well-drained soil. But watch out -- like the spiral gingers, they can overtake large parts of your garden.

The lobster claw heliconia grows to about 6 feet with clusters of brilliant red bracts growing alternately up the stem. The flowers are insignificant and grow within the lobster claw pattern of the bracts. After flowering between late spring and early fall, the entire clump is cut back, and new foliage soon rapidly appears.

Ginger and heliconia thrive in our weather, and if you are considering adding these or any of their relatives to your garden, it is a good idea to visit Lyon and see what the full-grown plants look like. They add brilliant splashes of color and unusual shapes to a tropical garden, and are long-lasting as cut flowers.

If you visit the garden in the next few days, there will still be a few of the big arrangements on view.

---




Send queries along with name and phone number to:
Evergreen by Lois Taylor, Honolulu Star-Bulletin, P.O. Box 3080, Honolulu 96802.
Or send e-mail to features@starbulletin.com.
Please be sure to include a phone number.

---





Evergreen by Lois Taylor is a regular Friday feature of the
Honolulu Star-Bulletin. © 1998 All rights reserved.
E-mail to Features Editor
---
---
© 1999 Honolulu Star-Bulletin
http://archives.starbulletin.com