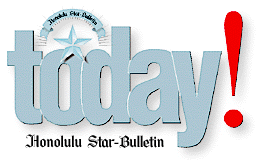 ---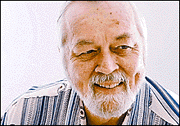 Hawaii

By Dave Donnelly
Friday, June 25, 1999
---
Venegas makes
the swim team

SOME 45 Special Olympics athletes and their coaches departed the islands yesterday to represent Hawaii in the International Special Olympics Games in Durham, N.C. this weekend. Leading the contingent is Special Olympics executive director Nancy Bothelo. One of the special athletes who'll be competing in the Games, held every four years, is Krista Venegas, daughter of isle public relations man Hector Venegas and wife Sharon. Krista has for 20 years been competing and this year made the swimming team. Surely you've heard the song that is probably the most often performed in Hawaii in the past several years, "Hawaiian Lullaby." Well, the lyrics were written for Krista by her dad ...

REMEMBER Denise Tom, the island girl who went on to be a "Playmate of the Month" in Playboy back in 1976? Well, she's now Denise Kellogg, and her husband, David is a film director who's also done music videos and TV commercials, including those Jerry Seinfeld American Express spots filmed all over the world. Denise is now a happy mother of three, two boys and a girl, and resides in Hidden Hills, Calif. Her Playboy days are far behind her. She gets back to Hawaii periodically to visit her parents ...

Spy who carpeted me

WHILE Mike Myers' funny spoof, "Austin Powers: The Spy Who Shagged Me," is playing all over Hawaii and the U.S. it'll be retitled when it opens in England. In that country, "shag" has nothing to to with carpeting, but means just what Myers meant for it to mean. But since that meaning of the word is foreign to most of the U.S., nobody here got excited about it. But the censors in the U.K. have determined that the picture there will have the title, "Austin Powers II." So while there'll be talk of "shagging" in the film, it won't be visible on the theater marquees, which somehow makes it okay, I guess. In another move I found mysterious, "Waking Ned Devine" was playing in England when I was there two months ago and there it was entitled, "Waking Ned." Not too "Devine," apparently ...

WHILE former KHON exec Jack Kellner and wife Tomeko were in Sonoma, Calif. recently checking out progress on the house they're having constructed there, they made an odd discovery. They learned that one of their new neighbors is Dave Ford, who used to host movies on KGMB in the 60s. He's now considered an expert in medical marijuana and the author of a book called "Marijuana: Not Guilty as Charged." The Sonoma paper reported on a medical marijuana conference in which he talked how "how the federal government and big business has managed to keep medical marijuana illegal." ...

ADMAN Tom Sellers and wife Sherry have sold their downtown office building and their home on the water in Kaneohe is for sale: $2 million. The two are heading off to a ski resort home they own on the mainland ...

Food, glorious food

THE grounds at City Hall looked like a Tent City yesterday, as the canvas coverings went up in preparation for this weekend's "Taste of Honolulu." Let's hope the tents will only be needed for those preparing the food, and not the customers spending scrip to grind away for Easter Seals ... By the way, Glenn Chu seems to have a huge winner in his eat all you want buffet lunch at Indigo. People are lined up to plunk down $12.50 and, as Don Ho likes to say of Hawaiians, "eat 'til they're tired." ...

---




Dave Donnelly has been writing on happenings
in Hawaii for the Star-Bulletin since 1968.
His columns run Monday through Friday.

Contact Dave by e-mail: donnelly@kestrok.com.
E-mail to Features Editor
---
---
© 1999 Honolulu Star-Bulletin
http://archives.starbulletin.com