---
Thursday, June 24, 1999
Isle campaign
spending reached
record level in
last election


Candidates spent $20 million,
a state election study shows

By Mike Yuen
Star-Bulletin

Hawaii may be in an economic slump, but isle politicians managed to raise more campaign funds and spend more for last year's elections than in any previous election cycle.

A record-setting $21.5 million was collected and an unprecedented $20 million was spent, according to a study by Tony Baldomero, associate director of the state Campaign Spending Commission.

To get a fuller sense of campaign fund-raising and spending patterns, Baldomero did not look at just election year 1998. He examined the full cycle of an office -- four years for the races for governor, state senator or county mayor, for example, and two years for a state representative.

Baldomero's 142-page analysis, released yesterday, also underscores what have become truisms in American politics:

Those with the most money, usually incumbents, are more likely to win. For example, in 47 House races with incumbents running, all of the incumbents were the biggest spenders. Only two lost _ David Tarnas (D, Kailua-Kona) and Sam Aiona (R, Makiki).

Incumbents begin their re-election bids with a huge advantage over challengers.

In Hawaii, that extra edge has even been exploited when there is no challenger. City Councilman Mufi Hannemann raised $557,264 in the four-year period following his election in 1994, and spent $193,544 to win an uncontested race last year.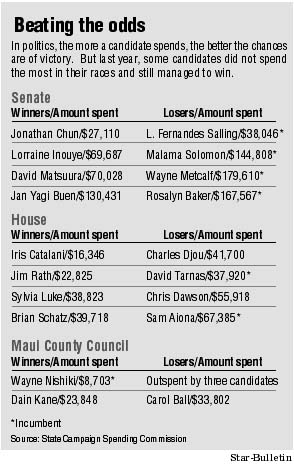 City Councilman Duke Bainum raised $631,628 in the four-year election cycle, and used $627,907 to defeat Sam Bren, who spent $1,991 in the nonpartisan race.

"What they do is make a lot of donations into the community," Baldomero said. "The nonincumbent doesn't have that advantage because they don't have money yet; they gear up the year of the election. The incumbents carry over money from their previous election. We call that seeding the electorate."

Trying to gain favor with community groups, incumbents will use their campaign funds to make small contributions to different organizations, ranging from Little League teams to civic and ethnic organizations, he added.

It is not illegal. It is simply a benefit of being an incumbent, Baldomero said.

In the four years since his election in 1994, Democratic Gov. Ben Cayetano disbursed $4.8 million from his campaign treasury, with $1.1 million spent before 1998 and with $3.7 million spent during the election year.

Cayetano's unsuccessful Republican challenger, former Maui Mayor Linda Lingle, spent nearly $3.2 million during that same four-year period, with nearly $142,000 spent before 1998 and more than $3 million last year.

During this year's legislative session, the Campaign Spending Commission tried unsuccessfully to get a bill passed to eliminate "seeding."

In the Senate, the measure ran into "quite a few objections" from his colleagues, said Senate Judiciary Co-Chairman Matt Matsunaga (D, Palolo). "One argument was that it would cause people "to use it or lose it.' "

While there might have been some self-interest in the arguments to kill the proposal, Matsunaga said he expects the matter to resurface.

Baldomero's analysis, which revealed that four of the Senate's newest members spent less than the incumbents they unseated, also shows that "while money certainly helps a campaign, it is no guarantee of winning," Matsunaga said. "You cannot simply buy an election."

That may be the case with the seven of the 14 senators who are up for re-election next year who voted against reconfirming Margery Bronster as attorney general, said Matsunaga, who backed Bronster.
E-mail to City Desk
---
---
© 1999 Honolulu Star-Bulletin
http://archives.starbulletin.com