---
Saturday, June 19, 1999
Ships leave for
Korean waters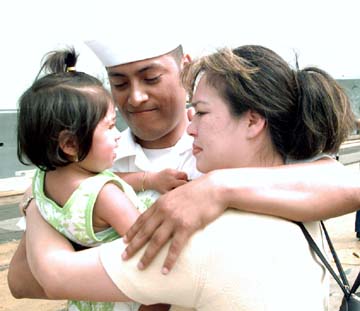 Photos by Ken Sakamoto, Star-Bulletin
Above: James Malbonado, operations specialist
on the USS Chosin, says goodbye to his wife,
Susana, and their 20-month-old daughter, Nadia.
Below, Petty Officer 3rd Class Ryan Anderson,
says goodbye to his wife, Wendy. The USS Chosin
and the USS Lake Erie, both Ticonderoga-class
guided-missile cruisers, left Pearl Harbor today
for a regularly scheduled six-month deployment
off the Korean peninsula.The ships, along with the
submarines USS Santa Fe and USS Olympia, and
two helicopter detachments from Kaneohe, will join
16,000 sailors and Marines as part of the USS
Constellation Carrier Battle Group and the
USS Peleliu Amphibious Ready Group.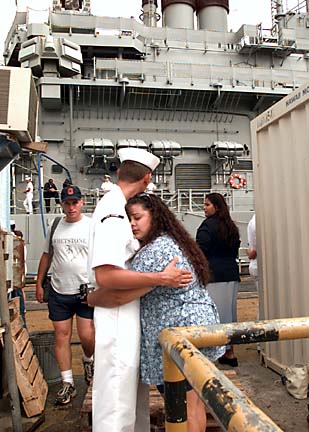 E-mail to City Desk
---
---
© 1999 Honolulu Star-Bulletin
http://archives.starbulletin.com