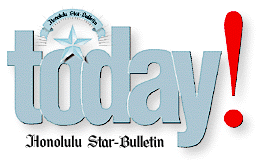 ---
Monday, June 14, 1999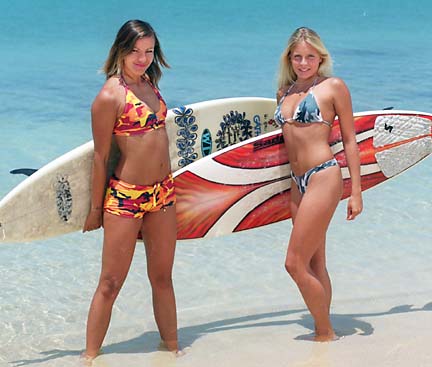 By Ken Sakamoto, Star-Bulletin
Surfers Gypsy Russ and Trisha Lurie model surf wear by
Us Girls, a line designed by surfer Lane Davey.
---

By Treena Shapiro
Star-Bulletin

AS any woman who has ever lost her suit to the surf can attest, a snug fit is crucial in a swimsuit. It's no good when, as surfer and clothing and jewelry designer Tasha Zahara says, "Whooop! you do a duck dive and your undies are around your ankles."

Equally important is the cut. One's chest may look at its best in a certain top, but it's not going to look so great if there's a red puffy outline left after the top's peeled off. A top that binds in the wrong places can give active women a gnarly rash.

Lane Davey, professional surfer and owner and designer of the Us Girls line of apparel, created a no-rash sport top to combat this painful problem.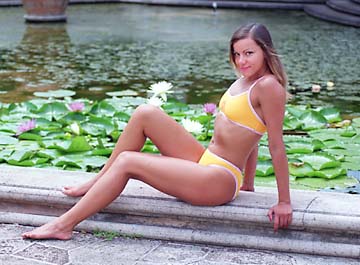 By Ken Sakamoto, Star-Bulletin
Russ sports a Roxy by Quiksilver bikini style called "Flips Disco,"
$68. Tasha Zahara wears Us Girls board shorts that are perfect
for women who prefer tackling the waves to just lazing around
at the beach. The Us Girls line is available on Oahu at Allure,
Surf & Sea and Hawaii Surf & Sail.
---
This summer, the search for the perfect fit and cut translates to a preference for suits that are bigger on the bottom with more support in the top, according to Honolulu retailers.

Keone Downing, co-owner of Downing Hawaii on Kapahulu Avenue, said that women who surf are looking for suits with wider bottoms and a sports-bra top.

Other than this athletic trend in swimwear, he said that a woman's personal style determines the fit and print.

"Brand name doesn't seem to be that much of a factor -- after Roxy -- for the younger girl," he said.

Roxy, by Quiksilver, has been a major force in the direction of swimwear since its swimsuits were introduced in 1991. This year, the most popular styles by Roxy are tankinis, tank-style tops paired with hip-hugger bottoms, said Shyrah Maurer, a manager at the Roxy Quiksilver store on Auahi Street.

Maurer also recommends reversible suits, which offer the wearer four ways to combine top and bottom colors.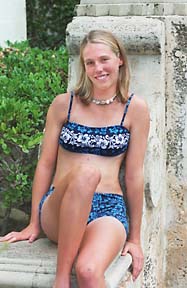 By Ken Sakamoto, Star-Bulletin
Floral designs seem to be the print of choice for many young
women. Surfer Jessica Oswald sports a "Tango Rose"
bandeau top bikini, by California, $68 from Splash!
at Ala Moana Center.
---
Strapless bandeau tops and boy-cut bottoms are also hot items, according to Megan Sunahara, a buyer for Splash! at Ala Moana. For covering up, Sunahara said that pareaus are also big-sellers.

Liquid Aloha sales clerk Christy Domingo said she finds purpose often determines the choice of suits. Brazilian-cut thongs are popular for tanning, she said. Boogie boarders prefer sports-bra tops and full bottoms.

In terms of brand names, Domingo said that the Jamaican Style suits sell well.

Regarding fit, Liquid Aloha sells tops and bottoms separately, so that women can mix and match prints while achieving the right fit.

Reaching consensus on the preferred print is impossible, given the wide selection. If the stocks at the stores are any indication, floral prints and solids, with or without a logo, are the most sought after, followed by butterflies, stripes and animal prints.

---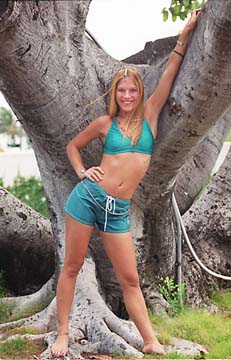 By Ken Sakamoto, Star-Bulletin
Surfer and designer Tasha Zahara models an
Us Girls no rash top and board shorts.
---
'Us Girls' surf clothing
is put to the test

FRIENDS thought Lane Davey was crazy when she first came up with the idea to create a women's surf wear line in 1993. There were no similar lines on the market because there were very few women surfers.

By the time Davey got her Us Girls line on the market in 1995, three women's surf lines had already branched off from men's surf companies.

At its conception, Us Girls was the first swim line designed by a professional woman surfer specifically for women who surf.

"We really do test our swimsuits for surfing," Davey said. "We just go out through 12-foot waves and I have Gypsy (a member of the Us Girls team) calling me going, 'Well the bikini stayed on through a 12-foot set at Sunset. Pretty good one.' "


Lane Davey
PRO SURFER AND
CLOTHING DESIGNER

Davey graduated from the University of Hawaii in 1993 with a degree in fashion merchandising. As a graduation gift, she went on a trip to Bali where she claims she had the first women's board shorts made, before Roxy's board shorts hit the stores later that year.

However, Davey said that by the time she figured out how to start a business and get the shorts made in Hawaii, a year had passed and the Us Girls short was fourth on the market.

According to Davey, as options for women's surf wear have increased, so have the number of women surfers. "There weren't any women surfers and they made the women's surf clothing and now that's advertising surfing so much that it's made a following of women surfers," she said.

Davey now sponsors a women's surf team, looking beyond beauty and talent in deciding who to sponsor. "I try to have some total variety on my team, girls that just make their mark in some way," she said.

This allows Davey to have a diverse team of professionals, amateurs and "soul surfers" ranging in age from 11 to 36. "Different sizes and different lives," Davey said.

For example, one professional surfer on the team, big-wave rider Gypsy Russ, is a mother of two. Russ' daughters, Cassandra, 8, and Roxy (named before Quiksilver's women's line), 5, are already following in their mother's footsteps.

Russ' daughters are good evidence of Davey's assertion that women's surfing will prevail even after the fashion trend dies down.

"Women have a lot more fun in the water," said Russ. "Men have an ego thing they need to protect."

Another Us Girls team member, Jessica Oswald, a junior at Kahuku High, definitely has fun. The amateur surfer has no aspirations to turn pro, but said that she will surf no matter what her career turns out to be.

"I enjoy the way you feel after. You have a little high from exercising, you're pretty stoked on the waves you got, so you're feeling good the rest of the day," Oswald said.

Oswald aspires to become a doctor on the Association of Surfing Professionals tour. Unfortunately, women's surfing is a dangerous enough sport to make that a realistic goal.

Comparing women surfers to their male counterparts, Davey said that women should not be expected to be like the men.

"There's definitely a limit to how far girls can go, not because we can't do it, but because we're so much smaller and our bones are so much smaller ... if we get hurt, it's going to be a lot worse," Davey said.

"We have a lot of work to do in our sport, we have a long way to go, but we're definitely growing in leaps and bounds. We only have up to go."






Click for online
calendars and events.
E-mail to Features Editor
---
---
© 1999 Honolulu Star-Bulletin
http://archives.starbulletin.com