---
Friday, June 11, 1999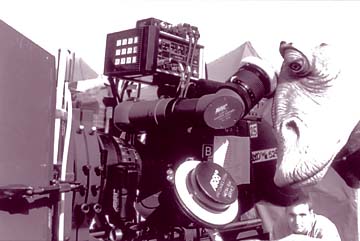 Lucasfilms
Even Jar Jar Banks of "The Phantom Menace"
wants to get into filmmaking.
---
USC film school
leads classes on Maui
The independent film industry in Hawaii is getting a boost this summer. The University of Southern California School of Cinema and Television -- which launched the careers of George Lucas, Robert Zemeckis, Ron Howard, Brian Grazer, John Singleton and John Milius, among others -- will be holding a five-week summer workshop program July 27 through Aug. 27 at Maui Community College.

Hawaii students will pay a fraction of the tuition normally associated with the program, at $995 vs. $4800 on the mainland. A 10 percent early-bird discount is offered to those signing up before Tuesday.

An introductory seminar will also be presented by the Maui Arts and Cultural Center and Maui Film Festival. Professor of American film at USC Dr. Drew Caspar will present a behind-the-scenes look at Martin Scorsese's "Kundun" July 7 and 8.

For more information on specific classes, rates and schedules, contact Maui Community College at (808)-984-3231.






Click for online
calendars and events.
---
Send WatDat? questions, stories
or any other story ideas or comments to:
Features, Honolulu Star-Bulletin, P.O. Box 3080,
Honolulu, HI 96802 or send a fax to 523-8509
or E-mail to features@starbulletin.com.
Please include your phone number.
E-mail to Features Editor
---
---
© 1999 Honolulu Star-Bulletin
http://archives.starbulletin.com