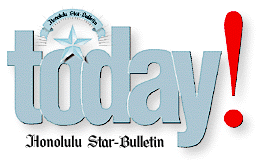 ---
Friday, June 11, 1999

Emme Inc. photo
Cecilio Rodriguez, left, and Henry Kapono tell
Emme Tomimbang about what bonds the duo together.

---




'Moments' filled
with song

Emme's Island Moments: The Journey of Music
Airs: 9 p.m. today, repeating 2 p.m. tomorrow
Channel: KHON/Fox

By Tim Ryan
Star-Bulletin

Kenny Loggins and Jim Messina formed the popular singing duo Loggins and Messina in the 1970s, before parting to launch their own solo careers.

Emme Tomimbang's "Island Moments" today takes a look back at these performer's lives together and individually, in a program full of music.


Emme Inc. photo
The members of the group Forte perform for
Tomimbang's cameras, and share their views
of the future of the Hawaiian music scene.

---


Loggins returned to Hawaii recently to perform with the Honolulu Symphony and brought Hapa on stage for a special appearance. Messina also came back to Hawaii to do a special recording of his song, "The Island." Playing slack-key guitar with him were Ledward Kaapana and Greg Sardinha.

Also on the show is Dean Pitchford, a local boy who has made a name for himself on the big screen and on stage with his hit, "Footloose," performed by Loggins. Tomimbang will talk to Pitchford about his musical successes and collaboration with Loggins. His Broadway musical, "Footloose," recently received four Tony nominations.

Tomimbang will also talk to Cecilio and Kapono, whose hits such as "About You," "You and Me" and "Friends" defined the generation that grew up in the '70s, and local singing group Forte will share its music and views about Hawaii's future generation.






Click for online
calendars and events.
E-mail to Features Editor
---
---
© 1999 Honolulu Star-Bulletin
http://archives.starbulletin.com