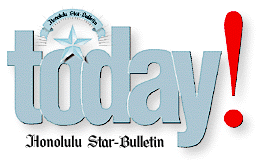 ---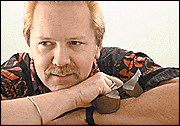 Island Mele

By John Berger
Friday, June 11, 1999
---
Smooth sounds
to the point

The Point
Artist: Kroon
Label: Humm

SINGER/guitarist Kroon makes an impressive entrance with 15 original songs. It takes an affinity for the traditions of jazz, soul and R&B to do them right, and Kroon quickly establishes his credentials. Pop music fans who enjoyed the Hot 100 chart hits of Michael Franks and Al Jarreau will enjoy his tunes as well.

Kroon uses a pool of talent in creating a smooth blend of jazz, pop, and light funk. There are no throwaway tracks, but "Volcano Isle" is particularly notable as commercial Hawaiian-language jazz. If Kroon isn't getting play on local "easy listening" stations he should be.

Kuhuliau
Artist: Nino Kaai
Label: Kahuliau

FROM the first notes of his haunting take on "Wahine 'Ilikea" through an equally effective reworking of Ray, Goodman & Brown's 1980 hit, "Special Lady," Nino Kaai introduces himself as a talented and imaginative song stylist. Kaai plays several instruments; producer Charles Recaido leads the squad of studio musicians who add live drums, percussion reeds, and backing vocals.

Kaai personalizes "Love Song of Kalua," "Quando Quando," and Steve Maii's "Catching A Wave" as well. He and Recaido favor a clean acoustic style reminiscent of Recaido's work with Summer in the 1970s. Two originals add personal details to this musical portrait.

Ho'ola
Artist: Makaha Sons of Ni'ihau
Label: Poki

Louis "Moon" Kauakahi led the reorganized Makaha Sons of Ni'ihau to new heights in the 1980s. The first album by the new quartet, "Puana Hou Me Ke Aloha," won two major Hoku Awards in 1985. This one, their second, won four in 1987. It featured Jean Ileialoha Benjamin, their Hawaiian language consultant at the time, as a guest vocalist, and included their popular version of "Wasted On The Way."

Both albums are classics. Producer Lea Uehara adds value here with updated annotation that includes information about the Sons and their songs, and puts everything in historical perspective.

See Record Reviews for some of John Berger's past reviews.

---




John Berger, who has covered the local
entertainment scene since 1972, writes reviews of recordings
produced by Hawaii artists. See the Star-Bulletin's Home Zone
section on Fridays for the latest reviews.
E-mail to Features Editor
---
---
© 1999 Honolulu Star-Bulletin
http://archives.starbulletin.com