---
Thursday, June 10, 1999

By Gary Kubota, Maui correspondent
William Chang, Hana resident, stands near a
closed shopping complex: "There's a silver lining
and there's a dark cloud" over Hana.

---




Mood in Hana
is not heavenly
as key employer
is in trouble


Maui County has filed to
foreclose on a hotel and the
owner may sell the property,
the ranch and other holdings

By Gary T. Kubota
Maui correspondent

HANA, Maui -- Many residents in rural Hana are feeling uneasy as the firm that hires almost a fifth of the people who work here faces a possible sale of its financially troubled holdings, including the Hotel Hana-Maui.

Of an estimated 1,050 people working in Hana, about 195 are employed by properties owned by Keola Hana Maui Inc. -- 130 at the hotel, and the rest at its Hana Ranch, Hana Ranch Restaurant, Hana Ranch Store and Hana Gas.

Maui County, however, recently filed to foreclose on the hotel, alleging some $414,522 in back taxes. Keola, which bought the 93-room resort in 1989, has closed a section of it to reduce operating costs.

Some residents fear losing their jobs.Others hope a new owner respects and maintains the rural atmosphere or the community.They haven't been told the name of the potential buyer.

"It's very nerve-racking. Nobody wants to tell you anything. It's just a big secret," said Dawn Lono, who once worked at the hotel.


By Gary Kubota, Maui correspondent
David Bullard, Hotel Hana-Maui controller, stands
on the grounds of the resort. There is no specific
date for closing the sale of the Hana-Maui Hotel, but it
was anticipated to be completed by the end of this month.

---


Keola has declined to release information about the pending sale because of a confidentiality agreement with the buyer, said David Bullard, the hotel controller.

The sale did not close as scheduled last month. Bullard said there is no specific date for closing the sale at this point, but it was anticipated to be completed by the end of this month.

Bullard said as long as Keola owns the hotel, it intends to continue its operations.

Maui Mayor James Apana said the foreclosure proceeding was filed to make sure the county received the back taxes soon, in light of Maui's struggling economy.

The economy historically has been slow in Hana, where residents rely upon farming, ranching and tourism for income.

The drive from Kahului to Hana takes at least two hours along a winding coastline. Because of construction scheduled during the next year, the road is closed on weekdays from 6 a.m. to 8:30 a.m. and 11 a.m. to 3 p.m.

Keola owns the only hotel in Hana, although there are scattered bed-and-breakfast inns throughout the town.

Residents say the pending sale of the Hotel Hana-Maui has put on hold big purchases, such as cars.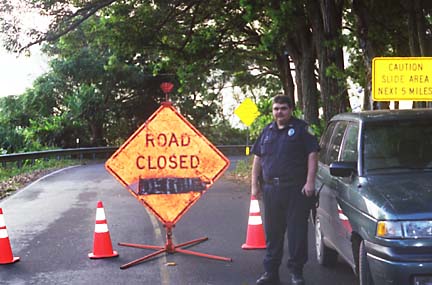 By Gary Kubota, Maui correspondent
Maui Police patrolman Scott Louis at the road
construction along the Hana Highway.
---
"You don't know where you're going to be in a year," said Leimomi Perry, manager of Lamont's gift shop at the hotel.

Some businesses, such as Hasegawa General Store, lease land from Keola, which also owns most of the commercial property in the town.

Residents say a large landowner in Hana can have a positive impact by limiting urban growth. But they say the landowner can also have a negative effect on this small economy, if the company is ailing financially.

"There's a silver lining and there's a dark cloud," said William Chang, a Hana resident.

Chang said to get them through financial hardships, residents continue to rely on a subsistence lifestyle that includes gathering food from the sea.

But Chang said that lifestyle is slowly eroding.

As executive director of the nonprofit group Hina-malailena, Chang is developing a commercial retail space for businesses on 1.12-acres of land leased from Wainanalua Church.

He hopes it will help to build more cottage industries in Hana.

Lono, who worked as a construction manager for the hotel during its renovation in the 1980s, says she does a combination of jobs to make a living.

She works part-time for Maui Councilman J. Kalani English, for her husband shipping boxes of flowers from their Na Pua "Ohana farm, and also serves as a project management consultant for home builders.

"It's always a struggle," she said.
E-mail to City Desk
---
---
© 1999 Honolulu Star-Bulletin
http://archives.starbulletin.com