---
Wednesday, June 9, 1999



'Walking crime wave'
implicates himself in attack

By Crystal Kua
Star-Bulletin

Prison inmate Frank Pauline Jr. told police in 1994 that he was there when two brothers fatally attacked Dana Ireland.

Pauline also told police he hit Ireland over the head with a tire iron.

Two years later, Pauline said he wasn't there after all.

Pauline is charged with second-degree murder, kidnapping and sexual assault in the Dec. 24, 1991, attack on the 23-year-old bicyclist.

Ireland was run down by a vehicle on the road leading to Vacationland in Kapoho. She was abducted from that spot, beaten, raped and then left for dead in the Puna subdivision of Waawaa.

Prosecutors are expected to try to show that Pauline was telling the truth the first time, when he said he was there and participated in the attack on Ireland.

The defense says Pauline didn't do it, and will try to show that prosecutors were under public pressure to charge someone, especially given that the statute of limitations on the sexual assault and kidnapping charges was about to run out in the case.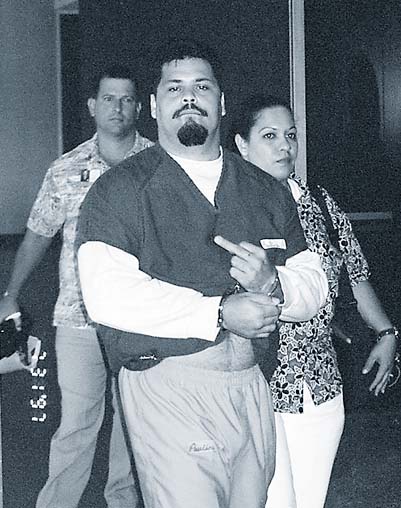 By Rod Thompson, Star-Bulletin
Pauline leaves court on July 31, 1997, after
pleading not guilty to killing Ireland.
---
Frank Raymond Pauline Jr. was born April 27, 1973, in Fremont, Calif., the son of Frank Sr. and Patricia, who now live in Mountain View, Hawaii. At the time Ireland was killed, the Paulines lived in a Puna subdivision a few miles from where she was dumped.

Pauline has three young sons, two of whom are twins, and several brothers and sisters.

Pauline's credibility has been a problem before. In 1993 he was behind bars unable to post bail.

A Circuit Court judge released him to attend a funeral on Oct. 27 of that year. But the funeral had been held the day before, and Pauline didn't return to jail when he was supposed to.

In February 1994 he was sentenced to 10 years in prison for sexual assault, robbery and criminal trespass. The sexual assault conviction stemmed from a 1993 rape involving a woman acquaintance.

Because of the multitude of crimes on which he was sentenced, prosecutors dubbed him a "walking crime wave" at that sentencing hearing.

After the hearing, Pauline lived up to his new nickname -- he walked out of the courtroom before he was taken into custody to start his prison term. Classified as a fugitive, he was recaptured in Honolulu a few days later.

Court documents filed at the time painted him as a man with a drug problem who was so stoned that he couldn't always remember committing crimes.

Pauline admitted to using cocaine every other day, drinking cases of beer and smoking marijuana, according to court documents. "Coke is more of a problem than weed is," Pauline told a social worker writing a bail study on him.

Pauline's prison term began at the Halawa Correctional Facility.

Three months after Pauline was sentenced, his brother John Gonsalves went to authorities and told them Pauline had information on the Ireland case. Gonsalves, who at the time was awaiting trial on drug charges, would make a deal with prosecutors to testify against his brother.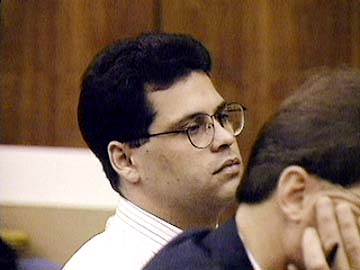 NBC Hawaii News 8
Pauline in court recently.
---
Big Island police on June 1, 1994, traveled to Honolulu to meet with Pauline, but he told them he wanted to wait a few days before deciding whether to talk. The meeting lasted 20 minutes.

Big Island police flew back to Oahu on June 18 and interviewed Pauline for 90 minutes. They took him back to the Big Island, where he led them on a reconstruction of the crime, taking detectives to the places he talked about.

Pauline told Detective Steven Guillermo that brothers Albert Ian and Shawn Schweitzer picked him up in a purple Volkswagen at his house on Dec. 24, 1991. Ian Schweitzer was driving, Pauline told police.

The trio stopped to smoke cocaine before they saw a woman standing on the side of the road, Pauline said in his statement. The driver accelerated, hit the woman then stopped, got out and put her in the trunk. They drove to a place with a lot of junk cars, raped her, and hit her with a tire iron, he told police.

She was dumped in some bushes on the side of the road in Waawaa.

After Pauline began talking to police, he was transferred to Maui Community Correctional Center for his protection.

Later in 1994, in apparent frustration and suspicion that police might point the finger at him in the Ireland case, Pauline went to the media with his story.

Prison officials transferred Pauline from Maui back to Halawa in May 1995 because he was a "management problem" and because of threats from other inmates, prison officials said at the time.

While at Halawa, Pauline said prison guards there beat and sexually assaulted him.

His allegations came at a time when other prisoners were making similar statements.

In a 1995 interview, Pauline's mother said he had a tendency to lie or exaggerate, but she believed her son's allegations about the guards were true. Prison officials said they could not substantiate his abuse claims.

After making accusations against Halawa guards, Pauline was transferred to the Oahu Community Correctional Center. He later filed a lawsuit against the state, alleging civil rights violations in connection with the abuse allegations.

In 1996, Pauline recanted his statement about the Ireland murder. He said he wasn't there during the attack, but had information on who was responsible. He said he told police he was present because "that's the only way they were going to listen to me."

In the meantime, Pauline has been indicted on new sexual assault charges unrelated to the Ireland case. Trial is scheduled for November.

A Circuit Court judge in October 1996 called Pauline "unreliable" in denying his request to commute his 10-year prison term into probation. Pauline told the judge he was a changed man.

"The time I have spent in prison has truly impacted my life as well as my (family's). I realize now how important and beautiful life can be being a good, law-abiding citizen, and a good father to my three sons," Pauline said in a letter to the judge.




The Pauline confession

Excerpts from the June 19, 1994, statement of Frank Raymond Pauline Jr. in the murder investigation of Dana Ireland. The interview was held at the Hawaii County Police Department in Hilo, Hawaii. Pauline has changed his story several times and has since recanted his confession:

Pauline said he was with Albert Ian and Shawn Schweitzer in a Volkswagen Beetle. "We came out by an intersection going towards Kapoho and that's where we saw a girl standing up. As we were going past, my friend Ian looked towards the side and he said, 'Ho, look at that girl.' Then we continued to go forward down the road."

Pauline said they turned around because Ian wanted to talk to the woman.

"Then we headed back and he was going faster and I was telling him for slow down. About 40-45 miles per hour because I looked at the speedometer. And then he just kept on going towards the girl. The next thing I knew I felt like going over a speed bump real fast. How many times we went over? About I would say roughly two times ... going forward and reversing."

He said they stopped and the Schweitzers got out and loaded the woman into the trunk, located in front of the vehicle. They starting driving again, but stopped several times after that, once in an area with a lot of junk cars. "Then we carried the body out. We laid um down and she was still alive. She neva say nothing. Neva really act like she had been hurt. Then Ian Schweitzer wen' end up having sex with her ... it lasted for a short while. Maybe like couple seconds. Four-five seconds."

Pauline said he refused to have sex with the woman.

"Told him I neva like. And at the same time when he was having sex I was just kinda enjoying watching. I guess was cause of the drugs."

Pauline said "she had blood coming out of her eyes, her mouth and her nose." He said at Ian's urging he found a tire iron and struck the woman "to make sure I killed her."

"So I wen' swing all the way back and I wen' hit her on the head ... then I dropped the bar and I went towards the bug on the driver side. I remained outside it. I was feeling sick and I told Ian I cannot do this so he wen' head back to her and I guess he wen' do um."

Pauline said the brothers returned to the car, closed the trunk and the three men drove away. "We headed back towards Hawaiian Beaches through the back roads. Then we made several stops to smoke cocaine again. And as we stopped Ian Schweitzer kept going back towards the front of the bug to make sure the body was dead. Just to check on the body."

Pauline said he made the statement of his own free will; he was not coerced or promised anything and he was not under the influence of drugs or alcohol. He signed the statement at 7:51 a.m.

---



Frank Pauline's criminal record

Frank Raymond Pauline Jr. has a record dating back to when he was 9 years old:
Age: 26
Date of birth: April 27, 1973
Residence: Incarcerated at Oahu Criminal Correction Center.
Home district: Puna

PENDING CHARGES

Second-degree murder, second-degree sexual assault and kidnapping in the Dana Ireland case. Trial scheduled to start July 19.

First- and second-degree sexual assault in an unrelated case. Trial scheduled for Nov. 15.

JUVENILE RECORD

Offense				Date		Resolution			Date resolved
First-degree burglary		Feb. 8, 1983	Protective supervision		April 11, 1984
First-degree criminal trespass	Nov. 22, 1983	Counseling			Jan. 27, 1984
Second-degree assault		Nov. 16, 1990	Probation			March 5, 1991
Second-degree terroristic threatening
 Third-degree assault		March 18, 1991	Probation, 30 days, Youth Corr.	Sept. 25, 1991
Third-degree assault		April 24, 1991	Probation, 30 days, Youth Corr.	Sept, 25, 1991
No no-fault insurance		May 28,1991	Not available
Third-degree assault		Sept. 25, 1991	Not available
No no-fault insurance		Nov. 17, 1991	Not available

Juvenile status terminated Sept. 30, 1992

ADULT CONVICTIONS

Offense				Sentence				Conviction Date
Accident involving death/injury	Year on probation, one day in jail	Jan. 12, 1993
Driving without a license	$75 fine				Jan. 12, 1993
No motorcycle insurance		$100 fine				Jan. 12, 1993
Criminal contempt of court	Year on probation, one day in jail	Feb. 18, 1993
Criminal contempt of court
 and driving without a license	10 days in jail				July 16, 1993
Second-degree sexual assault	10 years in prison			Feb. 8, 1994
Second-degree theft		5 years in prison
Second-degree criminal trespass	1 year in prison	All three terms run concurrently








Courtesy of John and Louise Ireland
3-year-old Dana on the patio of the
Irelands' home in Springfield, Va.




Blurred through the years is the real Dana. She lives on, though -- beautiful, shy, kind -- in the memories of those who knew her. The innocent. The indicted. Anatomy of a murder. The what and where of the attack. Who's who in the Dana Ireland tragedy.

Help came too late for Dana Ireland. From the moment she was hit by her attackers' car until the time an ambulance reached her, more than two hours passed. Here's how minutes -- and a life -- were lost.

Life has gone on since the Dec. 24, 1991, attack. Memories have faded. Witnesses have scattered. But each twist and turn in the seven-year bid to bring to justice those responsible means fresh injury, not only to Dana's family but to witnesses whose lives have been put on hold by this on-again, off-again case.




No Frames: Tuesday, June 8 | Wednesday, June 9 | Thursday, June 10
E-mail to City Desk
---
---
© 1999 Honolulu Star-Bulletin
http://archives.starbulletin.com