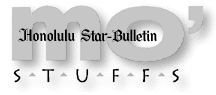 ---
Wednesday, June 9, 1999



---
'Damien'
premieres June 25
The Maui Film Festival will present the feature film "Molokai: The Story of Father Damien" on June 30 at Hawaii Theatre and June 25 on Maui. Plans are also being finalized for a screening on Molokai June 26 and 27.

The Oahu screening will be at 7 p.m. The film's producers, director and star will answer questions from the audience.

The screenings are a fund-raiser for Na Pu'uwai, Inc., and Molokai General Hospital.

Filmed on Molokai and Oahu, "Molokai" tells the story of the Belgian priest Damien DeVeuster from 1872, the year before his arrival in Kalaupapa to minister to Hansen's Disease patients, until his death at the Molokai settlement in 1889.

Production designer Jan Petitjean and his crew spent nearly two months at Kalaupapa recreating nearly 25 buildings, including the settlement's Hospital and St. Philomena Church.

"Father Damien" stars Australian actor David Wenham in the title role. Also in the film are Peter O'Toole and Sam Neill.

"Damien" was written by John Briley, the Academy Award-winning writer of "Gandhi," and directed by Paul Cox.

A documentary "The Making of 'Molokai: The Story of Father Damien'" will air at 9 p.m. June 17 KITV-4. The special includes interviews with all actors, writers, director and producer of the film.

Tickets for the Oahu screening are $16 and are on sale at the Hawaii Theatre box office. Call 528-0506. Special $50 tickets include a post-screening party at Indigo Restaurant.

Dads, kids face obstacles
How's the teamwork between the kids and dad at your house? A pre-Father's Day face-off obstacle course challenge will be held between noon and 2 p.m. June 19 at Windward Mall to mark Dad's day.

The challenge, hosted by the mall and KRTR radio station, is open to all fathers and their sons or daughters. While there is no age limit, the father/child pairs will be divided into categories according to the child's age: 12 or younger and 13 or older.

Prizes include a $150 Lenscrafters gift certificate, a free Sprint PCS phone, a $50 Radio Shack gift certificate, and more, for participating in four games: a football toss, hole-in-one golf challenge, basketball jam and lemonade squeeze.

The competition is limited to 20 teams. Qualify by listening to KRTR or signing up at participating stores through June 16. The last five teams will be chosen randomly during registration the day of the event.

During the event, Sprint will be offering free 3-minute phone calls to anywhere in the nation to anyone in the audience.

Call 235-1143.

Parade marchers wanted
The Kailua Chamber of Commerce is accepting applications for participants in its 1999 Fourth of July parade.

The parade will begin at 10 a.m. on the official holiday, July 5, proceeding along Kainalu Drive.

For an application, call the chamber at 261-2727. Leave your name, organization name and address or fax number.

Celebrate wellness in Kahuku
Kahuku Hospital is offering a number of free screenings 8 a.m. to noon Saturday and June 26 on its front lawn.

Show up for free blood pressure and blood glucose testing, fitness consultations and get free information on health and diabetes.

A Healthy Communities Farmer's Market provides extra incentive to show up. There will be fresh produce, flowers and handmade crafts for sale, as well as entertainment and keiki activities.

For information, call the Kahuku Hospital Health Education Office at 293-9221 ext. 360. The hospital is at 56-117 Pualalea St.

Wine and cheese fete
Sample gourmet cheese, fruit and house wines at David Paul's Diamond Head Grill, 5:30 to 7 p.m. Wednesdays; $15. Call 808-242-8383.

Feed the hungry
Star of the Sea Catholic Church and Thrift Shop sponsors a food drive from 9 a.m.-1 p.m. daily through Saturday. Donors of five or more items receive 20 percent off a Thrift Store purchase made this week. Call 734-0396 or 732-6836.

Grab a mouthful of "Jerry's Burritos"
Learn the secret behind Jerry Smith's vegetarian burritos 7 p.m. Monday, Ala Wai Golf Course Recreation Facility; free. Call 944-VEGI with questions.

Millennium cuisine treat for all
Learn to prepare the dishes of the Millennium, San Francisco's premier vegetarian restaurant, 7-8:30 p.m. tomorrow, Castle Medical Center; $10. Call 263-5400.

Ring Heinz' bell
In celebration of its 57th anniversary, Heinz Co. will give couples married 57 years a crystal bell etched with its 57 logo.

To obtain a bell, send a copy of the marriage certificate and a letter signed by husband and wife to: "Happy 57th Anniversary," H.J. Heinz Co., P.O. Box 57, Pittsburgh, PA 15230-0057. Allow 4-6 weeks for delivery and include a shipping address.

Shincha Tea Fair
Rumor has it that Shincha tea leaves help lengthen one's life span by offering a healing energy. Sample the tea Tuesday through June 27 during mall hours at Shirokiya, Ala Moana Center. Call 593-8974.

Ribs rule
Amateur chefs may enter their barbecue pork ribs recipe in Tony Roma's Famous for Ribs/Taste of Honolulu BBQ Cook Off, a benefit for Easter Seals, for a chance to win a vacation for two on Maui. Eight finalists will compete in a live cook-off June 26 at Taste of Honolulu. Entries must be submitted by June 21. Call 944-4343 for more information .






Click for online
calendars and events.
---
Send WatDat? questions, stories
or any other story ideas or comments to:
Features, Honolulu Star-Bulletin, P.O. Box 3080,
Honolulu, HI 96802 or send a fax to 523-8509
or E-mail to features@starbulletin.com.
Please include your phone number.
E-mail to Features Editor
---
---
© 1999 Honolulu Star-Bulletin
http://archives.starbulletin.com