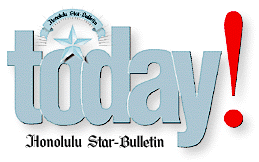 ---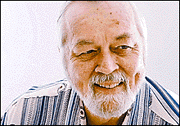 Hawaii

By Dave Donnelly
Wednesday, June 9, 1999
---
Hawaii stars on MTV

THAT MTV show "Real World," which was filmed at great length over many weeks in Hawaii, begins airing next week. Bryan Uy of Havana Cabana will be watching the opening episode since he's been tipped that scenes filmed in the downtown restaurant, bar and cigar emporium will be in it ... Incidentally, aside from the cast and crew, foreign travels by the "Real World" cast were hush-hush, but a handful of folks at Kaiser knew the cast was bound for India. Dr. Vernon Ansdell, Nicole Adam, Winnie Yu and Nila Bourassa had to lecture the kids on India's health hazards and administer numerous shots to protect them from diseases still prevalent in that country ...

ALL in the former family: No sooner did we mention here that Rocky Ching, photographer Kim Taylor Reece's model and former wife, got married that word comes Reece is about to follow suit. The photog, whose artistic sepia photos -- mostly of Rocky -- can be seen all over town, is engaged to Kanoe Chun and a September wedding is planned. Chun, a former teacher, now works in Reece's gallery ... Add one more to the list of "Jake's Women." Aubrey Hawk, publicist for the Manoa Valley Theatre where the Neil Simon play is running, gave birth Saturday to Madeline Kaliko Hawk, described without prejudice by her mom as "6 pounds, 15 ounces, and beautiful." ...

Brews control

JUST remember, you don't have to sample all the beers at Hawaii Public Radio's annual international beer tasting. There are, after all, 133 beers to choose from. The event takes place June 17 at the Diamond Head end of Auahi Street and tickets are $20 in advance (call 955-8821) or $25 at the door ... If you're a fan of Hinano Beer from Tahiti, you can enjoy it at the Waikiki Shell June 18 while you watch the National Dance Co. of Tahiti. More than 100 people are flying in to be part of the show, the first time the national company has performed outside of Tahiti. Tickets at the Blaisdell box office ...

FEELING very much like Audrey Hepburn these days is Jackie Allaire of Maui. She attended the "Breakfast at Tiffany's" held at Whaler's Village to benefit the American Cancer Society, and today is sporting a one-carat sapphire and diamond pendant. Guests purchased signature blue Tiffany & Co. boxes wrapped in white ribbons, and all were opened simultaneously. Allaire's was the lucky one whose box contained the pendant. It was fitting, too, since the event was dedicated to T S Restaurants founder Rob Thibaut, who lost his bout with cancer last year, and Jackie's husband, David Allaire, is the restaurant group's senior V.P. ...

Eat, drink and be Maui

INVITES to tomorrow's grand 5th anniversary re-opening party at Gordon Biersch's began, "Thanks to you, the carpet is worn, the paint is peeling and the furniture needs an upgrade." Done. Owners Dan Gordon and Dean Biersch will both be on hand for the blessing by Rev. William Kaina with a luau following as they celebrate new carpeting, paint and furniture at the Aloha Tower Marketplace ... Azure McCall performs from 11 a.m. to 1 p.m. at the Wild Mushroom in the Richards St. YWCA June 12 and 19. A free mimosa goes to each luncheon guest who's 21 ... Longtime Lahaina restaurateur Bob Longhi is at last expanding, opening the first restaurant in the lineup of boutiques at the Shops of Wailea, opening in the summer of 2000. Nothing like thinking ahead ...

---




Dave Donnelly has been writing on happenings
in Hawaii for the Star-Bulletin since 1968.
His columns run Monday through Friday.

Contact Dave by e-mail: donnelly@kestrok.com.
E-mail to Features Editor
---
---
© 1999 Honolulu Star-Bulletin
http://archives.starbulletin.com