---
Thursday, June 3, 1999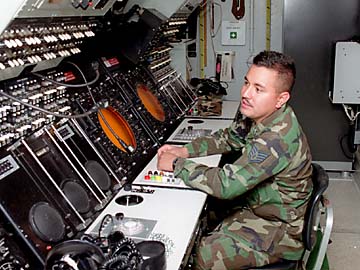 By Ken Sakamoto, Star-Bulletin
Above, Staff Sgt. Clifford Ramson of the 201st Combat
Communications Group mans the radar site on
Barbers Point Naval Air Station.
---
Air Guard
awaits word on
deployment


The likelihood of a 90-day
tour to help in the Balkan crisis
faces isle reservists

By Gregg K. Kakesako
Star-Bulletin

Two years ago, a small contingent of Hawaii Air National Guard air traffic controllers, radar operators and maintenance specialists were called to active duty -- the first for the Guard since the Vietnam War in 1968.

With the uncertainty in the Balkans and the country's greater reliance on the reserves because of shrinking military dollars, these reservists, along with air jet refuelers and communications specialists, face even a greater prospect of leaving family and loved ones for at least a 90-day tour in Europe.

Already, several mainland reserve air traffic controllers and communications specialists are among the 2,000 reservists activated for the Balkan crisis. There are plans to use at least 33,000 members of the nation's reserve force.

Hawaii has similar units here, but no one knows if they are on the Pentagon's 90-day rotation list. Lt. Col. James Townsend, who recently took command of the Hawaii Air National Guard's 201st Combat Communications Group, said,"Unless we deploy, everything is just training. It's a real satisfaction to be sent out."

"We're like GTE on wheels," said Maj. Gary Mizumoto, commander of one of five units that make up the 201st Communications Group.

Families have it hardest

Mizumoto's unit, the 293rd Combat Communications Squadron, operates out of Hickam Air Force Base and provides and maintains telephone service, data transmission links, video conferencing, and Internet and e-mail capacity.

Two years ago, another element of Townsend's unit -- the 297th Air Traffic Control Squadron -- was called to active duty and sent from its home station at Barbers Point Naval Air Station to Taszar Air Force Base in Hungary to support the United Nations air actions in Bosnia.

From July to November, 31 Hawaii Air Guard personnel lived in green tents providing air traffic control, radar operations and maintenance service, said Maj. Craig Ishizaki, commander of the 297th.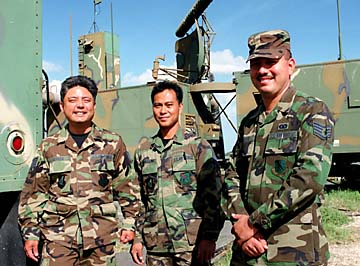 By Ken Sakamoto, Star-Bulletin
Below are Tech. Sgt. Neil Uehara, Staff Sgt. Romel Marcelino
and Ramson of the 201st, ready to serve if their unit is activated
to support the military operation in the Balkans.
---
Master Sgt. Raymond Chang, a 22-year Hawaii Air Guard veteran, spent part of the deployment in Croatia working on radios for a U.N. air force element stationed in Zagreb.

From the air base in Hungary, the reservists handled military aircraft flying to and from Bosnia, including several MiG-29 Russian-made jet fighters.

"The hardest part of that deployment -- or any deployment -- is on the families and the children," said Tech. Sgt. Charles Goo, a member of the Hawaii Air National Guard for 16 years.

Staff Sgt. Clifford Ramson missed the birth of his son. "My son was born in October when I was away," said Ramson, an air traffic controller.

"We kept in touch by e-mail. ... One day when I got back, there was a message waiting for me on my e-mail telling me my son was born.

Spouses have to adjust

"My wife wasn't too pleased because I couldn't be there, but I didn't have a choice. ... Now she understands and likes the benefits the Guard has to offer."

Goo said there is a lot of adjustment to do when there are children involved and two spouses are working. "The spouse who is left behind has to pick up after the other one and fill in," he added.

Ramson added with a chuckle, "and learn to give some of that up when you get back."

Because the 297th is located on a Navy facility in Kapolei, Goo said the National Guard received help from the wives there who are accustomed to husbands going on extended deployments.

In addition, the Hawaii National Guard maintains a family support group, and those who didn't deploy to Taszar kept the families of the airmen in Hungary informed of what was going on.




Duty pending at Barbers Point

The Hawaii Air National Guard on July 1 will assume the air traffic control and radar operations at Kalaeloa Airport when Barbers Point Naval Air Station closes.

That duty will fall to the 22 military technicians and nine civilians employed by the Hawaii Air National Guard's 297th Air Traffic Control Squadron.

The tower at Barbers Point will be manned from 6 a.m. to 10 p.m. daily, according to Maj. Craig Ishizaki, the commander of the 297th.

The 297th is one of 10 air traffic control squadrons in the Air National Guard. There are six similar units in the active Air Force.

Once the 297th begins manning the Barbers Point tower, future Hawaii Air National Guard air traffic controllers will no longer have to spend nearly a year away from home after graduating from technical school at Kessler Air Force Base in Mississippi.

The students will now be able to receive on-the-job training at Barbers Point.



E-mail to City Desk
---
---
© 1999 Honolulu Star-Bulletin
http://archives.starbulletin.com