---
Thursday, June 3, 1999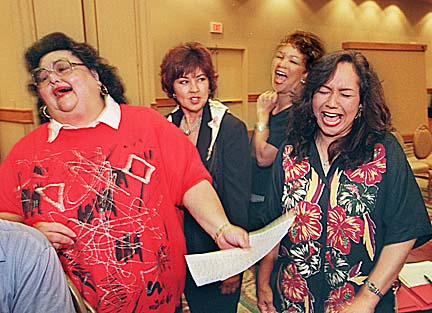 By Dennis Oda, Star-Bulletin
Preparing for their concert together are, from left: Loyal Garner,
Carole Kai, Melveen Leed and Nohelani Cypriano.
---

By John Berger
Special to the Star-Bulletin

WHAT will Melveen Leed say to Carole Kai? That's just one of the things fueling the excitement around "Waikiki, The Way It Was!," the sold-out event tomorrow night at Sheraton Waikiki.

Leed, five-time Hoku Award winner as Hawaii's Female Vocalist of the Year, is leading a campaign to increase the amount of professional entertainment in Waikiki and announced during a broadcast of the 1999 Hoku ceremony that it' time to "get rid of karaoke."

The effervescent Kai is doing extremely well with "Hawaii Stars," promoting karaoke as the means through which every shower-stall singer in Hawaii can get at least a few minutes of public exposure.

Add Loyal Garner, Hawaii's popular "Lady of Love," and Nohelani Cypriano, local rock diva of the '70s turned ocean-going showroom star, and the show, call it WTWIW for short, has a chemistry unforeseen when Kai first envisioned this alignment of stars.




WAIKIKI, THE WAY IT WAS!

The show is sold out, but an encore performance is likely to take place in December.




It's no surprise then that this first-ever summit of the four local divas is sold out. If you didn't get your tickets this time, the divas will reunite for a December Christmas concert. A WTWIW show with men is planned for September.

The four divas were having a great reunion during a recent rehearsal. Each took time out to talk about the show and the state of music in Hawaii.

"Why is it that (the state) is selling only the sun and the sand and not the music? We need a state-funded program for the music," Leed says. Back from Tahiti, she's bubbling over with ideas for revitalizing the local entertainment industry. Among her projects is the Society of Hawaii's Very Best, an organization of Hawaiian singers and performers.

She has also been out prospecting for places that could be viable venues for Hawaiian music. (Hawaiian singers who feel they can hold their own are invited to contact Leed via fax at 239-0505.)

"We need more entertainers out here. A lot of singers have really lost that class, the way they dress, their mannerisms on stage, their patter with the audience," Leed said. "Loyal and I are the same as far as status in our peak in our careers. We're exactly the same, and to work Carole and Nohe is really nice. Nohe's our baby. She followed in our footsteps and she was once our fan and now she's with us. And Carole -- it's nice to see her work again."

Each diva will do a mini show lasting about 25 minutes. The finale will bring them together. They'll be backed by Frank Diehl on piano, Jerry Martini (sax), Blaise Sison (bass), and Rory Flores (drums). Augie Rey will provide post-show entertainment. Kimo Kahoano, Kai's "Hawaii Stars" sidekick, will serve as host.

"What we're focusing on are the songs that were popular during the '60s and '70s that we brought to the table. I tell the girls that this music is before my time," Garner says with a laugh.

A two-time winner of Female Vocalist of the Year Hoku honors, Garner is preparing for her next album, and performs for convention groups and private events.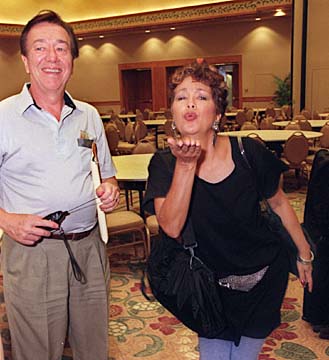 By Dennis Oda, Star-Bulletin
Melveen Leed, with musical conductor and pianist
Frank Diehl, gives a goodbye kiss after rehearsal.
---
"Baby diva" Cypriano said the others were Waikiki stars when she was still in high school, performing with a rock band. She later worked Waikiki as a member of Golden Throat before going solo, appearing on Ron Jacobs' "Homegrown II" album in 1977 and winning her first two Hokus for her solo debut album, "Nohelani," in 1980. Cypriano's new album, "Hawaiian Soul," will include a variety of soulful local songs.

"When I got asked to do this I was very honored because I grew up watching all of them. I told Melveen yesterday I was always in awe of her. It's funny how the years progress and we're all sort of in the same place right now."

Cypriano plans to perform songs off her debut album, along with some "fun stuff" celebrating the swing and disco eras.

"I was playing all the clubs in Waikiki, the military bases, everything," she says of her start in the '70s. "Lihue," her winning entry on "Homegrown II" marked her transition to a cross-cultural Hawaiian funk sound. She won her second Female Vocalist of Year Hoku in 1992. For 11 years she has been the headlining shows aboard the Navatek I cruise ship.

"When I perform for the locals (tomorrow) I want to remind them what I was about in those days and what I'm about now.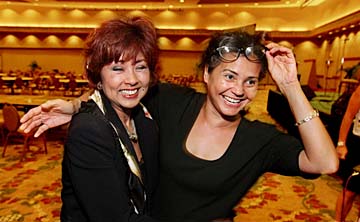 By Dennis Oda, Star-Bulletin
Carole Kai hams with Sonya Mendez, who performed
in Kai's revue at the Hilton Hawaiian Village
in the early seventies.
---
Garner, too, is glad to be performing for Hawaii residents. She and Leed meshed beautifully in "Hawaii's Very Best" with Dick Jensen, Iva Kinimaka and Nephi Hannemann at the Hilton in 1993. She co-starred with Leed in another successful engagement at the Polynesian Palace. Recently, she's been doing more work outside Hawaii than in.

"I did a divas show in Vegas for May Day, came home and went to Sacramento for a weekend. We've been traveling all over, to Japan even, because there's no work here. Hopefully this will turn around by the year 2000."

"Mel's (a) sister already. We know each other's apprehensiveness ... but never, never ask her to be your roommate," Garner adds with a fond chuckle.

Kai was fighting a cold and confessed to jitters. She was a popular singer for years, and helped launch the original Fabulous Krush in the late '70s, but it's been at least 12 years since her last showroom engagement in Waikiki.

"I've been mostly in the business world and getting on this side makes me feel a lot of empathy and enthusiasm for the entertainers again. I haven't performed in a public venue like this, with people paying money, since 1987, but it's exciting."

A versatile, if modest, performer, Kai says she'll be doing "a little bit of dancing" as well. "I'm a little nervous about the whole thing, but life is a venture and an adventure. My love is charity and television production, but this is fun."

Cypriano agrees: "Everybody's so close. They tell jokes and stories and I'm always feeling that I don't have stories to compare to theirs, and Loyal goes, 'That's because you young!' and Mel says, 'Nohe is like we were in the young days.'

"I've been doing this a long time but I haven't had those things (that happened to them) happen to me. We laugh till we cry."






Click for online
calendars and events.
E-mail to Features Editor
---
---
© 1999 Honolulu Star-Bulletin
http://archives.starbulletin.com