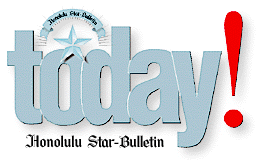 ---
Tuesday, June 1, 1999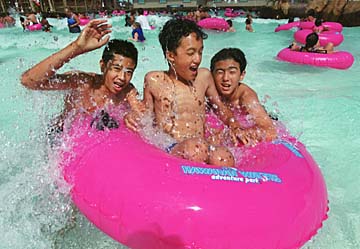 By Dennis Oda, Star-Bulletin
Our guy judges, from left: Nathan Silla (Punahou), Justin Perez
(Ilima Intermediate) and Josh Yoon-Nichols (Moanalua
Intermediate) ride the waves at Hurricane Bay.
---



A kids'-eye view

We took five kids, ages 10-14, to the new Hawaiian Waters Adventure Park in Kapolei and let them be the judges of this new attraction. The younger girls gave it a 10 overall, but the older boys were harsher critics. They gave it a 7, although they admit it is a better time than just about any other local alternative, including the real beach. ...

By Betty Shimabukuro
Star-Bulletin

The girls -- Melissa Moller and Christine Perez -- visited the park on opening day, Friday. The boys -- Nathan Silla, Josh Yoon-Nichols and Justin Perez -- visited on Saturday.

First, a disclaimer: Two of the kid judges are mine. Some of the benefits of this job have to trickle down, after all.

Second, the overall evaluations were made without benefit of riding the Flyin' Hawaiian, which didn't open until Sunday.This slide might have bumped up the boys' scores, since it is supposed to be pretty radical.

Here are there evaluations for each of the park's attractions. Numbers correspond to the map above:

1

Kapolei Kooler, average score: 5. Too tame for this age group, although they did appreciate that it might be enjoyable for old people.

"It's good if you're going to relax ... or bump into people. ... There was a waterfall where you could get your head wet and stuff."

The boys said people were being ordered out of the river when it got too crowded, even if they'd only been around one time (and not just rowdy boys -- "even, like, pregnant people").

2

The Cliffhanger: 9.5. "That was the best. The beginning was scary, but the end was fun -- it's like you're flying ...

"It's the scariest one. At first it's slow and easy, and then there's a sudden drop. ... The worst part is the climb up ... and the end part when you bump the sides and water goes up your nose."

3

Big Kahuna: 6 "It's fun 'cause it seems like you're in a bobsled and the drop at the end is good ... It's funner with more people because you have more weight and you go faster. ... It's still slow, though .. It's like, tame, easy, not scary."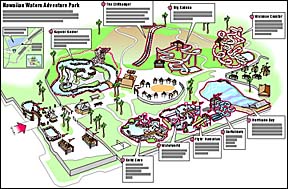 Map by Kip Aoki
Click the small map for a huge version.
Click the large map to come back here.
---
4

Waianae Coaster: 8.5 This slide has four tubes, each offering a different experience. No one cared much for the middle two, which were open or partly open -- too tame. The second tube "is fun at first, but then it gets boring. It has a horrible ending."

The first and fourth tubes, though, are completely enclosed and a bigger thrill. "It was pitch dark and you didn't know what was going to happen."

The boys said all four were too slow, too short, not enough turns. The fourth was best, they said. "If you grab the right side of the raft and you pull it, you can flip it over and you hit the water upsidedown."

5

Keiki Cove:*

6

Waterworld: *

* Our kids were too old for these areas. They said the little slides were "lame" and the water guns weak. Asked to imagine they were 3 years old though, "I'd give it, like, a 10, probably, and you'd get entertainment out of the cannons somehow."

7

Flyin' Hawaiian: Wasn't open.

8

Surf Slider: 5 This has three tubes, two of them open ("they're just boring") -- only the enclosed one was ranked worthwhile ("decent, because you're in the dark").

"Kinda good ... That's one to warm you up for the bigger slides."

9

Hurricane Bay: 5 In this case, the average score doesn't tell the story. The girls loved this place and gave it a 10; the boys hated it and gave it a 1.

Positive: "It's just like the beach, the waves keep coming and they give you a break so you don't , like, drown."

Negative: "If I wanted to do that I would go to the beach. It's useless -- a wave pool -- I could understand, like, in a desert."

Overall, the girls were ready to go back right away, and ranked it a 10. The boys compared the park to others they'd visited on the mainland and said there were too few "big kid" slides, and the ones they do have are too short.

As far as other attractions in Hawaii go, though, they ranked it better than Sea Life Park, bowling, the 50th State Fair or unlimited ping-pong. It ranked equal to or better than Ultrazone or a really good movie.

They'd go back, especially if someone bought them a pass.






Click for online
calendars and events.
E-mail to Features Editor
---
---
© 1999 Honolulu Star-Bulletin
http://archives.starbulletin.com