---
Tuesday, June 1, 1999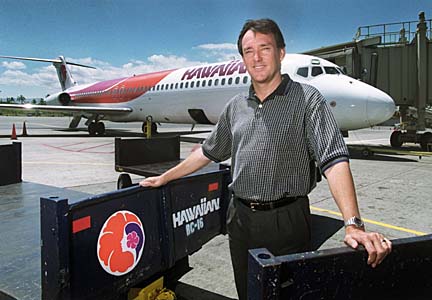 By Dennis Oda, Star-Bulletin
John Happ, senior vice president for marketing and sales at
Hawaiian Airlines, stands in front of one of the company's
jets. The airline will have much more exposure in
"Baywatch Hawaii" than in previous partnerships.
---
Riding the wave


Isle companies are hoping
to turn sponsorships with
'Baywatch Hawaii'
into profits

By Tim Ryan
Star-Bulletin

"Baywatch Hawaii" mania has taken hold of several local businesses that are contributing millions of dollars in goods and services during the upcoming season to help defray filming costs while increasing their companies' visibility.

Sony Hawaii has loaned the latest in digital-editing equipment; Hawaiian Airlines Inc. is providing all trans-Pacific and interisland transportation; Hilton Hawaiian Village is giving accommodations; Dollar Rent A Car, vans and cars; and Matson Navigation Co., goods shipping.

Estimated cost of the sponsorships is about $3 million, the companies' executives said.

"Without a doubt these sponsorships are far more than what has ever been provided here before," said Georgette Deemer, state Hawaii Film Office manager. "But 'Baywatch' has been doing this sort of sponsorship and product placement for years; it's part of the show's whole process."

The $875,000-an-episode series, which will film its first episode on Kauai in July, takes time well before production begins to find sponsors.

In Hawaii's case, the effort was assisted by production and promotion coordinators Al and April Masini, and Tony Vericella, president and chief executive of the Hawaii Visitors & Convention Bureau.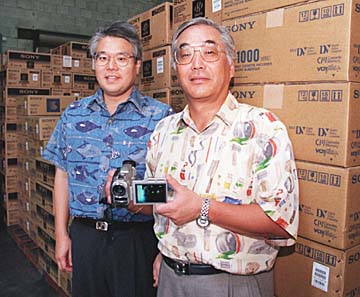 By Ken Sakamoto, Star-Bulletin
Sony executives, above, Karl Okemura, left, and
Ryozo Sakai show off a video camera.
---
While other shows have had "tie-ins" with local clothing companies or other enterprises, they mostly have been "one-shot deals," Deemer said. "The Hawaii sponsors for 'Baywatch' are becoming like production partners," she said.

Sony Hawaii is loaning the show more than $150,000 in digital video-editing equipment; Hawaiian Airlines' hundreds of donated airlines seats, mostly first class, are worth more than $500,000; Hilton Hawaiian Village's contribution tops $1 million, making it the show's largest sponsor; and Dollar is in for about $250,000.

The Sony donation, which includes two $45,000 Digital Betacam Editing Recorder/Players, is particularly significant because it allows for the first time a major Hawaii-based production to do post-production work here rather than in Los Angeles.

Though the film will be processed in Los Angeles where it will be transferred onto beta video tape, editing will be done at the Hawaii Film Studio at Diamond Head.

The equipment "is the latest in digital studio equipment that a broadcast professional needs for putting a television show on the air," said Ryozo Sakai, president of Sony Hawaii.

Greg Bonann, "Baywatch Hawaii" executive producer and creator, said he couldn't be happier. Doing post production in Hawaii will let him hire another 20 people in Hawaii, including editors, assistant editors, post-production supervisors, and producers.

Sony Hawaii engineers will install the editing equipment at the Hawaii studio which initially will be used solely by the "Baywatch" production team though there are plans to eventually allow film students and interns to train on it, Sakai said.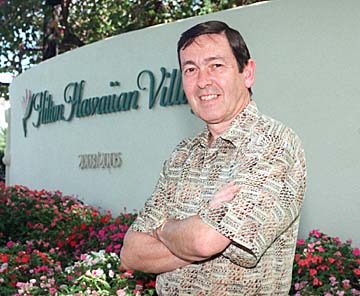 By Ken Sakamoto, Star-Bulletin
Hilton Hawaiian Village Managing Director Peter Schall
stands in front of the resort, which is the show's
largest sponsor.
---
Hawaiian Airlines' commitment to "Baywatch" is the company's largest partnership with any film or TV production, said John Happ, senior vice president, marketing and sales.

Like other major sponsors, the airline will receive credit as an "official" sponsor of "Baywatch Hawaii."

But a credit notice is the least of the publicity sponsors will receive. Each also will be featured prominently in the series either as a visible product or with filming at business locations.

Hawaiian Airlines' marketing plan with the show is still being worked out but the company plans to have its in-flight videos include back-stage interviews and "exclusives" from the "Baywatch" production, Happ said. "We're looking at a gamut of ideas."

Familiarity for the airline with the entertainment industry also is expected to help, he said.

"We've spent a lot of time the last few years trying to cater to the Hollywood set, pushing our first-class product which has been upgraded tremendously," Happ said. " 'Baywatch' officials and actors will have a first-hand look at our product."

Peter Schall, Hilton Hawaiian Village's managing director, said the association with "Baywatch" is "a great opportunity" to be involved with a production that has such lasting power and reaches a wide audience internationally and domestically.

"The publicity this will generate for everyone involved has been immediate," he said. "And if Hawaii is more visible and prominent in the market place, it's good for us all."

Dollar Rent-A-Car also has worked with several productions, including "Jurassic Park," and "6 Days, Seven Nights," but these partnerships have been "mostly for profit," said Alan Mattson, vice president of sales and marketing for the Pacific region.

"In the old days we would have our logo at the end of the film . . . but sponsors today are looking for more integrated marketing opportunities," Mattson said. " 'Baywatch' offers a tremendous amount of promotional activity on the mainland where Dollar will provide vehicles for 'Baywatch' contest winners and other promotions.

"To actually be in some episodes and have filming on site of one of our locations is very special. The show's writers have actually asked us about some of the main points Dollar wants to get across."
E-mail to Business Editor
---
---
© 1999 Honolulu Star-Bulletin
http://archives.starbulletin.com